A&E > Food
Demand is still strong for Dry Fly Distilling's Spokanitizer
April 16, 2020 Updated Fri., April 17, 2020 at 7:45 a.m.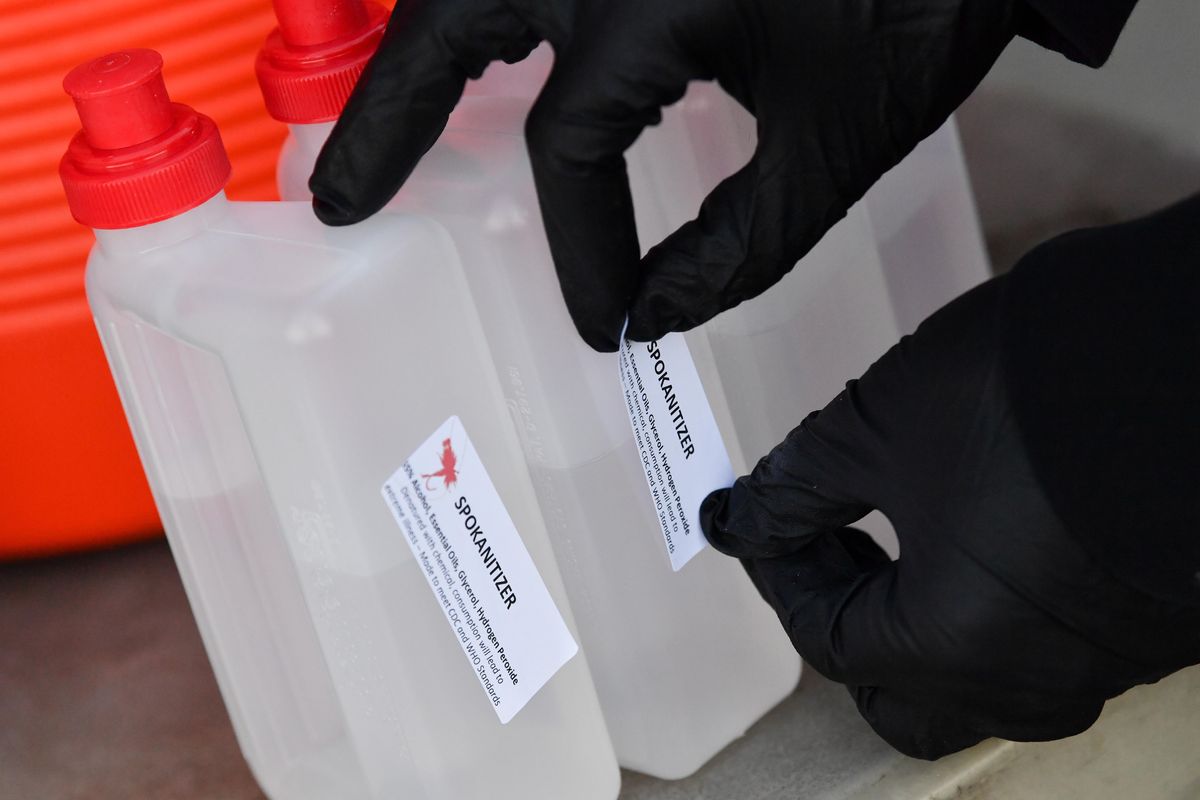 Alex Shannon, brand ambassador for Dry Fly Distilling, labels containers of Spokanitizer, the company's COVID-19 hand sanitizer, on March 23 at Dry Fly Distilling at 1003 E. Trent Ave. (Tyler Tjomsland / The Spokesman-Review)
When the novel coronavirus pandemic became very serious more than one month ago, Dry Fly Distilling was one of the first to respond with an interesting product – the free Spokanitizer hand sanitizer (props for the price and creative name) – that became immediately popular.
"Right now, everything is up in the air. We have stalled our regular business to make sanitizer, and the growing need for this is incredible," Dry Fly said via email. "We are going on a day-by-day basis on deciding when we can open again for sanitizer handouts. Please stay tuned to our social media for more details to come."
Per its website dryflydistilling.com, Dry Fly, at 1003 E. Trent Ave., is now partnered with Spokane County Emergency Response Center to disperse Spokanitizer to groups in the county, with priority for first responders, public health and safety (hospitals, health care professionals), social services (Volunteers of America, Meals on Wheels) and nursing homes, adult family care and in-home health care.
The next priority dispersal is 10 a.m.-2 p.m. Friday, and public, or consumer, dispersal is 10 a.m.-2 p.m. Saturday. The limit is one bottle per vehicle, and a Dry Fly employee hands it directly into a vehicle via drive-through. A certain percentage of Spokanitizer has been allocated for sale to for-profit businesses to keep it complimentary for everyone else.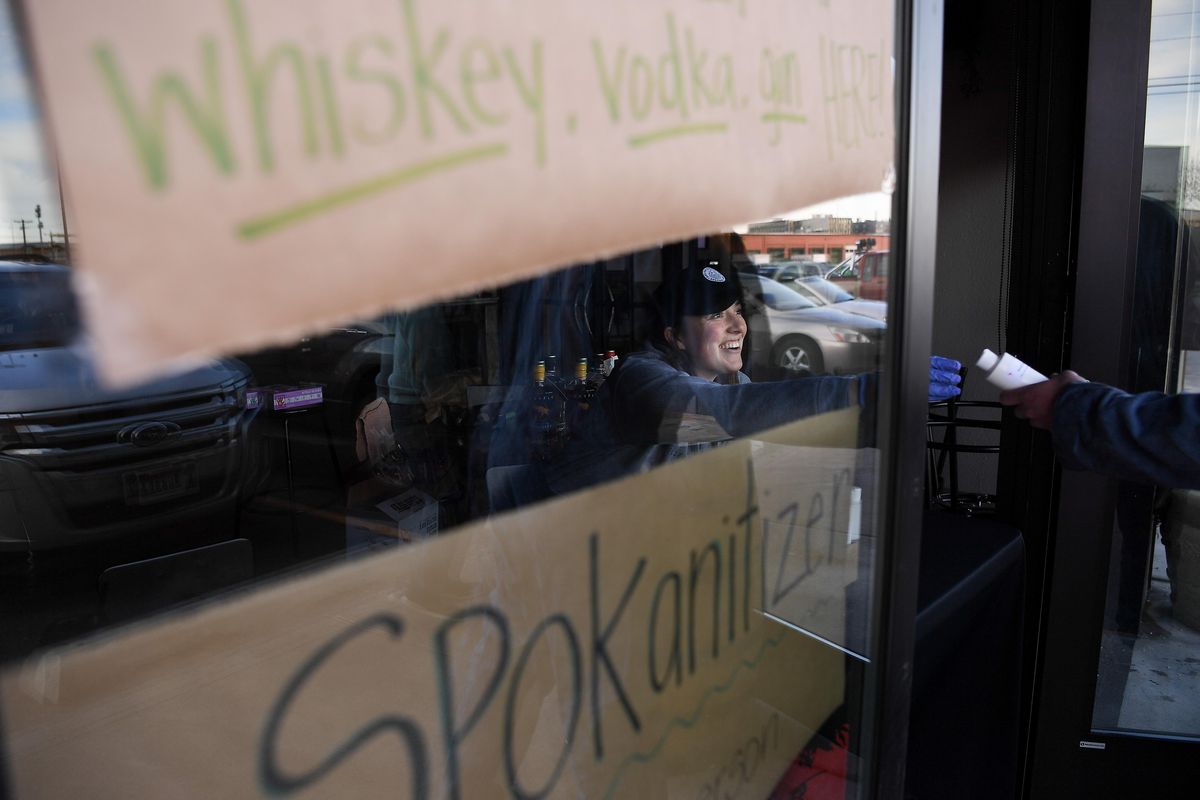 Alexandra Tallas, left, a bartender at Dry Fly hands out Spokanitizer, the company's COVID-19 hand sanitizer on Monday, March 23, 2020, at Dry Fly Distilling at 1003 E Trent Ave in Spokane, Wash. The distilling company was handing out free containers of the antibacterial concoction and filling containers brought by patrons. Don Poffenroth, co-owner and co-founder of Dry Fly Distilling, said that patrons should reuse containers and bring them back to Dry Fly for refills up to 8 fluid ounces. (Tyler Tjomsland / The Spokesman-Review)
Follow Dry Fly on its website, Facebook and Instagram for updated hours and news. I was able to secure a Spokanitizer a few Saturday ago, and here is the lowdown:
On my Saturday, the scheduled dispensing time was 12-3 p.m., and I had a bottle at 1 p.m. It was sold out one hour later … or one hour early. That has not been the case as of late because production has increased.
The bottle's iterations have gone from clear to pink (that is the sanitizer in my possession) to the current black.
Spokanitizer is clear, odorless and especially light on the hands compared with other hand sanitizers.
The drive-through line moves quickly, and employees are following social distancing rules and friendly.
Dry Fly founder Don Poffenroth and his company received approval from the Alcohol and Tobacco Tax and Trade Bureau and the Food and Drug Administration last month to produce Spokanitizer, which includes ethanol, glycerin, hydrogen peroxide and essential oils.
Odom Corp., Dry Fly's beverage distributor, helped with bottling Spokanitizer, as did restaurateurs and other industry partners. "The Spokane community has been great. We just want to help out," Terry Nichols, Dry Fly's vice president of sales and marketing, told The Spokesman-Review last month.
One thing has changed since the launch of Spokanitizer, Dry Fly said Wednesday night: "We have stopped allowing people to bring their own bottles. It's harder to keep social distance while refilling, and we want to make sure everyone is getting clean product without anything in their used bottles that would decrease its effectiveness."
Other state alcohol companies have followed suit with hand sanitizers, including 2 Loons Distillery in Loon Lake. According to Washington Hometown, about 50 state distilleries, as of this week, have created hand sanitizers.
"We love and appreciate the Inland Northwest community that we call home and want everyone to be well!" Dry Fly said on its website.
P.S. I bought a bottle of Dry Fly's Straight Washington Wheat Whiskey for my brother-in-law's birthday on April 7. I chose Dry Fly because of its COVID-19 efforts in the community, and I look forward to trying this libation, for the first time, from a local business with heart.
Local journalism is essential.
Give directly to The Spokesman-Review's Northwest Passages community forums series -- which helps to offset the costs of several reporter and editor positions at the newspaper -- by using the easy options below. Gifts processed in this system are not tax deductible, but are predominately used to help meet the local financial requirements needed to receive national matching-grant funds.
Subscribe to the Spokane7 email newsletter
Get the day's top entertainment headlines delivered to your inbox every morning.
---