Marketing > EVERCANNABIS
Book Review: Not your grandmother's encyclopedia
Sat., April 18, 2020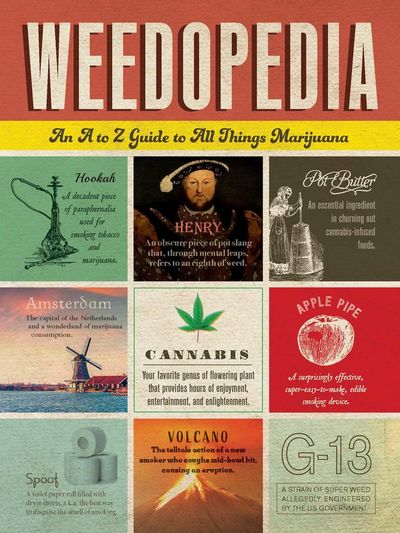 When a review copy of
"Weedopedia: An A to Z Guide on All Things Marijuana"
arrived in the EVERCANNABIS office, I thought it'd be a perfect fit for our April issue, especially if you think of 4/20 as "Christmas for stoners." What better gift than a lighthearted look at cannabis culture? And while the book has some amusing asides in its brief 237 pages, it might only appeal to a few very specific demographics. So here are a few audiences and circumstances that may enjoy the non-comprehensive guide from Simon & Schuster imprint Adams Media (no author credited).
You're an elder Millennial nostalgic for your youth.
While "Weedopedia" speculates that cultural figures of the past, including William Shakespeare and Mark Twain, enjoyed a toke, most of the cannabis-related media and celebrities cited throughout the text will resonate most with anyone who came of age in the mid-90s to late 2000s. (And I should know, because I did.)
You know nothing about cannabis and want to learn the lingo.
In early issues of EVERCANNABIS, we would often include a vocabulary guide of commonly-used terms because many of our readers (and writers) were learning about this newly legal industry from scratch. So, if you know someone who works in the industry and you want to be supportive of their new endeavors without sounding like a total square, you can learn some popular words and phrases. I mean, you'll probably still sound like a square, but your friend will appreciate the effort.
A new conversation piece for your next smoke session.
When you're gathered with friends to light up and relax, you might want an activity that is a little more interactive than zoning out to old episodes of "The Simpsons" but not as complicated as a board game. As you pass and puff, pass the book, choose a random page and passage to read aloud, and let the discussions begin.
Two words: bathroom reader.
I think that covers it.
Theresa Tanner is the Health & Culture editor of EVERCANNABIS. Born and raised in Spokane, she enjoys good food and drink, pop culture podcasts, and relaxing at the lake.
Local journalism is essential.
Give directly to The Spokesman-Review's Northwest Passages community forums series -- which helps to offset the costs of several reporter and editor positions at the newspaper -- by using the easy options below. Gifts processed in this system are not tax deductible, but are predominately used to help meet the local financial requirements needed to receive national matching-grant funds.
Subscribe to the Coronavirus newsletter
Get the day's latest Coronavirus news delivered to your inbox by subscribing to our newsletter.
---