News > Spokane
Only 1 new COVID-19 case reported Monday in Spokane County
April 27, 2020 Updated Mon., April 27, 2020 at 7:05 p.m.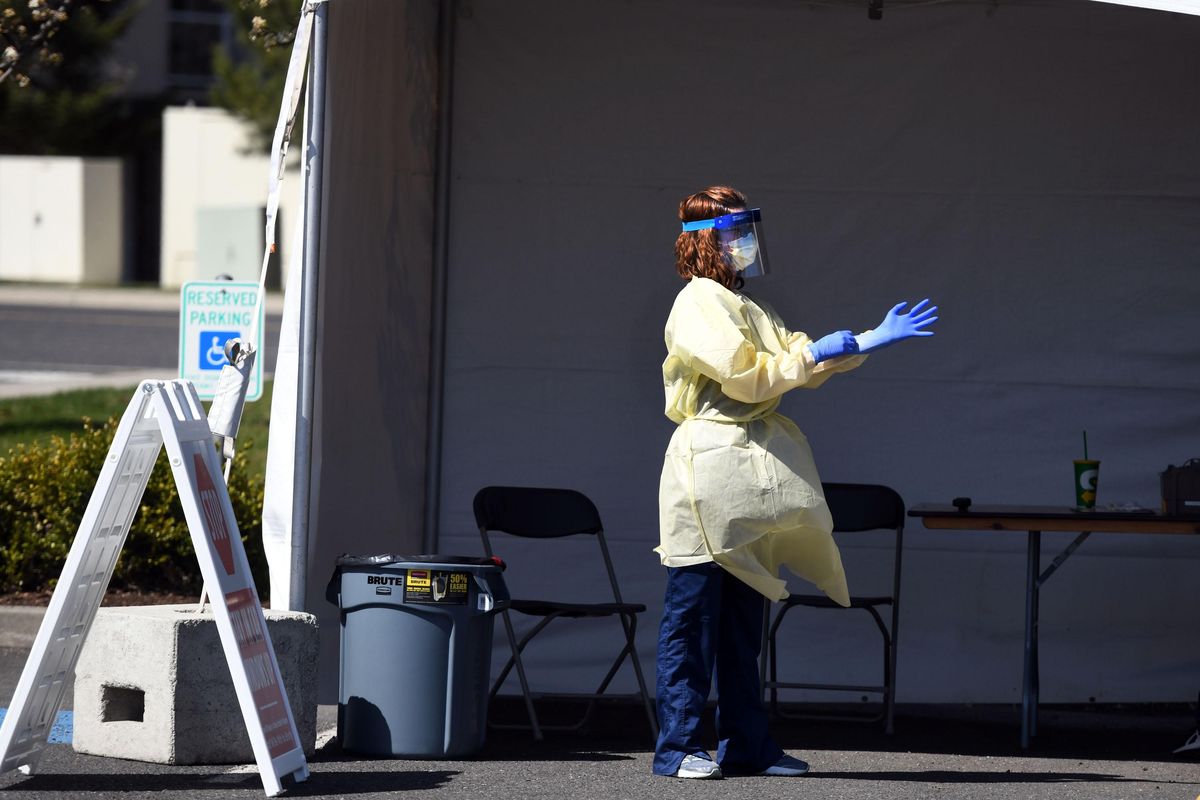 U.S. Navy Reserve Lieutenant Commander Lisa Tisch, ARNP prepares to work at Providence Express Care 's COVID-19 testing site in Spokane on Friday, April 17, 2020. People who have the symptoms of COVID-19 – including a cough, high fever or shortness of breath –should get tested, Gov. Jay Inslee said Thursday. (Kathy Plonka / The Spokesman-Review)
Spokane County reported one new COVID-19 case on Monday, continuing a trend of declining cases.
Officials on Monday confirmed 11 COVID-19 cases during the weekend, but most of those cases already were reported. Dr. Bob Lutz, county health officer, also announced one new coronavirus death, a man in his 80s.
In the past week, Spokane County's daily count of new cases has topped five only twice. In both cases, the upticks were caused by clusters related to other confirmed cases. Those included residents who were re-tested at the Spokane Veterans Home as well as a family with several members who tested positive, Lutz told reporters Monday.
"From a larger community standpoint, our numbers continue to trend down with those blips representing epidemiological links to other cases or contacts," he said.
Spokane County has had 349 people test positive for the virus, and 20 have died.
"There's plenty of testing, relatively speaking, but we still need to do more testing going forward," Lutz said. "We will be doing more contact investigations."
Washington health officials are bolstering their contact tracing team statewide, with National Guard members and volunteers in the coming weeks. When a person tests positive for COVID-19 in the future, someone from the local health district or the Department of Health's team will make contact and ask the person to isolate. Then they will reach out to the subject's close contacts. Those contacts might be tested or asked to isolate themselves for two weeks.
Spokane Regional Health District staff are now contact tracing during the week, while state health officials do that work over the weekend in Spokane County.
By Friday, the community testing site at the Spokane County Fair and Expo Center will close, and people will access testing through Providence, MultiCare, Kaiser Permanente or CHAS sites throughout the Spokane metro area. Testing at the fairgrounds peaked in late March, with about 250 people getting screened each day. In recent days, that number has dropped to about 50 people per day. Not all patients who are screened get tested.
"We hope that's because people got the message that if you are sick, to stay home and monitor your symptoms, isolate at home and take care of yourself," said Julie Humphreys, Spokane public safety communications manager.
As of Saturday, 3,711 people had been screened at the fairgrounds, and 1,606 of those people have been tested. The testing site has done the majority of screenings in the county. More than 8,000 people in Spokane County have been tested for COVID-19, according to Department of Health data, and 4.2% of those people tested positive for the respiratory virus.
Part of the state's strategy to keep COVID-19 at bay, as the state reopens businesses and other activities, relies on adequate and rapid testing of people who are symptomatic.
The Centers for Disease Control and Prevention updated the list of symptoms for COVID-19, which show how the virus affects people in different ways. Symptoms for the novel coronavirus now include: fever, coughing, shortness of breath, chills, muscle pains, headaches, sore throat and the loss of sense of taste or smell.
Severe symptoms that the CDC considers emergency warning signs of the virus include trouble breathing, persistent chest pain or pressure, new confusion or inability to arouse and bluish lips or face.
Lutz said the list of expanded symptoms likely will be incorporated into the state and local health department's guidance to health providers for testing later this week.
"The expanded list will be the recommendations that providers will have available to them to increase and expand testing if necessary," Lutz said.
Local journalism is essential.
Give directly to The Spokesman-Review's Northwest Passages community forums series -- which helps to offset the costs of several reporter and editor positions at the newspaper -- by using the easy options below. Gifts processed in this system are not tax deductible, but are predominately used to help meet the local financial requirements needed to receive national matching-grant funds.
Subscribe now to get breaking news alerts in your email inbox
Get breaking news delivered to your inbox as it happens.
---