'The bottom has just dropped out': As insect populations plummet, scientists wonder why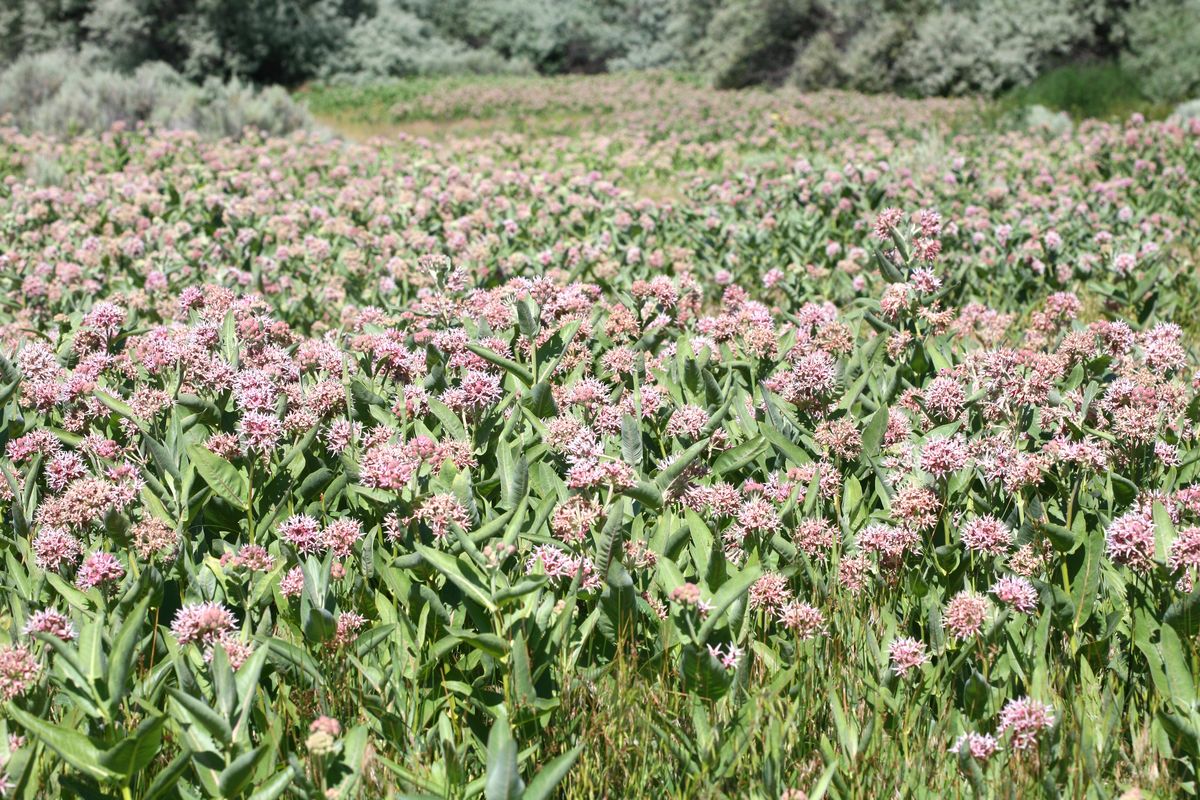 There were no bugs buzzing around the lights in the parking lot.
Sitting in his car outside the Shadle Park Walmart on a muggy July night last year, Darren McCrea suddenly took note of the insects' conspicuous absence. How long had they been gone?
Back at his Spokane home, McCrea looked around. No bugs on the lights there either. No frogs in the pond. Only one bumblebee was buzzing against a porch light – and at an odd hour, around 10 p.m. that night.
"I thought, 'That's not right, why would I be seeing a bee this late at night?'" McCrea said. "And after that I just couldn't stop seeing they were gone. It was like a veil had been lifted from my eyes."
In the year since, McCrea, a member of the Colville tribe, has collected photos of bug-free streetlights and porch lamps from around the world, submitted by others who can't un-see their absence.
It led him to believe something larger is wrong with the natural world, and he started looking closer at the forests on the Spokane Indian Reservation, where he grew up. The trees seemed unhealthy, growing rapidly and unsustainably, said McCrea. The dandelions in his front yard were gone. He was sure it had to do with the insects' disappearance.
McCrea said he's "not a scientist," and he has no sure answers as to where the world's bugs have gone. But the problem of declining insect populations has long been a matter of concern among entomologists, said David James, a professor of entomology at Washington State University's Extension Service location in Prosser.
James has been researching the migration of monarch butterflies in the Pacific Northwest since 2012. It had long been known that there was a large population of monarchs native to Washington and the surrounding states, James said, but it had never been clear where they went when they left for the winter. Through the project, volunteers and inmates at the Washington State Penitentiary in Walla Walla have reared and tagged nearly 30,000 monarchs with tiny tracking devices, allowing James to follow their migrations when released into the wild.
With the help of hundreds of volunteers around the country, James tracked sightings of those tagged monarchs and was able to prove they traveled from Washington to the California coast over the winter. In the early years of the project, James said he'd confirm sightings of butterflies in the hundreds every summer all down the West Coast.
Last year, he heard of only eight sightings. This year, there was only one – a lone monarch with deformed wings, spotted by a citizen scientist near the Tri-Cities in June.
"The bottom has just dropped out," James said. "Research is at a standstill. We haven't even been able to locate just a few to restart our breeding program."
Though James' research project has reared and released thousands of butterflies into the wild since 2012, there simply aren't enough to maintain their numbers, James said.
Twenty years ago, James estimates there were 1 or 2 million monarchs west of the Rockies. Last winter, that was down to 30,000.
The few thousand he's raised are a "drop in the bucket," less than one percent of the former population, James said – and besides, he never set out to singlehandedly restore a vanishing species.
Monarch populations have declined by 80% to 90% in many areas of the United States, according to recent studies, James said. The reasons behind their precipitous drop in numbers aren't entirely clear to anyone yet, though there are a few factors James can point to as probable causes.
Two consecutive seasons of bad weather in California, where the butterflies spend their winters, likely killed off a sizable percentage. But larger, systemic factors like habitat loss, the use of agricultural chemicals and climate change are causing a drop among nearly all types of insects, James said.
"There are much fewer wild places now than there were 50 years ago," James said.
The problem is not endemic only to butterflies. Rich Hatfield, a conservation biologist with the Portland-based Xerces Society for Invertebrate Conservation, heads a project called the Pacific Northwest Bumble Bee Atlas. The project's goal is to survey bee populations in the Northwest and, eventually, determine how to stop their decline.
Like James, Hatfield doesn't have one single answer as to why the insects are disappearing. It's most likely a "toxic soup" of multiple destructive factors, Hatfield said, that will take decades of individual and systemic change to address.
"I wish I could say there was just one problem to solve," Hatfield said. "It kind of feels like the canary in the coal mine."
Part of the problem is a disruption in the insects' life cycle, Hatfield said. Bumblebees have evolved to be most active when flowers are blooming and plants are plentiful, but springs have been coming warmer, drier and earlier, throwing bees "out of sync" with the rest of their environment, Hatfield said.
The result is a "compressed" life cycle, not allowing the bees enough time to reproduce sustainably, Hatfield said. Human development of habitats and other environmental stressors exacerbate the problem, and the result is a bee population that's stressed and more susceptible to death from common diseases.
At least two species of bumblebee once common in Eastern and Central Washington – the Morrison and Suckley's cuckoo bumblebees – have all but disappeared completely, with no sightings at all in the past three years of the project's survey, Hatfield said.
The problem of disappearing pollinators, like bumblebees, is an especially dire one because nearly one-third of all food consumed by humans is reliant upon pollinators to grow, Hatfield said. And that's just what's in grocery stores. Up to 85 percent of food sources for wildlife like bears and birds depend on pollination, and even more species rely on consuming the insects themselves, according to Hatfield.
As pollinators shrink in numbers, "rapid cascades" of food insecurity would befall nearly all species on Earth, Hatfield said.
Even the shrinking of populations commonly considered pests can pose a problem, Hatfield said. No one likes wasps or mosquitoes, but they play key roles in their ecosystems. It's not clear what would happen if an ostensibly non-beneficial insect species went away entirely, Hatfield said, but nothing good could come of it by his estimation.
"What we know is concerning, but what we don't know is even more concerning," Hatfield said. "We are kidding ourselves if we say we could get rid of an entire population and not lose something important. It's not a risk I'm willing to take."
But clear-cut answers on how to address population decline are extremely hard to come by, said Ed Lewis, entomology department head at the University of Idaho and co-director of UI's Center for Health in the Human Ecosystem.
The problem tends to be "oversimplified," Lewis said. Almost all existing data come from North America and Western Europe, so impacts in the rest of the world are virtually unknown, Lewis said. And data didn't even begin to be collected at a large scale before 1960, Lewis said, meaning researchers trying to get a hold on the current problem have no baseline to work from.
"It's hard to say that all populations are going down because, oftentimes, while a certain species or habitat might be on the decline in Spokane, it could be going up in Moscow at the same time," Lewis said. "There's no one average. Any statement of fact has to be qualified."
Recent studies have shown freshwater insect populations are actually on the rise, most likely because human-caused water pollution has declined in the past decades, Lewis said. But he thinks it would be inaccurate to say population decline is not a massive problem across the board.
Lewis, whose research focuses on alternative methods of pest control for agricultural operations, said a shift away from devastating insecticides like DDT and lead arsenate in farming have reduced the industry's impact on insect populations. Habitat destruction is more often than not caused by urbanization and not agriculture, because most farmlands have been farmlands for decades, Lewis said. But even as the use of insecticides drops, herbicides can have their own harmful impacts in more roundabout ways.
While weed killers don't usually harm insects directly, Lewis said they can cause "gross oversimplification" of the plant diversity in an area once everything but the crops have been weeded out. That's great for farmers, especially in water-poor areas where every square foot of crop counts, but often not great for insects who rely on those weeds, Lewis said.
Biological pest control methods are becoming more widely used and frequently have a lower overall environmental impact and a narrower scope, designed only to target a specific pest and not beneficial bugs, Lewis said. Another promising option is planting native flowering plants between rows of perennial crops like apple trees or wine grapes, allowing pollinators to return to the area and sometimes even helping keep pest populations down.
Though sometimes costly and inconvenient for many growers in their current iterations, Lewis feels optimistic about the potential for these alternatives to continue reducing the agricultural impact on vulnerable insect populations as they become more streamlined and effective in the future.
"If you're a scientist, you kind of have to be an optimist or else you'll just throw yourself out the window," Lewis said. "Ultimately, what I hope we'll see is not every farmer throwing out all their chemicals, but rather shifting the thinking so that you turn to harsh chemicals as your very last resort over the alternatives."
The bright side is that every single person, whether you live in a 10th-floor apartment or on 10 acres, can help contribute to the solution, Hatfield said. Even a single planter of native flowers can make a difference. More and more cities are making efforts to reintegrate nature into urban environments through the Xerces Society's Bee City program, which provides city governments and residents with information and tools to begin welcoming the bugs back.
Gonzaga University is a Bee Campus with the program, but Spokane is not a Bee City, according to the program's website. Hatfield said taking steps towards gaining that certification could help move Eastern Washington closer to regaining its lost bees over the coming years.
James thinks any solution for the problem of declining populations and its systemic causes will have to start from the ground up, beginning with teaching children to appreciate and care for nature. Eventually, that will result in a country and world that's more aware of the problem and more willing to help solve it, James said. He's optimistic solutions are going in the right direction, but it will take decades to see progress.
"The big question now is how far will it go?" James said. "I don't think it will be an insect 'apocalypse.' Insects are resilient, but maybe they'll only exist at barely detectable levels until they can rebound. It's rare they go extinct. But we are only beginning to discover the ramifications now."
---