This column reflects the opinion of the writer. To learn about the differences between a news story and an opinion column, click here.
Opinion > Column
100 years ago in Spokane: Wildfires threaten summer cottages at Liberty Lake
UPDATED: Thu., Sept. 3, 2020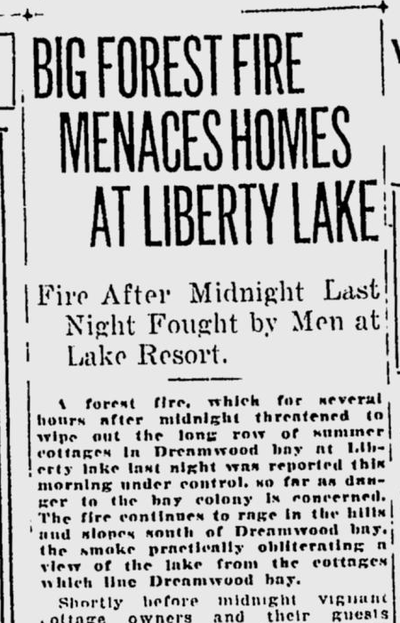 Wildfires broke out all over the region, including one that threatened "the long row of summer cottages at Dreamwood Bay at Liberty Lake."
At about midnight, the cottagers sounded the alarm and "secured the cooperation of all able-bodied men in the bay to fight the fire" – including "the men dancing at the lake pavilion."
They were successful in keeping the flames away from the cottages, although the fire continued to burn in the hills above.
Meanwhile, fires continued to burn in the forests in the St. Joe, Priest River and Coeur d'Alene forests.
One forest manager warned that "three or four more hot days like this will mean the largest forest fires the Northwest has seen for years."
From the dam beat: The Washington Water Power Co. announced plans to raise the Long Lake Dam by four feet, in order to generate more electricity.
Of course, this would also mean raising the lake level, which would flood the railroad tracks running along the shore. This railroad also belonged to Washington Water Power, so they already had plans to rebuild it.
Also on this date
(From the Associated Press)
1807: Former Vice President Aaron Burr went on trial before a federal court in Richmond, Virginia, charged with treason. (He was acquitted less than a month later.)
1921: Baseball commissioner Kenesaw Mountain Landis refused to reinstate the former Chicago White Sox players implicated in the "Black Sox" scandal, despite their acquittals in a jury trial.
---
---