A&E
Backyard fairy tales: Books inspire nature, gnome, playhouse and outdoor adventures at home
Aug. 3, 2020 Updated Tue., Aug. 4, 2020 at 8:41 a.m.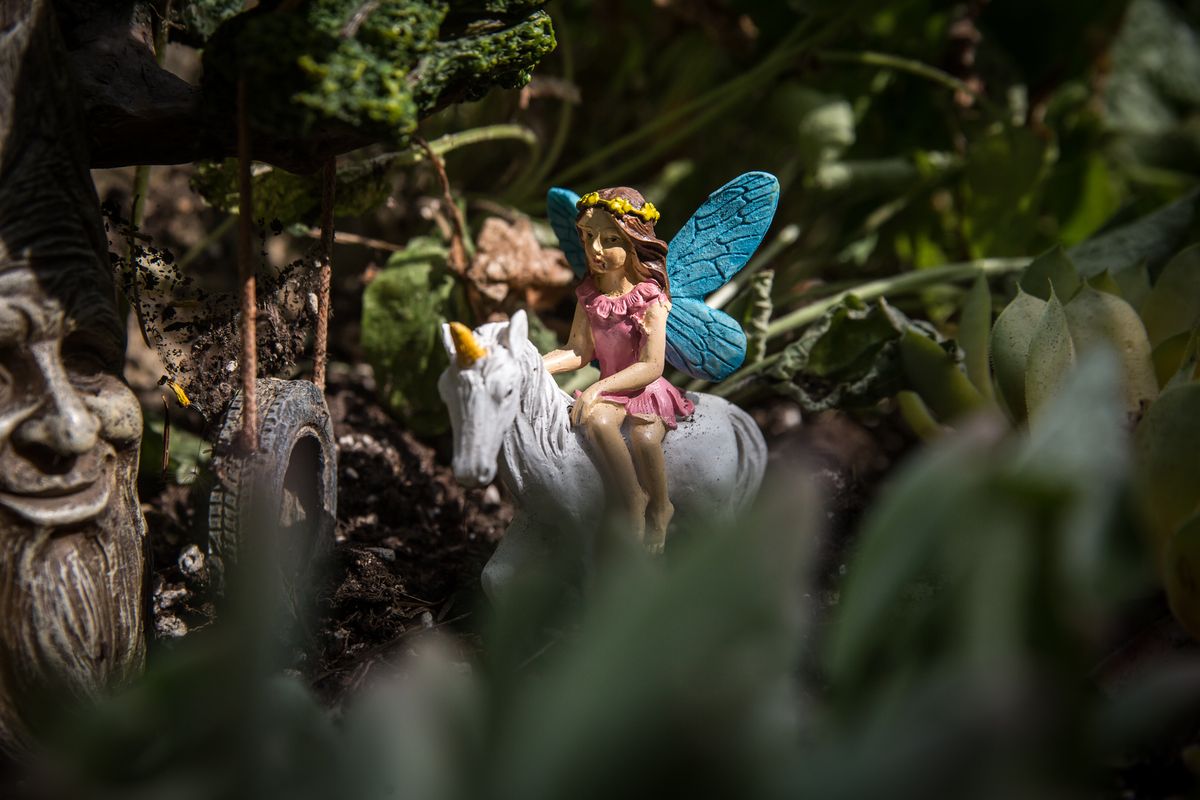 An element of Marsha Sapino's elaborate fairy garden display is seen on her property in Hauser, Idaho, on Thursday. Sapino spent a few weeks clearing space in the tiered garden to plant succulents and install lighting and various fairy houses and mystical figurines in this miniature kingdom. (Libby Kamrowski/The Spokesman-Review)
A little magic can happen with children's books that point to the natural world. Mix in a little imagination and add the ingredient of an online Spokane library class to build your own fairy house.
Or perhaps it's a home for a garden gnome as an all-family project. This can take root among other ideas to make the most of summer adventures. Many families are choosing more time spent in their own backyards instead of traveling during this pandemic.
If that fairy house sounds intriguing, kids are encouraged this week to scout for natural decor in their backyards or neighborhoods for the Spokane County Library District's 2–2:30 p.m. Aug. 11 online workshop "Create a Fairy or Gnome House." Streamed on SCLD's Facebook page, the program doesn't require registration unless it's to receive basic supplies beforehand on a first-come, first-served basis.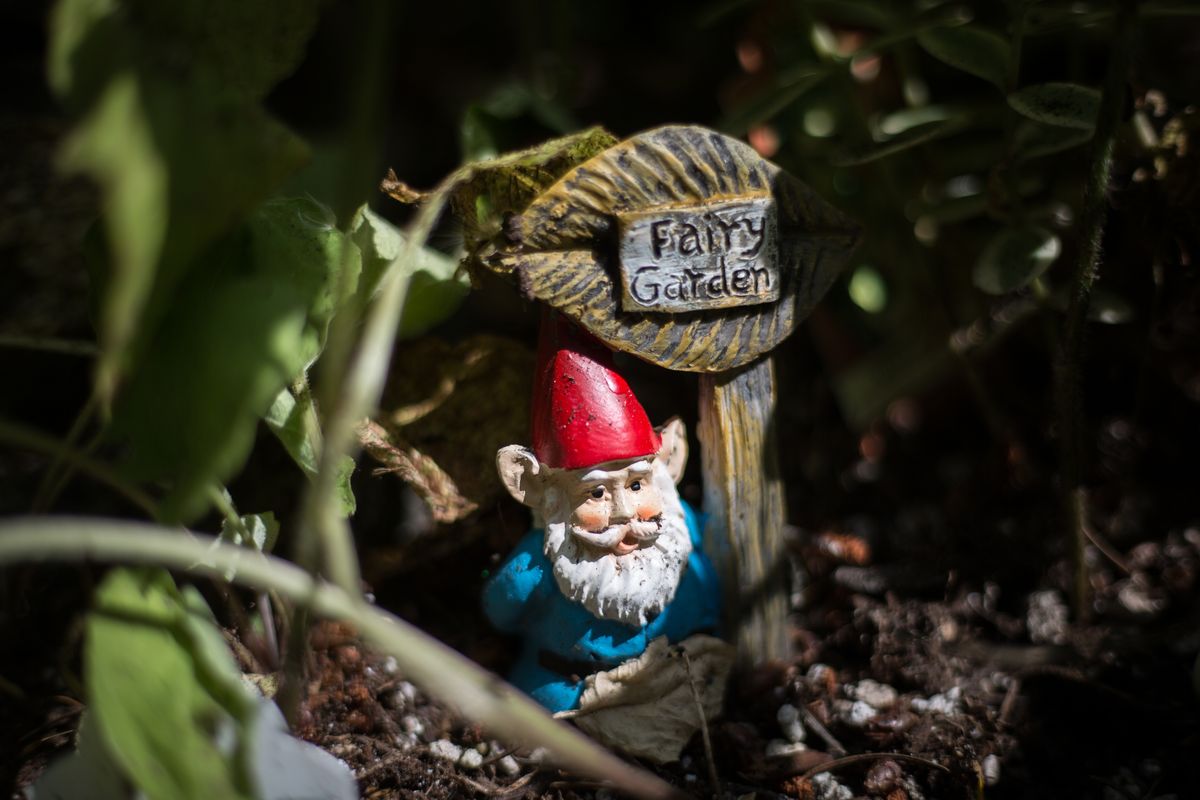 An element of Marsha Sapino's elaborate fairy garden display is seen on her property in Hauser, Idaho on July 30, 2020. Sapino only had to spend a few weeks clearing space in the tiered garden to plant succulents, lighting and various fairy houses and mystical figurines in this miniature kingdom. (Libby Kamrowski/The Spokesman-Review)
"We have 200 packets for people who register, and that packet would include a smaller gift box, which could be the base of their fairy house, some craft sticks, beads, feathers, yarn and some fabric to get them started," librarian Alison Johnson said.
Many families can do the project easily without the kit and instead use a piece of bark, wood or an empty food container, along with craft supplies on hand.
"What we really encourage them to do is to go outside and explore their yards, neighborhoods or parks to find some natural materials to decorate and use in building their house – things like flowers, twigs, acorns, leaves, bark, pebbles, seeds, even dried grass," Johnson added.
"Their imagination would be the only limit on what they could use to either decorate or build their house.
"We're really encouraging that element to get kids outside and to explore a bit before and gather things for their fairy houses."
The program is open to all ages and can include the whole family. Older children and teens can do the project solo and add elaborate natural features. The provided 4-by-4-inch, lightweight cardboard box makes it easy to cut in doors or windows, even remove the top to construct a roof.
Johnson said after the session is livestreamed, it's usually available on the Facebook page for at least a week.
Meanwhile, more elaborate Spokane backyard memories might get sparked by "Ollie and Harry's Marvelous Adventures" by Ollie Ferguson and Harry Ferguson. This title is included on a "Backyard Adventure" list of children's books on OverDrive created by Sheri Boggs, SCLD youth collection development librarian.
Boggs said the Ferguson book ranges from elaborate ideas requiring parental supervision to more basic schemes.
The young Scottish brothers also have a Facebook page, "The Days Are Just Packed," and have tried adventures such as launching LEGO astronauts 20 miles above Earth with a high-altitude weather balloon and GoPro camera and sailing a Playmobil pirate ship from their home in Scotland to the Caribbean. Their giant catapult hurled fruit 60 feet away.
"A lot of them seem to be family-involved," Boggs said. "The boys have set up a bucket list to do a certain number of adventures by the time they turn 18. It's super sweet, and they're building fantastic memories."
Boggs said she was inspired by her own recent neighborhood walks and childhood memories in selecting books for "Backyard Adventure."
"All are full of fun outdoor activities and share an appreciation for nature," she said.
"I have noticed more interest in what people are checking out now on what to do in the backyard. We especially saw it in May."
Here are other books to consider:
"Backyard Adventure" by Amanda Thomsen – Boggs said this book is a low-tech one offering whimsical projects with repurposed household items, an outdoor stage, exploding sidewalk chalk and lots of photographs. "Our digital copy is checked out, but we should have a few available at our libraries for curbside pickup."
"Fairy House Handbook" by Liza Gardner – This wasn't on Boggs' original collection list, but she said checkouts such as this fit the theme and upcoming program. As the popularity of these diminutive structures has soared, this book is described as equal parts how-to and whimsy. Topics covered include selecting a site, what tools and materials to use and many ideas on details and accessories to add.
"Sticks and Stones: A Kid's Guide to Building and Exploring in the Great Outdoors" by Melissa Lennig – This book is approachable – a bit more so than Ollie and Harry Ferguson's book, Boggs said, with ideas for STEM-friendly nature projects often using materials in your own yard and a handful of inexpensive art or hardware supplies. "I especially like this title for how it adds an artistic element to a lot of the projects."
"Play the Forest School Way" by Jane Worroll and Peter Houghton – The Forest School movement began as a groundswell of concern about how kids today don't spend enough time in nature, Boggs said, and the book offers ideas for creative wanderings and play in the great outdoors.
"The Keeper of Wild Words" by Brooke Smith – In this picture book for younger kids, a girl and her grandmother talk about how words disappear if you don't use them, and then the two go out together on a scavenger hunt for things like "apricot," "wren," "blackberry" and more. "Great vocabulary and an inspiring choice for preschool kids and their parents who might want to take a walk outside and name all the plants and creatures they encounter," Boggs said.
"Honeybee: the Busy Life of Apis Mellifera" by Candace Fleming and Eric Rohmann – The cover shows a gigantic honeybee perched atop an echinacea for a larger-than-life look at a common garden visitor. "I'm including it because kids often love to imagine what it would be like to be various creatures, and this one offers a look at what the world looks like from a honeybee's perspective. Kids can talk about insects and how everything they're doing is part of a big adventure."
"In a Jar" by Deborah Marcero – A small, curious rabbit named Llewellyn collects ordinary-but-magical things in jars. He wanders the birch woods near his home in search of feathers, buttercups and heart-shaped stones, and later the jars remind him of his adventures. One day he meets Evelyn, who also is a small, curious rabbit, and together they scoop up marvelous moments and experiences and save them to remember later. But what will they do when fall comes and Evelyn's family has to move? "This gorgeous, imaginative picture book is perfect for these times, embracing friendship, loss and remembrance."
Local journalism is essential.
Give directly to The Spokesman-Review's Northwest Passages community forums series -- which helps to offset the costs of several reporter and editor positions at the newspaper -- by using the easy options below. Gifts processed in this system are not tax deductible, but are predominately used to help meet the local financial requirements needed to receive national matching-grant funds.
Subscribe to the Spokane7 email newsletter
Get the day's top entertainment headlines delivered to your inbox every morning.
---