Dad Daze: Seeing Spokane through my children's eyes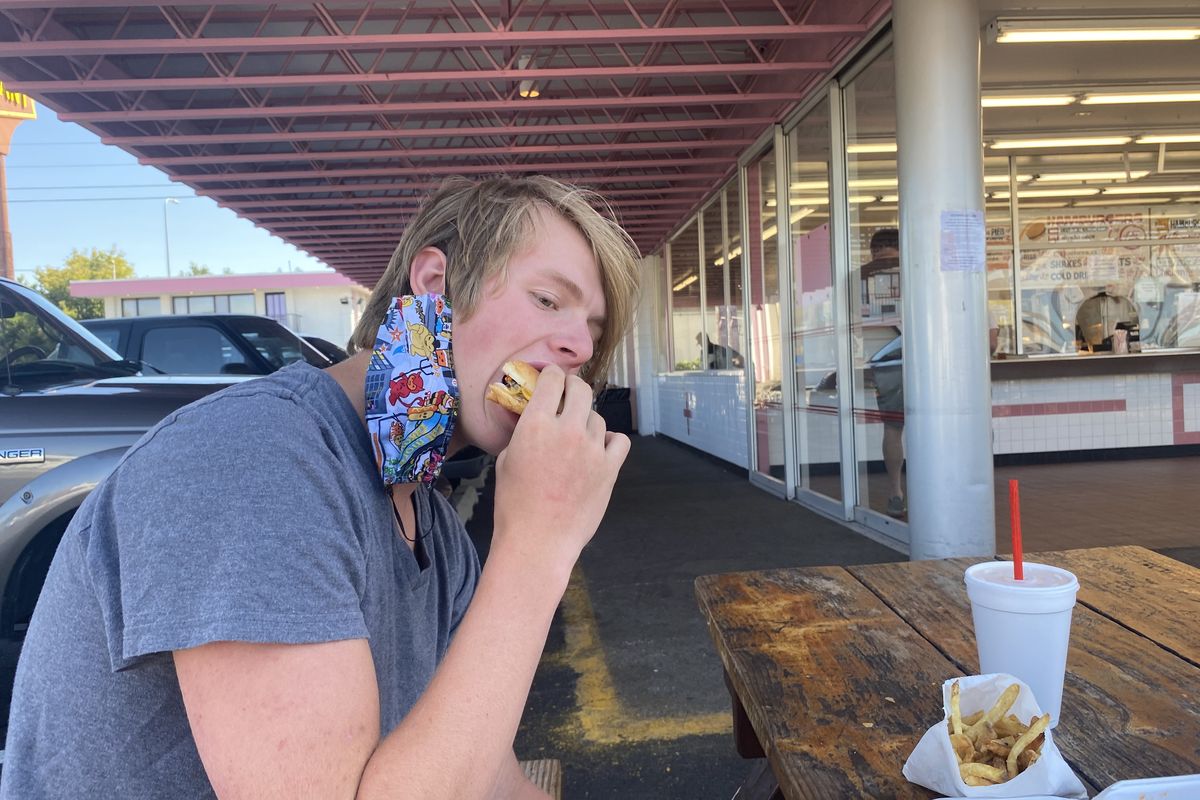 Sometimes it takes a fresh pair of eyes to realize what you have at your disposal in your city.
When I signed on with The Spokesman-Review in March, my timing was impeccable. It was just a week before the novel coronavirus changed everything. What an unusual way to become acquainted with a city that basically shuttered shortly after I arrived.
I was sitting in the Sapphire Lounge when Gov. Jay Inslee decreed that a new way of life was upon us. It was surreal and akin to a "Twilight Zone" episode. Everything looked, smelled and felt normal, but it wasn't.
Spokane fortunately opened up a bit by the time my children arrived in June, and it's been a blast watching them soak up the city. How do I introduce them to a charming town that I'm still getting to know? Thanks to technology, I'm almost superfluous.
Within a day, they discovered Dick's Hamburgers, which has been a home away from home. According to burger connoisseur Milo, 15, Dick's is comparable to his beloved In-N-Out-Burger. His brother Eddie, 18, says the fries are the best he's had, and they love the shakes – salted caramel and strawberry are favorites and have become an obsession.
Jillian, 21, favors the "Best Ever Cheeseburger" served up by Post Street Ale House.
Incrediburger & Eggs is the breakfast sandwich fave with the inventive Pig Newton: The mix of Havarti cheese, smoky mayo and fig jam is a winner and at the top of Jillian's list. "It's one of the best sandwiches I've ever had," Jillian said.
High praise considering Jillian comes from the land of cheesesteaks and hoagies. Thank you, Adam Hegsted, who is a fine culinary artist.
Conspicuous high-calorie consumption is fine for my children since they're so active. Eddie and Milo hit the gym for hours, and they love biking through Riverfront Park and farther on the Centennial Trail. On a number of occasions, they've covered the terrain to the Idaho border and back.
Jillian is captivated by the beauty of the urban waterfall. Jillian loves strolling through Browne's Addition gazing at the grand Victorian and Craftsman homes.
Of course, the kids hang in River Park Square, which obviously is a magnet for teens.
But what has impressed my progeny most is the residents of Spokane. Where we come from is full of edge. The Northeastern corridor of the country is anything but laid-back.
I'll never forget the first time I drove through the Lincoln Tunnel into Manhattan a generation ago. The impatient locals were actually banging into my bumper in gridlock throughout the mile-and-a-half excursion. That aggressive behavior had a huge impact on yours truly, and I have to at times dial it down in Spokane.
Jillian, who will be a senior at Pace University in New York, constantly reminds me that I have to take it easy. When I recently parallel parked into a tight spot downtown, she pleaded with me to not bumper my way in between the cars.
"What are you talking about?" I asked. Jillian reminded me of a time three years ago when I was running late for Governor's Ball, an annual music festival in Harlem.
I drove into Manhattan and couldn't find parking for about five minutes, and then I noticed a small space that was difficult to squeeze into. I slipped in via my bumpers, which pushed back and forth, violently, according to Jillian, between the cars.
"You're banging my car hard. Can you please stop it?" a New York policewoman said. I had no idea that the police van behind me was occupied. I apologized and made a request.
"You can park anywhere," I said. "Can you please move your van back so I can have some space?" I live by the mantra that it can't hurt to ask. The calm member of NYPD Blue fetched her keys and cut me some slack.
Living in that area changes your behavior. I explained to New York's finest that we were running late to catch Lorde. She couldn't have been nicer. I couldn't have been more forceful. I've learned to relax, which has always been an issue, in Spokane, but I'm a product of the Northeastern environment.
Folks back East expect everything now, and I can't imagine how they're coping during the coronavirus.
My children are taken aback by how kind, patient and thoughtful those in Spokane have been in most situations. Sometimes you don't realize how special your city is until someone new points out why you're different.
During a recent chat with Liberty Lake musician Olivia Brownlee, she spoke of how Spokane has inferiority issues when it comes to Seattle. We come from a city with the biggest little brother complex in the country, which is Philadelphia. The City of Brotherly Love has lived in the shadows of New York, just 90 miles to the north, since the Paleolithic era.
It doesn't matter if you're the focal point. Philadelphia has certainly carved out its own niche, and Spokane is its own entity. Bigger doesn't mean better. We've never experienced anything like this fair city, which has plenty of green space, fine restaurants, manageable traffic and some of the coolest people we've met.
On another note, I'm impressed with how literate Spokane is and how many letters I've received. It's encouraging that the written word is embraced. There's no place like Spokane, which is a great place to raise children. The city is an uncommon gem, and locals' chests should swell with pride.
We can't wait to see what it's like post-pandemic, but we're enjoying it as much as we can right now.
---