Goodbye to Greenough's: Site of Spokane's first supermarket razed to make way for medical offices
Before there was Walmart or Safeway or Fred Meyer in Spokane, there was Greenough's.
But after nearly a century spent downtown and on the South Hill, the former Greenough's grocery store at the corner of Sixth Avenue and Washington Street is no longer.
The building was purchased by United Health Services Credit Union, now Horizon Credit Union, in 1985, which operated a branch there and a block of shops. The property was sold to 6th and Washington, LLC, an investment group associated with Spokane developer Baker Construction and Development, on June 11, according to sale records. Demolition of the old Greenough's building began shortly thereafter.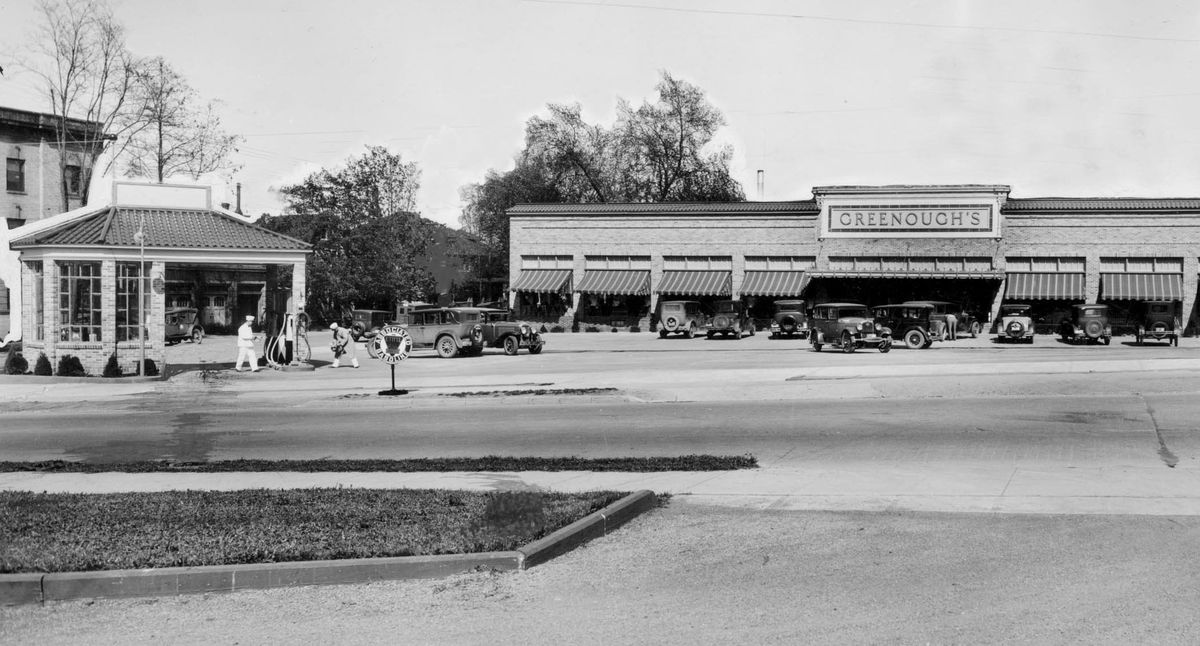 Barry Baker, president of Baker Construction, said the site near Deaconess and Sacred Heart hospitals will soon be home to a 21,000-square-foot medical office building. Tenants for the new building, which is scheduled for completion in spring 2021, will include a primary care clinic operated by Premera Blue Cross and a dental group, Baker said.
Baker said developers had tried for two years to find a way to repurpose the former grocery store, but a problem with water draining into the building and the need to expand parking and modernize the facilities meant tearing it down was the only option.
"I would have saved it if we could have," Baker said. "It was a pretty great old building."
The store was Spokane's first supermarket – although that name hadn't quite been invented yet – when it opened at 613 S. Washington St. in 1929. With a meat shop, bakery, pharmacy and even a hair salon all in one location, plus floor-to-ceiling windows at the front of the store and a gas station next door, the innovative Greenough's market dazzled Spokane shoppers.
"The effect, it is stated, will be entirely different from anything in the way of food stores now in the city," read a 1928 article in The Spokesman-Review previewing the new location.
Its 130-car parking lot was a novelty in that time, as was the ability to simply pick your own groceries off the shelves rather than waiting for the clerk to retrieve them, said Linda Yeomans, a preservation consultant and historian with the Spokane Historic Preservation Office.
Yeomans said the store, once touted as the "largest market west of the Mississippi," was the first major grocery to set up shop on the South Hill. Before that, one-stop shops like Greenough's were a rarity – people often went to multiple different stores, like butchers and bakers, to get what they needed, Yeomans said.
Four Greenough brothers founded the store's first location on West Sprague Avenue in 1906 after making a fortune in North Idaho's mines, Yeomans said. In 1924, Wilbur Greenough was the first Spokane grocer to challenge a law banning the sale of groceries on Sundays by selling a pound of meat, for which he was fined $25.
The decision to move up the hill in 1929 to what was then considered the "suburbs" came as cars boomed in popularity and downtown parking became increasingly tight.
The Greenough family continued to run the store through the Great Depression, World War II and countless robberies – including two within the span of three months in 1950.
Greenough's kept abreast of all the new trends in shopping throughout its long tenure on the South Hill, renovating and modernizing every decade or so. The hair salon was a draw for women wanting to knock out multiple errands at once, and was operated in the 1960s by cosmetology school founder Glen Dow, Yeomans said. The store even opened a satellite location at the corner of Central Avenue and G Street in north Spokane in 1969.
As a kid in Spokane, Yeomans remembers a thrill in the air among her classmates when the store expanded to include a toy and "sundries" section.
"When I was 10 or 11, going to Greenough's was a big deal because it was just so huge and there was so much to see," Yeomans said. "There really was nothing else like it."
When the first Barbie doll was released in 1959, Yeomans saved her allowance for weeks, until she had the $1.98 needed to buy one. She persuaded her father to make a special trip to the store, because Greenough's was the only place to find things like that, Yeomans said.
But after Interstate 90 bisected the city in the 1970s, families began to move further up the hill and away from Greenough's. Business dwindled as larger supermarkets cropped up around town, Yeomans said.
Longtime Greenough's pharmacist and manager John Weekes bought the store in 1970 and ran it until the location lost its lease in 1985, ending a six-decade run on the South Hill.
"The loyalty of our customers is tied to this neighborhood," Weekes told The Spokesman-Review in 1985. "If we were to move to another part of the city, we couldn't take that loyalty with us."
---