News > Education
Under pressure from faculty, Mary Cullinan resigns as president of EWU
Aug. 4, 2020 Updated Wed., Aug. 5, 2020 at 12:18 p.m. Mary Cullinan has resigned as president of Eastern Washington University after faculty members voiced doubts about her ability to guide the school through financial challenges made worse by the coronavirus pandemic.
EWU announced Cullinan's resignation Tuesday morning after the board of trustees voted to appoint David May as interim president.
May, who joined EWU as a professor in 1999 and rose through several administrative posts, most recently served as the school's provost and vice president for academic affairs. He holds a bachelor's degree from Whitman College in Walla Walla, as well as a master's degree and a doctorate from Washington State University, all in political science.
"David May's vision and leadership during this historical stretch gives the board the utmost confidence he will keep the university on the path to success," Vicki Wilson, who chairs the board of trustees, said in a statement. "His student-centered, collaborative approach will serve the Eastern community well."
The university said May is expected to serve as interim president for at least two years because the pandemic would make it difficult to conduct a nationwide search for a permanent replacement. The university said it will announce a new provost "in the near future."
Cullinan will serve as a special assistant to May through Sept. 18 to help prepare for the upcoming school year, which will be primarily online.
"I have been honored to serve as Eastern Washington University's first female president," she said in a statement. "EWU is a valuable asset to this region with exceptional students, faculty and staff, alumni and community supporters. I look forward to working with the leadership team to ensure EWU continues on the road to success during these challenging times."
EWU's faculty senate held a vote of no confidence in Cullinan on June 22, showing overwhelming disapproval of her handling of the university's brewing financial crisis. The board of trustees responded the same day with a statement defending Cullinan that many faculty members viewed as dismissive of their concerns.
The trustees noted, among other things, Cullinan's work to secure state funding for EWU's new Interdisciplinary Science Center, the expansion of health sciences programs, the establishment of a campus multicultural center and the pending transfer of some programs into the Catalyst building in Spokane's University District.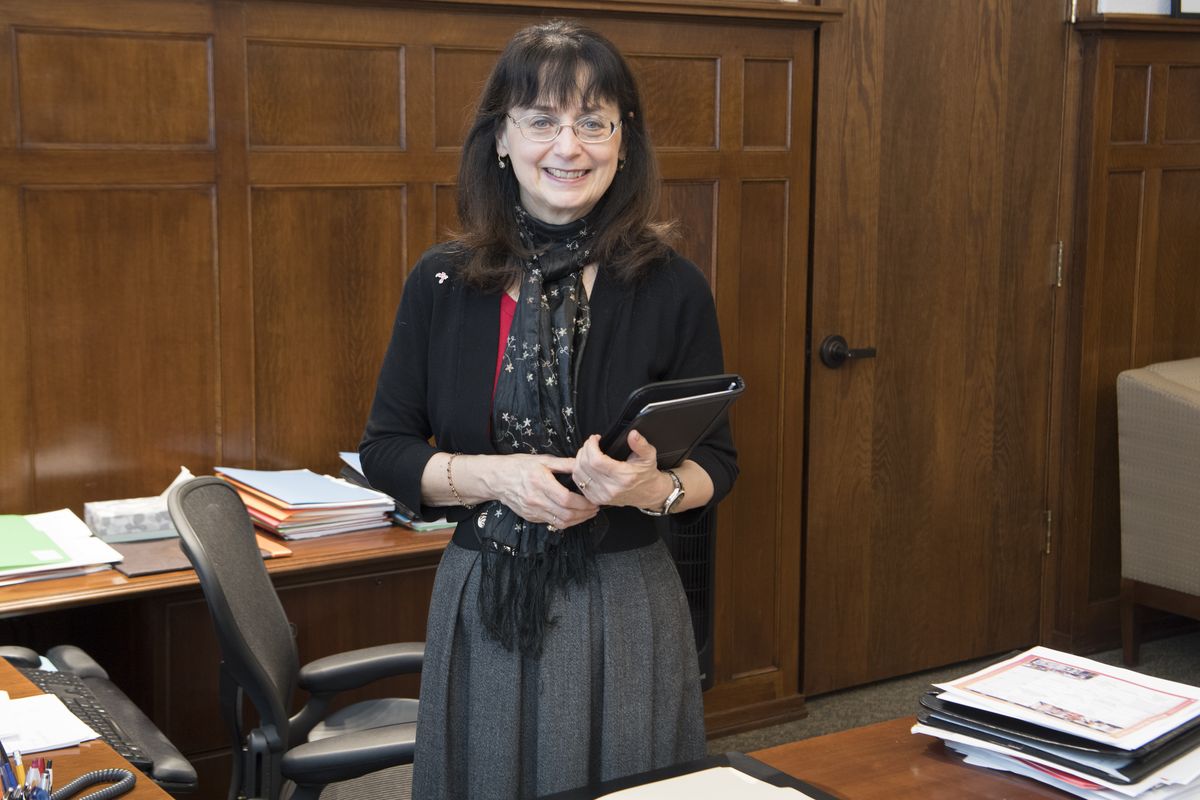 Mary Cullinan, shown here in 2018, was the first female president at EWU in the school's history. (Jesse Tinsley / The Spokesman-Review)
In a recent survey, however, 70% of responding faculty members evaluated Cullinan's overall performance as "poor" or "needs improvement." They denounced various decisions made by her administration to address a budget shortfall that arose more than a year before the pandemic.
Sticking points included details of a plan to merge EWU's seven colleges into four, a lack of focus on enrollment and a decision – since reversed – to close the university's Office of Diversity and Inclusion. Many professors have decried the university's spending on athletics, particularly football.
Hit hard by the pandemic, EWU now may have to slash tens of millions of dollars from its budget and has warned hundreds of employees of potential layoffs and furloughs.
"I appreciate that Dr. Cullinan has put the interests of her institution first, and initiated an orderly transition to a new administration," David Syphers, a physics professor who called for an independent review of EWU's athletics budget, said in an email Tuesday. "The fundamental challenges EWU is facing remain, but I'm hopeful that we can take a fresh look at solutions to those problems and emerge with our fundamental academic mission as strong as ever."
Before taking the helm of EWU in 2014, Cullinan resigned as president of Southern Oregon University after an overwhelmingly poor performance evaluation and a no-confidence vote by the SOU faculty. Professors at the time accused her and other administrators of financial mismanagement. During much of her eight years at SOU, she faced relentless budget cuts brought about by the last recession.
Julia Smith, who chairs EWU's faculty senate, said she's happy Cullinan will stick around for six weeks to ease the transition to new leadership, calling it "the best outcome that we could have."
"We had great faith that the board of trustees was going to thoughtfully consider the information that we had shared with them, what our concerns were and what we were thinking about," Smith said. "And we had great faith that, in the end, we were going to move to new leadership. And we're glad that it's happened, and that it's happened in such a considered way."
Smith emphasized that faculty members have no ill will against Cullinan.
"I've never doubted – and I don't think the faculty have ever doubted – her sincere commitment to the good of the university," Smith said. "I don't think we've doubted her goodwill. She is a wonderful person, and in watching her I've learned a lot about leadership. I've known her since she arrived at the university. So this is not a happy moment for any of us, even though it may be necessary."
Cullinan's contract was last renewed in July 2019 and was set to expire in September 2022. Her salary was $372,020. May's contract, signed Tuesday, is set to expire in August 2022. He will make $335,000 a year as interim president.
Cullinan declined an interview request Tuesday and did not directly answer an inquiry about the timing of her decision to resign.
In a one-line statement provided by a university spokesman, she said, "I am stepping down from the presidency and am very much looking forward to the next phase of my life."
Local journalism is essential.
Give directly to The Spokesman-Review's Northwest Passages community forums series -- which helps to offset the costs of several reporter and editor positions at the newspaper -- by using the easy options below. Gifts processed in this system are not tax deductible, but are predominately used to help meet the local financial requirements needed to receive national matching-grant funds.
Subscribe now to get breaking news alerts in your email inbox
Get breaking news delivered to your inbox as it happens.
---