News > Spokane
Two Democrats to face off for Washington lieutenant governor in November
Aug. 4, 2020 Updated Tue., Aug. 4, 2020 at 10:50 p.m.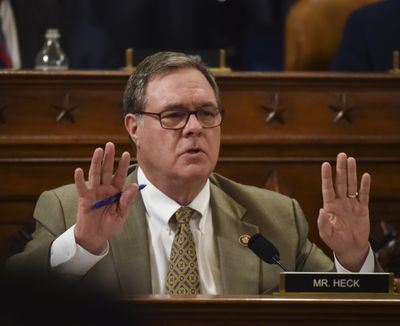 A Democrat is almost guaranteed to be Washington's next lieutenant governor.
Two Democrats, U.S. Rep Denny Heck and state Sen. Marko Liias, finished first and second in the first night of counting in Tuesday's primary election.
Heck finished first, with Liias 5 percentage points ahead of Republican Ann Davison Sattler as of Tuesday night.
The contest for the state's No. 2 position opened up after incumbent Cyrus Habib announced he was retiring after one term to study to be a Jesuit priest.
Heck, a 10th District congressman and former gubernatorial chief of staff who helped start the state's cable government channel TVW, had announced he was retiring from his congressional seat and politics in December. But he decided to enter the race for lieutenant governor in April, saying the state needs experience as it faces a triple threat of the COVID-19 pandemic, an economic crisis and a budget crisis.
Liias, the Democrats' floor leader in the state Senate, was among the first to announce a campaign, and picked up Habib's endorsement.
Sattler ran unsuccessfully for a Seattle City Council seat as a Democrat last year, but said she wasn't in tune with that party's progressive wing. She filed for the office as a Republican, promising to cut waste and tie expenditures to results.
In Washington's primary system, the first- and second-place finishers advance to the general election regardless of party.
Superintendent of Public Instruction
In a close race for the superintendent of public instruction, Maia Espinoza and Ron Higgins are fighting to advance to the general election to face incumbent Chris Reykdal.
As of Tuesday night, Espinoza, who has worked on the Center for Latino Leadership and the Commission on Hispanic Affairs, was just 3.8 percentage points ahead of Higgins, a substitute teacher and former engineer.
Espinoza and Higgins both called for more local control of schools and criticized Reykdal for his support of a new comprehensive sex education bill.
Espinoza also worked to get Referendum 90 on the ballot. The measure would repeal the controversial bill requiring comprehensive sexual health education be taught in schools across the state.
Attorney General
Matt Larkin, a Republican, will face Democratic Attorney General Bob Ferguson in the November election, in a close race that left Larkin 11 points ahead of third-place candidate Brett Rogers, another Republican, as of Tuesday night.
Ferguson, who is seeking his third term as attorney general, has made a name for himself nationally by challenging the Trump administration on a wide range of policies, including restrictions on immigration from predominantly Muslim countries and changes to the Census. If Trump tries to delay the 2020 general election, Ferguson said recently, the state will challenge that in court, too.
Larkin, an attorney for his family's manufacturing business who has worked in the Spokane County and Pierce County prosecutor's offices, said Ferguson should be more selective about the cases his office files.
He was critical of state legal action to enforce business closures for the pandemic and wants the office to be more "business friendly."
Secretary of State
In the race for Secretary of State, Rep. Gael Tarleton, D-Seattle, will take on incumbent Republican Kim Wyman. Wyman was 6 percentage points ahead of Tarleton as of Tuesday night.
Tarleton, who has served in the House of Representatives since 2012, wants to increase cybersecurity of elections and continue to expand voter participation. She has criticized Wyman for her refusal to stand up to President Trump's persistent attacks against vote-by-mail.
Wyman, who is seeking her third term, has said it is not her job to be partisan regarding elections. She said she wants to continue to inspire confidence in voters in Washington's vote-by-mail system.
Public Lands Commissioner
In the commissioner of public lands race, Republican Sue Kuehl Pederson and incumbent Hilary Franz, a Democrat, will be on November's ballot.
Kuehl Pederson claims that her background as a natural resource biologist makes her the ideal fit for the commissioner of public lands.
Insurance Commissioner
Republican Chirayu Avinash Patel will face Democrat Mike Kreidler for the insurance commissioner's seat. Patel was 16 points ahead of Libertarian candidate Anthony Welti as of Tuesday night.
State Auditor
Chris Leyba, a Republican and a police officer, will take on incumbent Pat McCarthy, a Democrat, in the state auditor's race in November. McCarthy finished 8 percentage points ahead of Leyba on Tuesday night.
Spokesman-Review reporter Jim Camden contributed to this report.
Local journalism is essential.
Give directly to The Spokesman-Review's Northwest Passages community forums series -- which helps to offset the costs of several reporter and editor positions at the newspaper -- by using the easy options below. Gifts processed in this system are not tax deductible, but are predominately used to help meet the local financial requirements needed to receive national matching-grant funds.
Subscribe now to get breaking news alerts in your email inbox
Get breaking news delivered to your inbox as it happens.
---