News > Washington
Inslee, health officials release new recommendations for reopening schools
Aug. 5, 2020 Updated Wed., Aug. 5, 2020 at 9:27 p.m.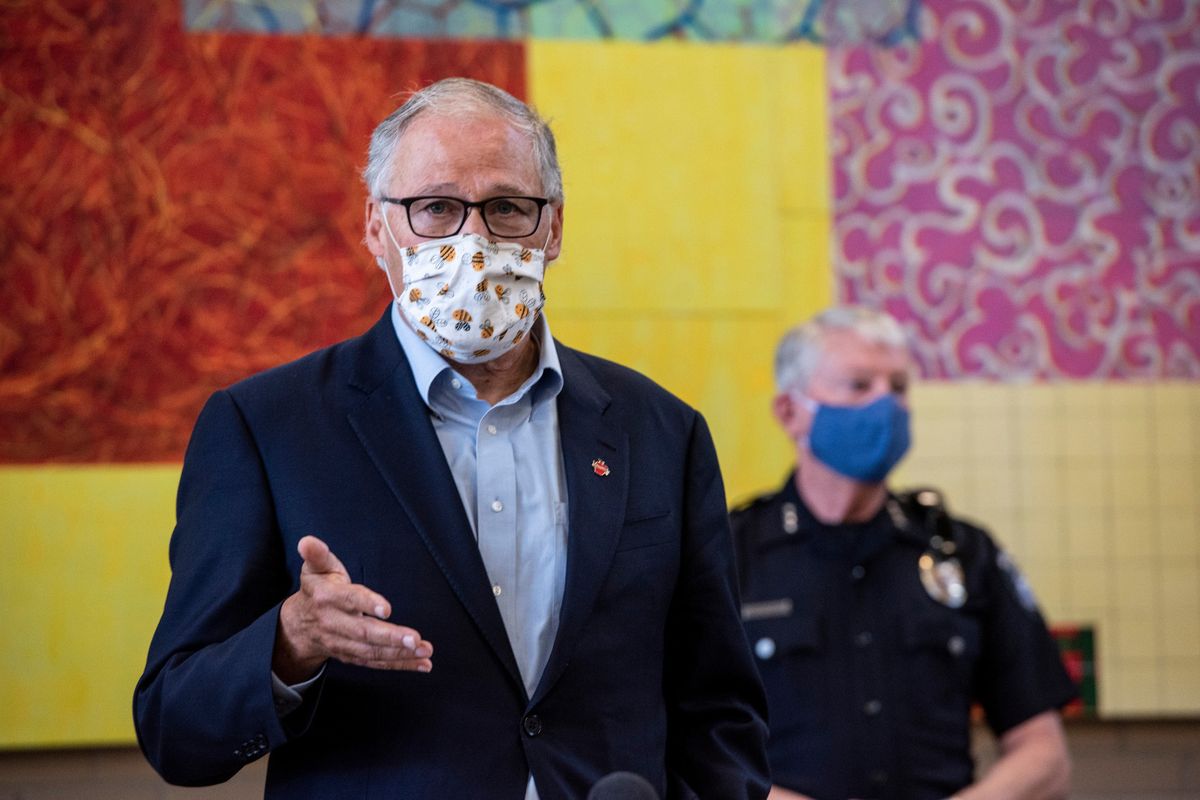 Washington Gov. Jay Inslee speaks at the Columbia Basin College campus in (Jennifer King)
OLYMPIA – New recommendations for reopening schools outline when – and whether – a school district should open to in-person learning in the fall.
Gov. Jay Inslee, the Office of the Superintendent for Public Instruction and the state Department of Health released the new recommendations Wednesday.
Inslee emphasized in an afternoon news conference that the guidance is not mandatory, though officials strongly encourage schools to move mostly online if COVID-19 infection rates are high.
"If every school district brought all of their students back for in-person instruction today, I believe we would see a real meaningful and dangerous increase in COVID activity," Inslee said.
The requirements are based on science and based on the health of the state's children but allow for school districts to make their own decisions, he added.
Public and private schools still have to follow the state's previous health requirements for reopening if a school chooses to open in person. Schools must be able to protect staff and students at a higher risk for COVID-19 complications and to practice social distancing as well as disinfecting of surfaces.
The new recommendations for public and private schools categorize counties as high, moderate or low risk. As of Wednesday, there were 25 counties, including Spokane, in the high-risk category, nine in the moderate-risk category and five in the low-risk category.
Washington currently has a higher COVID-19 transmission rate than many nations that have reopened schools, Inslee noted.
High-risk counties have more than 75 cases per 100,000 residents over a two-week period.
Spokane County had, as of Tuesday, 215.4 cases per 100,000 people in the previous two weeks, according to the Washington State Department of Health.
Schools in high-risk counties should strongly consider distance learning, according to a press release.
Schools may also have the option for limited in-person instruction in small groups for students with the highest need.
The state strongly recommends canceling or postponing all in-person extracurricular activities for schools in high-risk counties.
Counties with a moderate risk, meaning they have 25 to 75 cases per 100,000 residents, should consider distance learning for most middle and high school students. The recommendations also allow for possible in-person learning options for elementary students and those with special needs.
Health officials also strongly urge districts to cancel in-person extracurricular activities in these counties, according to the release.
Low-risk counties with fewer than 25 cases per 100,000 people over a two-week period are still encouraged to begin the year with a hybrid model of in-person and distance learning for middle and high school students. Full-time in-person learning is recommended for all elementary students.
School districts should still monitor and respond to suspected and confirmed COVID-19 cases.
The state is also taking steps to help school districts better prepare for distance learning after the abrupt closures last March left many districts scrambling.
"It was challenging in many places," state Superintendent Chris Reykdal said.
Inslee announced $8.8 million in federal coronavirus relief funding will be given to the Washington State Office of Superintendent of Public Instruction to help fund internet plans and technology needs for low-income families.
That money will help school districts partner with providers to set up internet in houses that need it, Reykdal said.
The state also will provide training to teachers and staff to better understand online learning as well as make the process more effective and efficient, Reykdal said.
Reykdal added that grading practices and attendance will be back once school starts.
School districts have until two weeks before school starts to submit their reopening plan to OSPI.
Nothing about this situation is ideal, Reykdal said, but it gives guidance while allowing school districts to make their own decisions.
Despite a concern for outbreaks, Inslee said providing guidance instead of requirements is the best approach as the state values local control of schools.
"We think it gives some appropriate flexibility for school district to school district," Inslee said.
But, he added, the optional nature of the guidance could change.
School districts have until two weeks before school starts to submit their reopening plans to Reykdal's office.
Spokane Public Schools and the Central Valley School District decided this week to start the school year virtually, following Spokane Health District recommendations. Smaller school districts in the area are still weighing their options.
Mead Superintendent Shawn Woodward will present three different plans to the school board for final approval on Thursday. In an interview Wednesday, he said the district needs to make an informed decision, including the state's recommendations and other data.
"Last spring, (closure) was a requirement," Woodward said. "In this scenario, we have many more things to consider."
The school board in the rural Deer Park School District in northern Spokane County is expected to make a final decision on Monday.
"We fully understand the potential costs of getting back to school in the midst of a pandemic, but there are costs associated with not returning to school," Superintendent Travis Hanson said in an interview Wednesday. "There is a cost to families, which is very real."
Spokesman-Review reporter Jim Allen contributed to this report.
Local journalism is essential.
Give directly to The Spokesman-Review's Northwest Passages community forums series -- which helps to offset the costs of several reporter and editor positions at the newspaper -- by using the easy options below. Gifts processed in this system are not tax deductible, but are predominately used to help meet the local financial requirements needed to receive national matching-grant funds.
Subscribe now to get breaking news alerts in your email inbox
Get breaking news delivered to your inbox as it happens.
---