News > Military
75 years later, Hiroshima's impact still echoes in Spokane
Thu., Aug. 6, 2020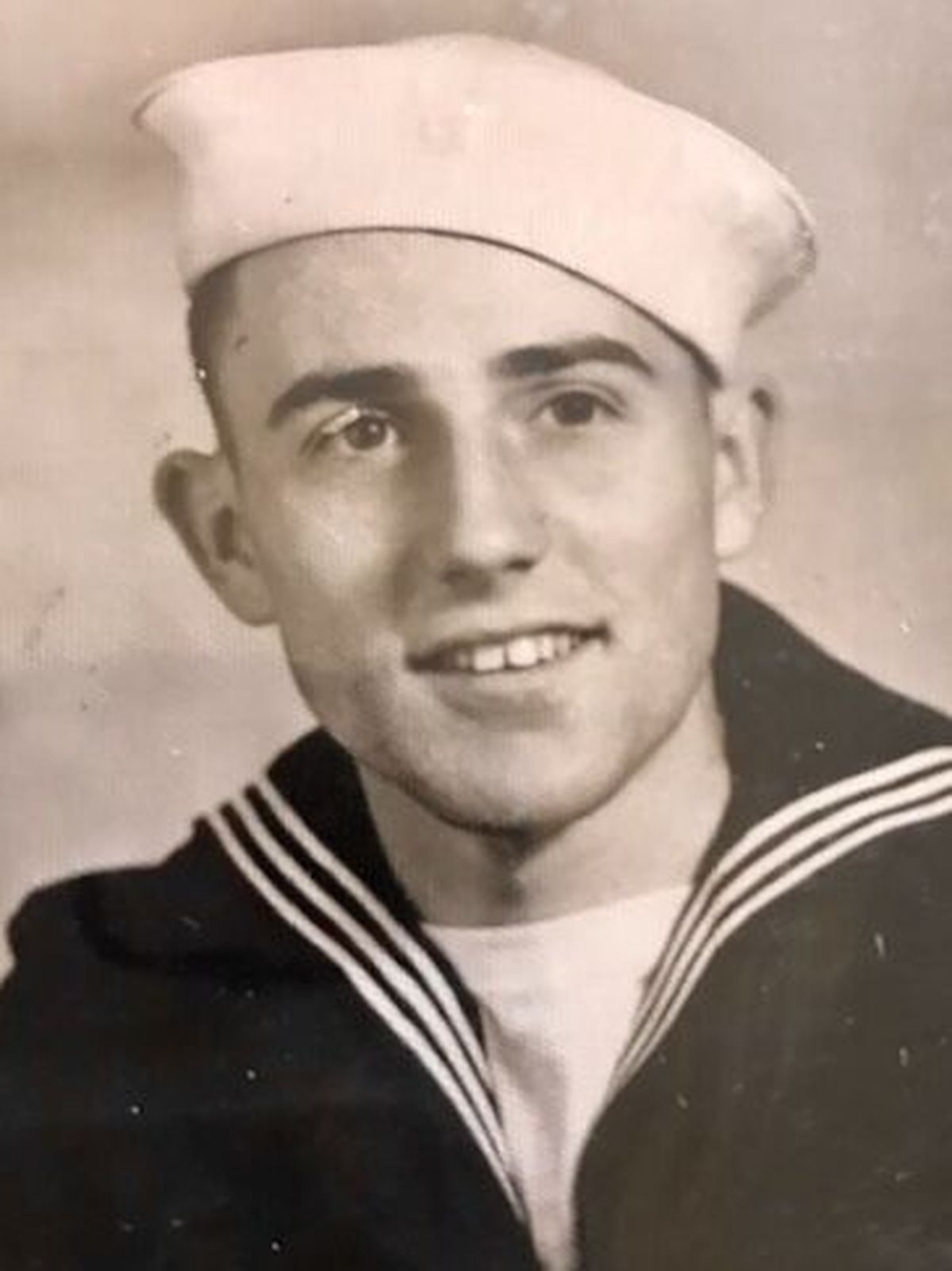 Jack Lynch was only in Hiroshima for one day. But the impact the city would leave on him went deeper than anyone in those years knew.
Seventy-five years ago, Jack Lynch stepped off a minesweeper onto the charred earth of Hiroshima, Japan.
It had been only a few days since the atomic bomb was dropped on the city. Lynch, a young Navy sailor from Southern California, surveyed the damage and horror all around him.
"Whatever you have read about the destruction of the atomic bomb, don't believe it," Lynch wrote to his sister. "Nobody could explain how bad it was so I won't even try. … Not a living thing left standing, just junk. Over the whole place was the odor of burnt flesh about as bad a smell as you could possibly imagine."
Later, Lynch stood on the minesweeper's deck as another sailor pointed out the distant shape of a ship. The USS Missouri approached the burned city, seeking surrender from Japan in the bomb's aftermath.
"He wrote that he felt so special, that a boy from California could have stood right there and watched as the war ended," said Lynch's daughter Kerry. "It must have had such a deep impact on him."
Lynch was in Hiroshima for only one day. But the impact the city would leave on him went deeper than anyone in those years knew.
Not long after returning home to California, Lynch got sick. He died at age 29 in 1954, leaving behind two children and his wife, Anne, pregnant with another baby.
Kerry Lynch said her family always believed the aplastic anemia that killed her father came from the radiation he was exposed to that day in Hiroshima. Her mother, Anne, spent 20 years of her life searching for answers from the Veterans Administration. But VA doctors always maintained there was no connection between the two.
Kerry was only 10 months old when her father died. She and her brothers had no memories of him besides what they could glean from their mother and grandmother. Anne remarried when Kerry was in high school, and the family moved away from their father's beloved home in California and settled in Spokane.
The enormity of what her father had seen never hit Kerry until she was an adult, around the age Jack had been when he set foot on Hiroshima's shores that day. Her grandmother had saved all the letters Jack wrote from Japan in those days, detailing the grim sights he'd seen that day in the wreckage. Those sights, translated through yellowing pages over the span of decades, never left Kerry – and neither did the picture of her father painted in the letters, the glimpses of the personality she'd never known.
Later, on an official trip to Japan with her husband, former Spokane Mayor Jack Geraghty, Kerry took a bullet train to Hiroshima for a day and retraced her father's steps. She tried to picture what he'd seen that day.
"I guess it all came to me later," Kerry said. "When you see the pictures of what happened, and then you're there comparing how it must have felt, you're just struck by the true size of what it was."
Kerry Lynch never knew her father. But she feels a connection to him still through their last name, which she kept when she married to remember him by. The surname reflects their ancestral home of Ireland, a place Jack was so deeply proud to hail from, Kerry said. And it reflects her desire to share what he saw, one way or another. She's found herself drawn to war memorials, from Omaha Beach to Vietnam, ever since walking her father's path through Hiroshima.
"It led me on a journey," Kerry said. "Something about praying and taking a moment at each of these places. To see both sides of the war and to do everything we can to keep our peace."
It's a journey she thinks her dad would have loved to take, given the chance.
"It's too bad everybody couldn't see what is left of that town," Jack wrote in his account of that day after the bomb. "And there sure as hell wouldn't be another war."
Local journalism is essential.
Give directly to The Spokesman-Review's Northwest Passages community forums series -- which helps to offset the costs of several reporter and editor positions at the newspaper -- by using the easy options below. Gifts processed in this system are not tax deductible, but are predominately used to help meet the local financial requirements needed to receive national matching-grant funds.
Subscribe now to get breaking news alerts in your email inbox
Get breaking news delivered to your inbox as it happens.
---