Culp's clear finish in primary came early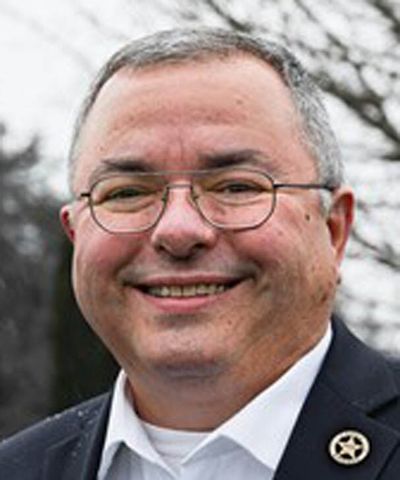 Loren Culp's second-place finish in Tuesday's state primary – which propelled him into a head-to-head match up against incumbent Jay Inslee this fall – surprised members of both parties, not so much for the outcome but by the speed at which it was known.
In a race with 35 challengers to Inslee, and five Republicans considered serious contenders for the second spot, Culp's win was a testament to a strategy that involved a grass-roots populist appeal, a series of "surge" rallies with music, food and speakers, and lots of signs.
"I think he had the better ground game. You go anywhere in the state and there's a million Culp signs," said House Deputy Minority Leader Joel Kretz, whose 7th Legislative District includes Republic, where Culp serves as chief of the one-person police department.
Senate Minority Leader Mark Schoesler, of Ritzville, said he didn't expect the result to be clear for several days because the field of candidates was so large and any close race would have to wait for the later vote-by-mail ballots to be returned and counted. The results were clear by 9 p.m. Tuesday.
But Culp seemed to capture the grassroots supporters his competitors were fighting for, said Schoesler, who endorsed Yakima physician Raul Garcia in the race. The strong sign campaign reminded him of the 1996 campaign by the late Ellen Craswell, a state senator who topped an eight-person GOP primary for governor.
That 1996 race was also mentioned by State Democratic Party Chairwoman Tina Podlodowski on Tuesday night, but from a decidedly different perspective. Culp would be like Craswell, Podlodowski predicted, a far-right conservative who went on to lose to Democrat Gary Locke in the general election by some 300,000 votes.
Locke bested Craswell by more than 2-to-1 in King County in the general election. Inslee currently has 70% of the vote in King County, where Culp finished third, behind former Bothell Mayor Joshua Freed.
Culp is also a first-time candidate and a vocal supporter of Donald Trump in a state where the president polls poorly, she said.
But Craswell lost to Locke in his first run for office, while Culp has the advantage of running against Inslee's record over two terms as he seeks a third term as governor, Schoesler said. Locke hadn't raised taxes or issued controversial emergency proclamations, he said.
"I think he tapped into a frustration about Jay Inslee," said state Republican Party Chairman Caleb Heimlich.
Culp ran a grassroots campaign that raised $1.2 million, more than his GOP competitors, much of it in donations of $20 to $50, Heimlich said. He also has a background in law enforcement and small business, as a former contractor in the Puget Sound area, and is a veteran.
"I definitely believe he can unite the Republican Party," Heimlich said.
The question for November will be whether he can get enough votes from independents to overcome Inslee's advantage in King County and other Democratic strongholds, he added.
Although Inslee has raised $5.6 million – or about 4 1/2 times what Culp has collected – his campaign was quick to send out an appeal Wednesday for campaign donations that painted Culp as a Trump supporter who "will build his campaign on rolling back every bit of progress we've made together."
For Culp, the switch to campaigning for the general should be easy as he concentrated on Inslee and elected officials in Olympia in his populist campaign to restore the rule of law and a government that acts as a servant and "leaves us alone."
---