Sports
A Grip on Sports: As college presidents assess risks of playing in a pandemic, college football fans wait for a decision
Tue., Aug. 11, 2020 A GRIP ON SPORTS • If we could travel back 45 years to the beginning of our college experience, there is one class we would take: virology. Who knew then that to be a sportswriter in 2020 would require a basic knowledge of how viruses work?
•••••••
• OK, there is another course I would have added to my list: risk management. That's crucial right now as well, maybe even more so.
See, the medical aspect of COVID-19 and football, while critical in deciding whether colleges will play this fall or not, can be left to the experts. Doctors and scientists can advise college presidents of the virus' effects, of the dangers of transmission to young men, of the possibilities of long-term issues they face at the current time.
But when it comes down to it, the final decisions will be made after assessing the financial risks to their institutions.
If you've read this column for a while, you know my 40 years in journalism have taught me one abiding lesson: It's always about money. I know it sounds cynical, but its better to be cynical than a dupe.
Oh, sure, occasionally, there is an outlier, when a decision by a large entity is made with the best interests of their stakeholders at heart. The next time I report on one, I'll let you know.
And this certainly isn't one of those rare times.
Colleges and universities are looking at their bottom lines. They see the potential loss of millions of dollars in revenue if they don't bring students back to campus. They also see the growing possibility of millions of dollars in lawsuit payouts if they do – if the students are exposed to the virus, get sick and suffer life-altering illnesses or die. What's the chance of that? Pretty good, it seems.
There are certainly other aspects of their open-or-not equation, but that's the heart of the matter, no pun intended. And the same issues are at the core of the college football debate.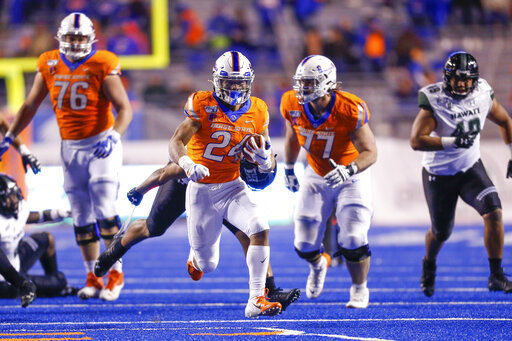 As schools and conferences began to assess the risk and make the decision to postpone their football seasons to the spring (the Mountain West joined the chorus yesterday), the risk-assessment scales began to tip. If best practices evolve toward not playing, the financial risk becomes greater for those who ultimately decide to play. As we've written in this space before, a personal-injury attorney standing in front of a jury arguing for a $100 million award for his 21-year-old defensive tackle with NFL prospects against Whatsamutta U. will certainly mention every conference that decided, for safety reasons, to play in the spring instead of the fall.
And, if it ever comes to that, they will win.
What's the risk of that happening? I can't tell you but there are people who can. At the very least they can put together a formula to give you the odds. And let you know which risk is greater, the near-certainty of some revenue loss if games are not played in the fall versus the possibility of greater loss if something goes wrong if they are.
There are also many other money factors to plug into the equations, include fan revenue, donations, medical expenses to keep the season on track and other items we can't even imagine.
The newest factor is the growing body of evidence healthy young athletes suffer coronavirus-caused heart issues at a greater rate than usual. Add that in and the risks are even tougher to balance. If that is happening, and no one really was aware of it until a half-year into the pandemic, what else might be lurking?
The decision is a tough one. Throw in political concerns – why that should be the case I have no idea, but it is – and loud voices advocating both side and the toughness level rises to 11.
If there is anything we've learned in the past six months, it is this virus is unrelenting. Unless a bubble is erected around a nation (New Zealand), a community or an athletic endeavor (the NBA, WNBA, MLS and NHL), the virus is going to find a way in, people will get sick and it will spread exponentially.
There are risks. It's all in how college presidents, who will ultimately make the football decisions, weigh them. And what they feel is most important.
• If you read yesterday's column, you know we wrote about our first golf instructor. Well, the power of interconnectivity wins again.
After the column appeared, I received an email from Robert McMillan, who had a similar experience in the 1980s, just down the Arroyo Seco from Brookside. His pro's name at the par-three closer to downtown Los Angeles? Horace Evans.
Ding, ding, ding.
The mention jarred loose a floating memory. As did Robert mentioning Mr. Evans talking about rooming with Calvin Peete when both were young professionals. Thanks, Robert, for helping me remember.
I did a little digging yesterday. Horace Evans died a few years back. So though I wasn't able to say it to him personally, you folks can bear witness for me: Thanks Mr. Evans. You helped me develop a lifelong love of the game of golf. And I don't even blame you for it taking 40 years for me to cure that god-awful slice. That's on me.
Rest in peace.
•••
WSU: School hasn't even started yet and Dallas Hobbs is overwhelmed with homework. The defensive lineman has been a driving force, and a visual voice, for the growing players' movement. Theo Lawson talked with him yesterday about the movement, his part in it and how that has impacted his status with the Cougars. … Around the Pac-12 and college sports, will this movement change college football as we know it? More than likely. … What's worse, the coronavirus or concussions? Who cares? Both can be debilitating for football players – or anyone. But neither, right now, can be completely eliminated if games are played. … The Big Ten is supposed to announce something today. And the Pac-12 presidents are scheduled to meet today. Their decision could be crucial. … Why the rush to cancel the season? … Sure, players want to play. But sometimes they have to be told no. … Washington canceled practice yesterday. … Oregon had a handful of positive tests in June, though the Ducks didn't release them. … Oregon State seems to have built a tight bubble in Corvallis. … Utah has been clear lately. … UCLA players want to continue to improve college football even if the season is postponed. … Parents of some Arizona players are pushing to have the season played on time. … A former Wildcat linebacker is headed to West Virginia. … In basketball news, one of Utah's overseas players will be late getting to school. … Arizona is expecting its foreign players in town. 
Gonzaga: Summer basketball workouts have been different at all schools. When, in the past, have you seen pictures of college coaches wearing surgical masks while talking with their players? Never, right? Except it's happened this year. Jim Allen talked with some of the women players at GU and has this story about their summer experience. … Former Gonzaga standout J.P. Bautista is headed back to his home, Brazil, for the next step in his professional career. Jim Meehan has more in this story. 
EWU: With football off until the spring, Eastern has decided to hit pause on all the fall sports, until, at least, their future is determined. Ryan Collingwood has all the details in this story. … Larry Weir spent some time last week talking about the Big Sky's decision to postpone football. I just forgot to link his Press Box podcast.
Mariners: Kyle Lewis hit a three-run home run. Kyle Seager lifted a grand slam into the right-field seats. And the M's went on to defeat the Rangers 10-2 in Arlington. … The M's made roster moves yesterday. … Logan Gilbert is showing his talent in Tacoma.
Seahawks: It's possible John Ursua's positive test result was mistaken.
•••       
• I'm still trying to figure out something special for this evening. I'm thinking of McDonald's for dinner, a Cheesecake Factory specialty for dessert and an evening of Rockford Files reruns. Thought that might cover all the culinary and entertainment highlights of the past 41 years. Yep, today is our anniversary. Forty-one years ago Kim and I were married. And, yes, I remember all the stupid things I did that hot day in Covina, Calif. And all the stupid things I've done since. But I'll tell you this. Our marriage seems like 40 ½ years written and illustrated by Dr. Seuss. It has been that fun. And I would have said 41 years, except the past six months seem straight out of the mind of Stephen King. Until later …
Local journalism is essential.
Give directly to The Spokesman-Review's Northwest Passages community forums series -- which helps to offset the costs of several reporter and editor positions at the newspaper -- by using the easy options below. Gifts processed in this system are not tax deductible, but are predominately used to help meet the local financial requirements needed to receive national matching-grant funds.
Subscribe to the sports newsletter
Get the day's top sports headlines and breaking news delivered to your inbox by subscribing here.
---