News > Crime/Public Safety
Robbery suspect shot by Spokane police on Friday night remains hospitalized
Aug. 12, 2020 Updated Wed., Aug. 12, 2020 at 8:46 p.m.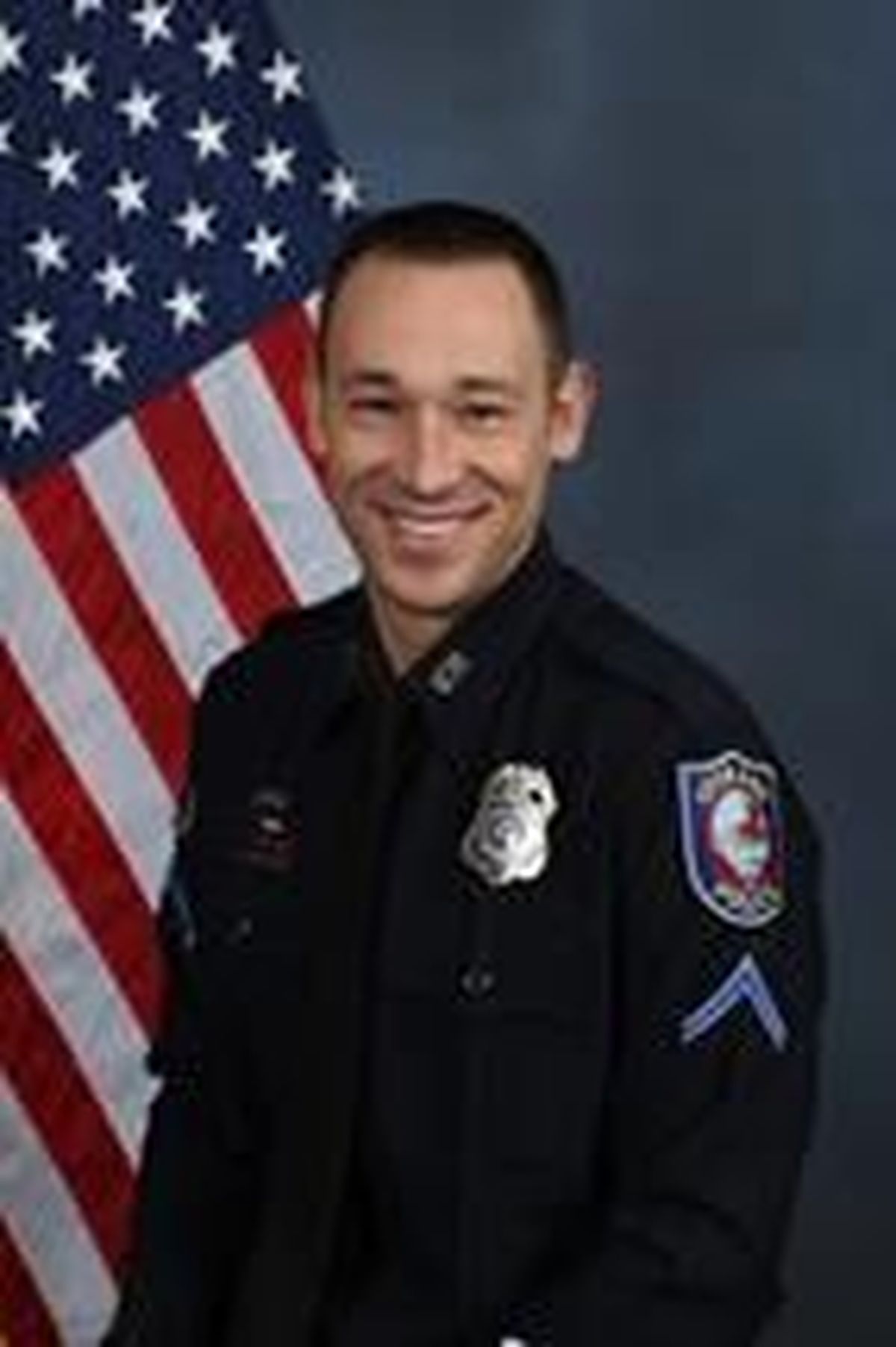 Officer Christopher Johnson shot a suspect in an incident on Aug. 7. The suspect survived.  (Emma Epperly / The Spokesman-Review)
The robbery suspect shot by Spokane Police officers Friday remains hospitalized but in satisfactory condition.
The suspect, identified as Jonathan M. Buttrom, 29, remains hospitalized under guard, a statement from the Spokane County Sheriff's Office said.
Police located Buttrom in a vehicle with an unidentified person at the intersection of Crestline Street and Courtland Avenue just before 11:30 p.m. Friday .
Two men, including Buttrom, are believed to have robbed three cellphone stores in two days late last month, stealing a single phone at one store and an armful from another, according to Spokane police.
When officers moved to detain Buttrom, he displayed a gun, according to the Sheriff's Office statement. After attempts to de-escalate the situation, two officers fired on Buttrom, the statement said.
Those officers were identified by SPD Wednesday as Dale Harvey and Christopher Johnson.
Harvey was hired by SPD in 2011 and serves as a Neighborhood Resource Officer out of the downtown precinct. Prior to his time at SPD, Harvey worked for the Western Washington University Police Department and the Post Falls Police Department.
Johnson has been with SPD since 2007 and is on the SWAT team. Johnson received the silver star in 2011, medal of valor in 2017 and the lifesaving medal in 2019. Johnson was the subject of scrutiny earlier this year after a complaint was filed with the Office of the Police Ombudsman alleging Johnson harassed a local activist, Anwar Peace, for not immediately complying when police asked for his identification. Ultimately, the incident was settled in mediation.
Neither officer has been involved in a shooting prior to this incident.
The other occupant of the vehicle was detained, but after being interviewed was released and not charged with a crime.
Buttram has yet to be charged with a crime related to the robberies he is suspected of committing. At the time of the shooting, Buttrom had an active felony warrant from Washington State Department of Corrections for escape of community custody on a first-degree robbery conviction.
Buttrom's prior convictions include theft, harassment, possession of a controlled substance and jumping bail. His felony robbery conviction precludes him from legally possessing a firearm.
During search of the vehicle Buttrom was in Friday night, Spokane Independent Investigative Response Team detectives reportedly found a loaded 9mm pistol with a round in the chamber.
The SIIR team is made up of agencies in Spokane County and is called to investigate other agencies when an officer-involved shooting occurs. The Spokane Police Department is not involved in investigating this incident.
Local journalism is essential.
Give directly to The Spokesman-Review's Northwest Passages community forums series -- which helps to offset the costs of several reporter and editor positions at the newspaper -- by using the easy options below. Gifts processed in this system are not tax deductible, but are predominately used to help meet the local financial requirements needed to receive national matching-grant funds.
Subscribe now to get breaking news alerts in your email inbox
Get breaking news delivered to your inbox as it happens.
---