News > Spokane
Spokane man who died of coronavirus remembered as a wise, kind and spirited family man
Thu., Aug. 13, 2020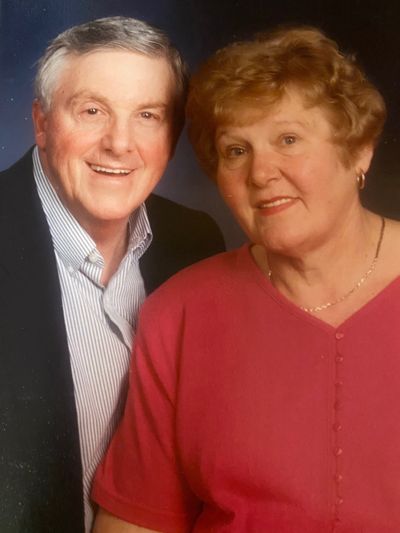 Kathy Buchanan learned to water ski when she was 5 years old, on three-foot skis, off the back of a 14-foot boat in Deer Lake. Her mom, Rita Buchanan, was in the water with her, and her dad, Jim Buchanan, was behind the wheel. She was able to get up, but when she fell down, she held fast to the towline and heard shouts from the boat to let go.
Fittingly, given his passion for spending time on the lake, this is Kathy's first memory of her father.
"He was so patient with skiing, I can't tell you how many people he taught how to ski," Kathy said. "I have so many memories of us being all together as a family at the lake."
Kathy said Jim described the Inland Northwest as "God's country." Jim came from humble beginnings, worked hard to provide for his family and prioritized being involved in his loved one's lives. On July 27, Jim tested positive for COVID-19, and on July 30 he died. He was 85.
Jim was born at home in Peaceful Valley. His father left when he was 2, so he was raised by his mother, June Kreager. Kreager was one of seven children, and her younger brother, Dale Kreager, was only 18 months older than Jim. Jim, along with his mother and sister, partially grew up in Dale's parent's home. Though Dale was technically Jim's uncle, Dale said he considers Jim a brother. The two shared a bedroom, and just about everything else.
"He had a wonderful laugh and good sense of humor," Dale said. "Growing up, I don't remember any tantrums, anything of that sort, and his younger years weren't the greatest, being moved from home to home, but he coped with it quite well."
In the late 1940s, June purchased a tavern in Clarkia, Idaho, and the family moved.
"Clarkia had dirt streets, wooded areas, a real small town," Dale said. "He and his dog Sandy would run through the woods. I spent quite a bit of time in Clarkia with him, and we would wade the rivers fishing and hike up to the lookouts. We had a great time there."
In the early '50s, June sold the tavern, and the family moved back to Spokane. One of Jim's step-dads used to frequently give him silver dollars.
"Jim would divide it with me, or take me to a show downtown – only 12 or 15 cents at that time – but Jim was very good about sharing everything with me," Dale said.
Jim attended North Central High School, but before earning his diploma, he joined the Honor Guard and was sent to Germany for rebuilding efforts. When he returned to the area in 1956, he heard about a cabin party on Loon Lake, and decided to crash. Rita Evans was at that party, and he knew of her because their mothers were friends.
"There was nobody else after that for each other. I think they got married within a year," Kathy said. "They were both outdoors people, both loved all that kind of stuff, and I think that was just a real connection immediately."
When the couple were first married, they moved to California for a job, but both wanted to raise their children in Spokane, so they moved back. Jim took a job with Washington Water Power (now Avista), where he worked for 20 years, rising to the position as foreman in the gas department.
"He had a really good career and did things really well," Craig Buchanan, Jim's youngest son, said. "He took a lot of pride in what he did, and the people he worked with."
Craig said one of his first memories was his father bringing home backhoes, tractors and other machinery.
"He'd bring them home every chance he got, because he knew how much I enjoyed just to sit up on the tractor, or in the truck, and pretend," Craig said.
On Aug. 17, Craig will have been with Avista for 29 years. He started as a tree-trimmer, went into the gas department as a crew foreman, and has now been in management for eight years.
"He was a huge inspiration to me obviously, and coached me along as a father should, on the ins and outs of the business," Craig said. "He always said, 'Just keep your head down, keep your mouth shut and work hard, and everything will work out.' And those words have a lot of truth to them."
Jim and Rita had a third son, Curtis Buchanan, who died of a heart attack at age 42.
"My dad was pretty stoic until the day of the funeral, and then I don't know what happened, but he said that Curt came and talked to him on the day of his funeral and said that he was OK," Kathy said. "I don't know what to think about all of that, but I do know that it meant something to him."
Kathy had been living in California at the time, and had a heart attack the week before, but she recovered. Her mother was struggling with diabetes, and Jim was her caregiver. Kathy decided to return home and help her dad with her mom's care, and that was how she ended up becoming a caregiver to her grade school friend, Jenny Hoff, who had amyotrophic lateral sclerosis. Hoff, an advocate for an ALS cure as well as supporter for ALS sufferers, died last summer.
Kathy said caring for his wife gave her father a lot of purpose, and it was extremely difficult for him when she died in 2009. The day after Rita's funeral, Kathy, Jim and Austin, Jim's grandson, were at Heritage Funeral and Cremation. When they got in the car, they went across TJ Meenach Bridge, and there was a detour, so Jim decided to drive by one of the houses he grew up in.
"Well, I didn't see the for sale sign," Kathy said. "It was my nephew Austin who said, 'Aunt Kathy, this house is for sale.' It was exactly the kind of house I wanted, and it was just like my mom just steered us straight over there."
The process took two years, but Kathy was able to buy her father's childhood home, and with it, he shared the memories of growing up there. He apologized for the lack of garage – when he was young, he had fallen through the roof, and it was never replaced. He also warned her that he had given his mother a turtle for Mother's Day one year, and they lost the turtle, "so don't be surprised if you find the skeleton of a turtle somewhere."
One of Jim's favorite roles was grandpa. Craig has two sons, Austin and Max Buchanan, and Max said that growing up, Jim would pick him up from school every Thursday, and they would spend the day together.
After helping with homework, the two would often play Wii bowling, watch Sponge Bob Squarepants or play a board game like Sorry or Yahtzee.
"He was the best grandpa you could ask for," Max said. "He took the time out of his day to spend time with me. I just really loved him."
During their time at Priest Lake, Max said his grandpa taught him to fish, ride four-wheelers, swim and do countless other things.
"He just really taught me how to be a good person and how I should be treating other people," Max said.
Not long after Jim passed away, Max tested positive for coronavirus. He thinks he became infected from one of his coworkers at Environment Control – a janitorial company – who also tested positive. Since testing positive, he has felt weak and has been experiencing chest pain and shortness of breath. He said sometimes the shortness of breath can become more acute, but "I think that might have to do with me having some anxiety, and just the fact that my grandpa just recently passed away from it."
Max lives with his mother, and everyone else in his family got tested. So far, no one else has tested positive.
Jim was living at Royal Park Health and Rehabilitation in the Nevada Heights Neighborhood, which recently had a coronavirus outbreak. Though the facility had stopped allowing window visits because it was stretching resources, the family was able to have a window visit with Jim the Tuesday before he died.
"He seemed pretty in and out of it," Max said. "I didn't really know if he knew what was really going on. But in the end, when we were walking away, he sat up and smiled at me. I'll remember that forever."
Local journalism is essential.
Give directly to The Spokesman-Review's Northwest Passages community forums series -- which helps to offset the costs of several reporter and editor positions at the newspaper -- by using the easy options below. Gifts processed in this system are not tax deductible, but are predominately used to help meet the local financial requirements needed to receive national matching-grant funds.
Subscribe to the Coronavirus newsletter
Get the day's latest Coronavirus news delivered to your inbox by subscribing to our newsletter.
---