Sports
A Grip on Sports: In college football, one group is saying no while another group says yes
Fri., Aug. 14, 2020 A GRIP ON SPORTS • How many of us wouldn't take no for an answer when we were young? "Mom, can I go to …" "No." Not deterred, we would head to the living room. "Dad, can I go to …" "Sure." The door would slam and off we would go, leaving the two of them to sort it out. It's similar to sports these days.
•••••••
• The Pac-12 Conference presidents and chancellors consulted with their COVID-19 advisory committee, a group made up with a majority of medical experts without deep connections to the conference. Afterward, the decision (and the Big Ten) was made to postpone football to the spring – though even then, the sport will only occur if conditions improve.
Other conferences, with their own medical advisors most of who are connected in some way with a school's athletic program, didn't like that answer. So far, they've been hearing yes – and heading off to play.
The same information should be available, right? So what's different?
Oregon State president F. King Alexander, who used to hold the same position at Louisiana State, was asked by the Oregonian's Nick Daschel yesterday what the Pac-12 leaders were seeing that was different from their SEC counterparts.
"I think, probably, reality," he answered, succinctly. And damningly.
Left unsaid was the difference in priorities.
Throughout the Pac-12 yesterday, including in Pullman, athletic directors and presidents explained the financial hit schools would take if football isn't played. No one thought it would be less than half their budget, anywhere from $40 to $90 million. Even that catastrophic number, though, isn't enough in the presidents' minds to risk playing.
South of the Mason-Dixon Line, however, it is.
• Tired of COVID-19's disruption of sports? Tired of reading about it? You are not alone.
Before we address those questions, a reminder. More than 165,000 Americans have lost their lives to the disease, with more than 5 million having been infected.  Those disruptions are what really matter. So take every precaution you can to help control the spread of the virus. Please.
Now back to the fatigue. I'm tired too. I would love to be writing about other things. But it's hard to weigh what is going on and come up with a scenario in which other athletic events are more important.
Everything, it seems, has a connection to the pandemic. So we soldier on, digging a daily foxhole filled with virus-related news and events. It's not exactly what we signed up for but it is what we face.
Maybe this weekend we'll dig back into our archive of odd stories and share something that will make you smile. It is possible, I think, if you want it.
Heck, forget you. I need to smile more. Unless something big happens today (and it is Friday, so that's possible), we promise to share a story tomorrow morning. It will make you smile or my name isn't Thaddeus T. Tucker.
•••
WSU: We used the word apocalypse the other day to describe Washington State's budget woes. The same word came up yesterday when athletic director Pat Chun spoke with the media. Theo Lawson played the Martin Sheen role and listened to Chun explain football cancellation's impacts, then narrates it all here in this story and transcript of the conference call. … Around the Pac-12 and college sports, such media events were common, with Washington athletic director Jen Cohen trying to figure just how much water the Huskies will take on. … The same is happening at Oregon, Oregon State and Arizona. … Spring football has hurdles to cross. … We agree with Colorado's Rick George on this. College football needs some sort of leadership. … We've hit this point before. Liability, and the presumption schools would be at fault if something happened, plays a big role in the decision-making process. … Eligibility questions still abound. … The college football playoff is still on, though it won't have much in the way of finality even if it occurs. … In basketball news, Oregon State picked up a couple of new players on its women's team, including a grad transfer from WSU. … Remember, all these cancellations are hitting Olympic sports hard. And the financial hits will impact them the most.
Gonzaga: Though the Bulldogs don't sport a football team, the changes nationally will have an impact on the school's basketball program as well. Jim Meehan looks at what schools around the nation are doing to try to minimize that impact and allow a basketball season to occur. … There have been a lot of discussions about bubbles and pods, including some comments yesterday from NCAA president Mark Emmert and among Pac-12 basketball coaches. … The WCC decided to cancel all fall sports competition as the NCAA canceled championships in those sports and moved toward the possibility of spring championships. Jim has that story as well.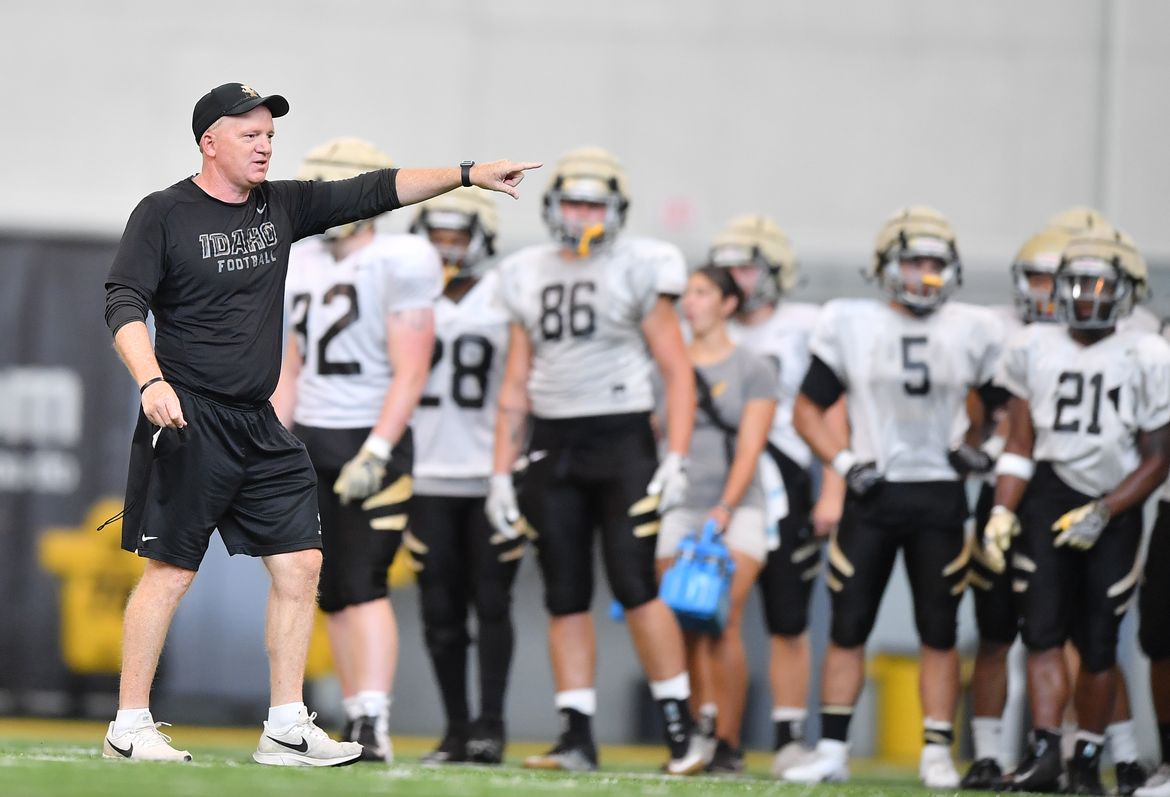 Idaho: The Big Sky also canceled all fall sports, including the possibility of playing nonconference football games, something that had been allowed earlier. The Vandals had been exploring a couple options this fall before the spring conference season, but as Peter Harriman tells us, those plans are now out the door. … Larry Weir talked with our friend Dennis Patchin concerning Idaho football, something Dennis knows well in his role as the sport's play-by-play voice. It's part of the latest Press Box podcast.
Preps: Again, there are two schools of thought when it comes to fall sports. Washington has moved everything to after the first of the year. Idaho continues to move toward playing. Except in Moscow. The Bears have pulled the plug on competitions with other schools and will hold intramurals this fall, according to the Moscow-Pullman Daily News. … The first high school football game of 2020 was played in Utah last night.
Golf: Jim has another story in today's paper. He has a notebook that covers results at the Idaho State Junior Amateur and the Washington Men's Amateur.
Seahawks: Art Thiel asked Russell Wilson yesterday about a desire of Hawk fans to "let Russ cook," a social-media meme that hit its nadir last season. Was Wilson on board with that? Yes. Yes he is. As Thiel writes, he wants the chef's hat. … Wilson is also a swim instructor. Who knew? … The Hawks cut a player yesterday who tried to sneak a woman into the team hotel. … No, Jamal Adams won't be bored playing in Seattle. Gregg Williams just said another idiotic thing.
Mariners: The M's didn't win yesterday but they didn't lose either. They were off. But Ryan Divish has a story of a long home run.
•••       
• OK, some good news. Some researchers at UC San Francisco think they may have developed a way to ward off the virus. If their nasal spray works, it could be a game changer. Until later …
Local journalism is essential.
Give directly to The Spokesman-Review's Northwest Passages community forums series -- which helps to offset the costs of several reporter and editor positions at the newspaper -- by using the easy options below. Gifts processed in this system are not tax deductible, but are predominately used to help meet the local financial requirements needed to receive national matching-grant funds.
Subscribe to the sports newsletter
Get the day's top sports headlines and breaking news delivered to your inbox by subscribing here.
---