News > Spokane
As near record-breaking heat sweeps Spokane, rafters and floaters keep cool
Aug. 16, 2020 Updated Sun., Aug. 16, 2020 at 9:27 p.m. The sun was beating mercilessly down onto People's Park on Sunday afternoon, but Lauren Boldebuck had bigger problems to worry about. Her inner tube had sprung a leak.
"Do you have any tape?" Boldebuck asked a family on the banks nearby as they pushed their raft into the current.
When they replied in the negative, Boldebuck seemed a bit downtrodden as she turned to her friend. "They seemed way better prepared than us," she remarked.
But Boldebuck didn't let the leak – or the heat – keep her down for long. The leak was only in her tube's cooler, after all. She'd just keep her thumb over it.
After having spent much of her summer on the lake, Boldebuck said Sunday simply felt like "a tubing day." It was time for a change of pace, she said, and besides, the water was much colder.
As temperatures Sunday pushed nearly into record- breaking triple digits, it's no surprise Boldebuck and her friends were just a few of many who had the cool idea to float down the Spokane River.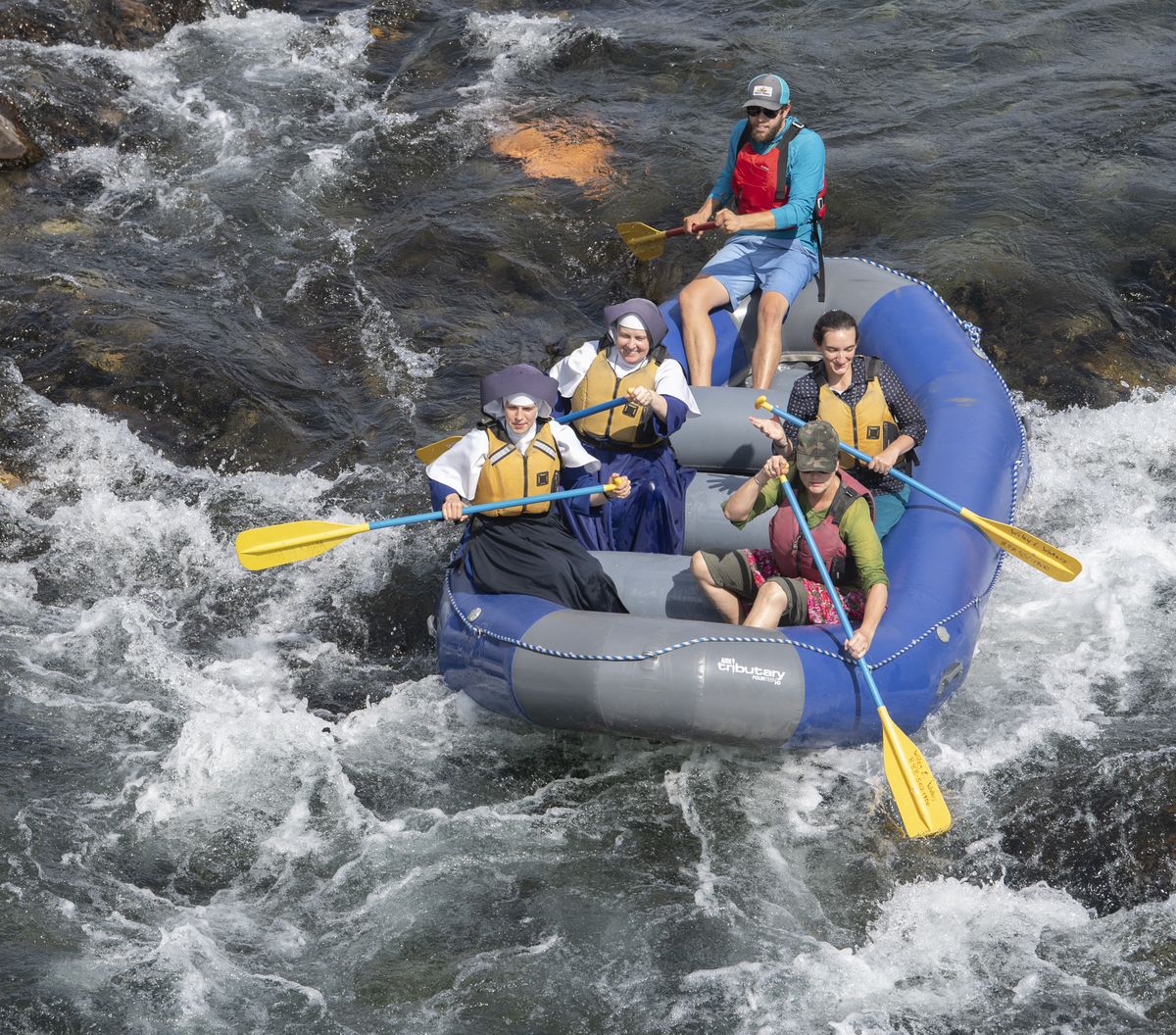 A rafting group, including nuns from Mount St. Michael, hit some whitewater with a rafting guide from Wiley E. Waters on the Spokane River near High Bridge Park on Sunday. Hundreds of inner-tubers, kayakers and others hit the river for the mostly flat-water float from Peaceful Valley or High Bridge Park to Downriver Park and Riverside State Park. (Jesse Tinsley/The Spokesman-Review)Buy a print of this photo
According to the National Weather Service, temperatures at Spokane International Airport on Sunday matched the record of 100 degrees set in 1967. So when Boldebuck lowered down into her tube on the icy water, it was only a shock for a second before she breathed a sigh of cool relief.
In the People's Park parking lot, Ethan Kane and Mia Campbell were trying to stay shaded under their inner tube as they waited for friends to join them.
Both experienced tubers, they said the river was the busiest they'd seen this summer. Campbell said she'd been out floating more often this year simply because there aren't a lot of other options in the summer of COVID-19.
"You can't go to bars, can't go to restaurants," Campbell said. "So this is fun, because it pushes you outside and gets you some sun. Plus it's local, so you don't have to worry about infecting a bunch of other people or yourself."
Their group was planning to float the river from People's Park down to the T.J. Meenach Bridge, a leisurely trip expected to take a couple of hours. Kane said on a searingly hot day like Sunday, the Spokane River was a favorite choice of his because there are plenty of slow spots to simply float in place and cool off. In other places, though, rapids require quite a bit of core work to keep your back from being bruised against sharp rocks, Kane said.
"So you're usually surprisingly tired by the end, and we'll be looking forward to sitting in a cool basement with AC and a watermelon slushie," Kane said.
A couple of miles downstream at the T.J. Meenach Bridge, dozens of cars lined the road as families lingered under shady trees and rafters pulled boats out of the river. A group of nuns from Mount St. Michael loaded onto a bus after pulling out of the river, unstrapping yellow life vests from over their drenched blue- and-white habits.
Marissa Gutierrez sipped an icy soda as she recounted the surprisingly educational rafting trip she'd just taken with their guide from ROW Adventures. Gutierrez and Jesse Rabago traveled to Spokane from San Antonio, Texas, on a business trip. But that didn't keep them from finding fun ways to spend a weekend, Rabago said.
"We saw some foliage that we definitely don't have in Texas, and we learned what basalt is," Gutierrez said. "This was our first time, but it was honestly fantastic."
Their rafting guide, Marilyn Nielson, said a big part of the "educational" period of a raft trip revolves around the importance of wearing life vests. She'd seen a few groups on the river without a personal flotation device in sight, but had seen quite a few wearing them properly, too.
"It's true that 99% of people who float the river make it out just fine, but the thing is you can guarantee you're one of that 99% if you wear your life vest," Nielson said. "It's best just to be careful – you know, you can drown in a bathtub if you're drinking."
Now that they've had a bit of an introduction to rafting through the Inland Northwest, Gutierrez said she and Rabago want to take it to the next level. On their next trip, they hope to see some truly intense whitewater on the Clark Fork River in Montana.
"It was exciting here for sure, don't get me wrong," Gutierrez said. "But I think we can take the excitement up a whole bunch of notches."
Local journalism is essential.
Give directly to The Spokesman-Review's Northwest Passages community forums series -- which helps to offset the costs of several reporter and editor positions at the newspaper -- by using the easy options below. Gifts processed in this system are not tax deductible, but are predominately used to help meet the local financial requirements needed to receive national matching-grant funds.
Subscribe now to get breaking news alerts in your email inbox
Get breaking news delivered to your inbox as it happens.
---