News > Crime/Public Safety
Spokane County hopes to use CARES funds to give clerk's office electronic filing capability
UPDATED: Thu., Aug. 20, 2020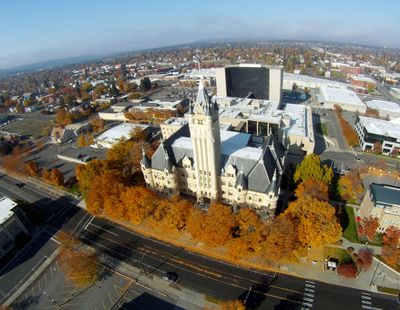 The Spokane County Clerk's Office hopes to use federal coronavirus relief funding to implement electronic filing, a major technology update for an office that now primarily uses paper files.
County Clerk Tim Fitzgerald said he hopes to use CARES Act dollars to bring a "holistic" e-filing program that covers all eight case types for which the office accepts files, including criminal and civil cases.
"I've been modernizing this office nonstop." Fitzgerald said. "This idea is what will get me to where I want to be after five years as county clerk."
To file paperwork with the county clerk's office, individuals currently are required to file paper copies in person most of the time. The new filing system would allow for individuals, lawyers, judges and other members of the justice system to file and pay filing fees online, eliminating office traffic.
The change to electronic filing would be a part of the "new norm" of doing more work from home long term, said John Dickson, the county's chief operating officer .
"With whatever it is, e-filing enables the customers of the county not to have to physically come here," Dickson said. "If a citizen doesn't have to physically come here, that saves time and money. A lot of folks don't have the money for the gas and the parking. So we're using this as an opportunity to really jump-start a lot of our holistic long-term efforts."
In order to implement an electronic filing system, Fitzgerald first has to find a program that will work not only with the courts' current systems but also with the public defender and prosecutor's case management system.
The electronic filing system also has to meet the needs of the clerk's office internally, Fitzgerald said.
Finding the right vendor is something that could take a year or more under normal circumstances, Fitzgerald said. However, to qualify for CARES Act funding for the initial capital purchase of the system, Fitzgerald and the Spokane County commissioners have to select and purchase a system before the end of the year.
In order to do that, the county commission approved $89,000 on Tuesday to fund a temporary IT business analyst position to evaluate the clerk's office needs and make a vendor recommendation. Chyla Grant from CGCJ Consulting in Liberty Lake was selected for the position, county records show.
"She's brilliant and she has an analytical mind," Fitzgerald said of Grant.
Fitzgerald said he expects that recommendation to be made in November, with hopes of selecting a vendor in December and applying for CARES funding approval. County commissioners will not only have to approve the initial use of CARES funding but also annual costs associated with the new system's upkeep.
"We're willing to do that because we know the amount of savings we're going to have in paper alone," Dickson said of the new budget item. "We know it's the right thing to do."
Fitzgerald said he does not have an estimated cost for the initial purchase of the e-filing system or annual upkeep. However, he does expect to see a significant savings from reduced paper usage.
Spokane County received more than $91 million of CARES funding from the federal government that must be used by the end of the year.
Local journalism is essential.
Give directly to The Spokesman-Review's Northwest Passages community forums series -- which helps to offset the costs of several reporter and editor positions at the newspaper -- by using the easy options below. Gifts processed in this system are not tax deductible, but are predominately used to help meet the local financial requirements needed to receive national matching-grant funds.
Subscribe to the Coronavirus newsletter
Get the day's latest Coronavirus news delivered to your inbox by subscribing to our newsletter.
---