News > Spokane
Spokane Parks granted permission to start league play of popular lawn game cornhole in September
UPDATED: Wed., Aug. 19, 2020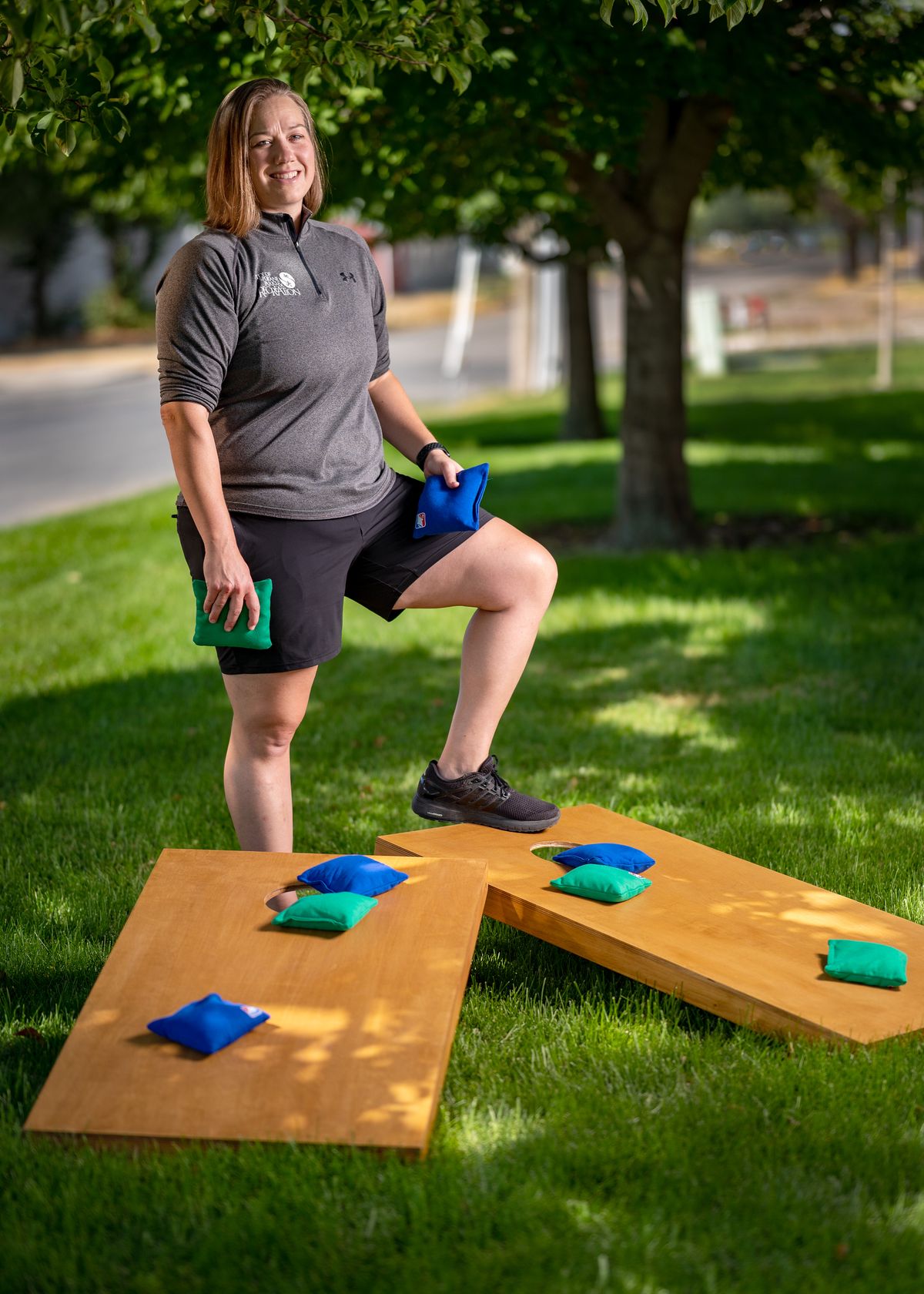 Carissa Ware, Adults Athletics & Field Allocations supervisor, stands by a new cornhole set on Tuesday. The Parks and Recreation department is establishing a cornhole league next month, among its first competitive offerings since the start of the pandemic. (Colin Mulvany/The Spokesman-Review)
Backyard bag-tossers in the Inland Northwest will soon have a new way to test their mettle against their neighbors, even during a pandemic.
Spokane's Parks and Recreation Department will bring "cornhole," a century-old pastime that is in the midst of a cultural explosion, to the Dwight Merkel Sports Complex for an inaugural season next month. For an entry fee of $30, teams of two players 18 and over will be assured four weeks of matches in a game that officials say is well-designed to maintain proper social distancing protocols to slow the spread of COVID-19.
"During COVID, there's been a lot of different webinars for recreation programs," said Carissa Ware, athletics supervisor at Spokane Parks and Recreation. "This is one of those things that we're able to do, and be socially distant."
A $25 option for high school players, ages 15-18, also will be available.
Teams can choose a recreation or competitive option, and can sign up online at my.spokanecity.org/recreation.
Popular on college campuses and at local watering holes, cornhole is played by teams attempting to toss bean bags through openings carved in wooden boards spaced 27 feet apart. Its current surge in popularity can be directly tied to televised matches appearing nationally on ESPN this summer, as the professional American Cornhole League has continued to hold competitions – including a world championship – while other sports have had to pause.
Ware said plans for the Spokane league were based upon a similar successful program in Meridian, Idaho, earlier this summer. Participants will be given disposable gloves to wear when handling bean bags, Ware said, and will be required to wear masks during play, a mandate that also has been enforced in professional leagues.
Park officials hope the desire for competition and lack of other options during the fall will drive registration, especially among the high school set.
"Aside from youth sports camps, which have some competitive play, this is the first program that we're able to offer and still meet the guidelines," Ware said.
It couldn't come at a more popular time for cornhole, also known as "bags," "corn toss" or "Indiana horseshoes," depending on where you grew up.
The game can be traced to a patent filed by Chicago native Heyliger de Windt in 1883 for a diversion known then as "parlor quoits," an indoor game that used bags filled with "beans, rice or like material."
Early versions of cornhole, named for the feed corn that fills regulation bags, included "jumbo" bags scoring double points and as many as two holes for pitchers to target, the smaller one awarding players more points.
A few years ago, Spokane was a desert region for those interested in cornhole, said Nick Kovalenko, who helped start the group Spokane Cornhole with his girlfriend a few years ago. The organization has held competitions at area elementary schools, in Manito Park and at the Players & Spectators event center in Spokane Valley in recent years.
"I really like it because it truly is a game anyone can play," Kovalenko said. "I've been beat by little kids. I've been ran over by an old lady."
Among the competitive players nationwide is Dayton Webber, a Maryland man who at 10 months old had a large part of both arms and legs amputated due to a bacterial infection. Webber tosses his bags by using what remains of his extremities.
Kovalenko said the other draw of the game is social, milling about and sometimes enjoying a few cold ones while waiting for the next game.
Those traditions caused Spokane Cornhole to put its competitions on hold, at least until the pandemic that has surged in the summer begins to subside a bit more.
"I haven't been involved in organizing tournaments or leagues," he said. "I don't want to be responsible, directly or indirectly, for anyone catching COVID."
But the world championship, and several regional indoor tournaments, have been held since May without any outbreaks.
Spokane's plan was also reviewed by local health officials, who gave the go-ahead, Ware said.
Registration for the league is required by Sept. 9. A virtual league meeting will occur Sept. 15, with play beginning the following day and lasting four weeks. Ware said, based on the popularity of the outdoor offering, the city is pursuing winter, indoor options for further cornhole play.
Local journalism is essential.
Give directly to The Spokesman-Review's Northwest Passages community forums series -- which helps to offset the costs of several reporter and editor positions at the newspaper -- by using the easy options below. Gifts processed in this system are not tax deductible, but are predominately used to help meet the local financial requirements needed to receive national matching-grant funds.
Subscribe now to get breaking news alerts in your email inbox
Get breaking news delivered to your inbox as it happens.
---