News > Military
Fairchild hosts Air Force tankers evacuated from California amid wildfires
Aug. 22, 2020 Updated Sat., Aug. 22, 2020 at 8:17 p.m.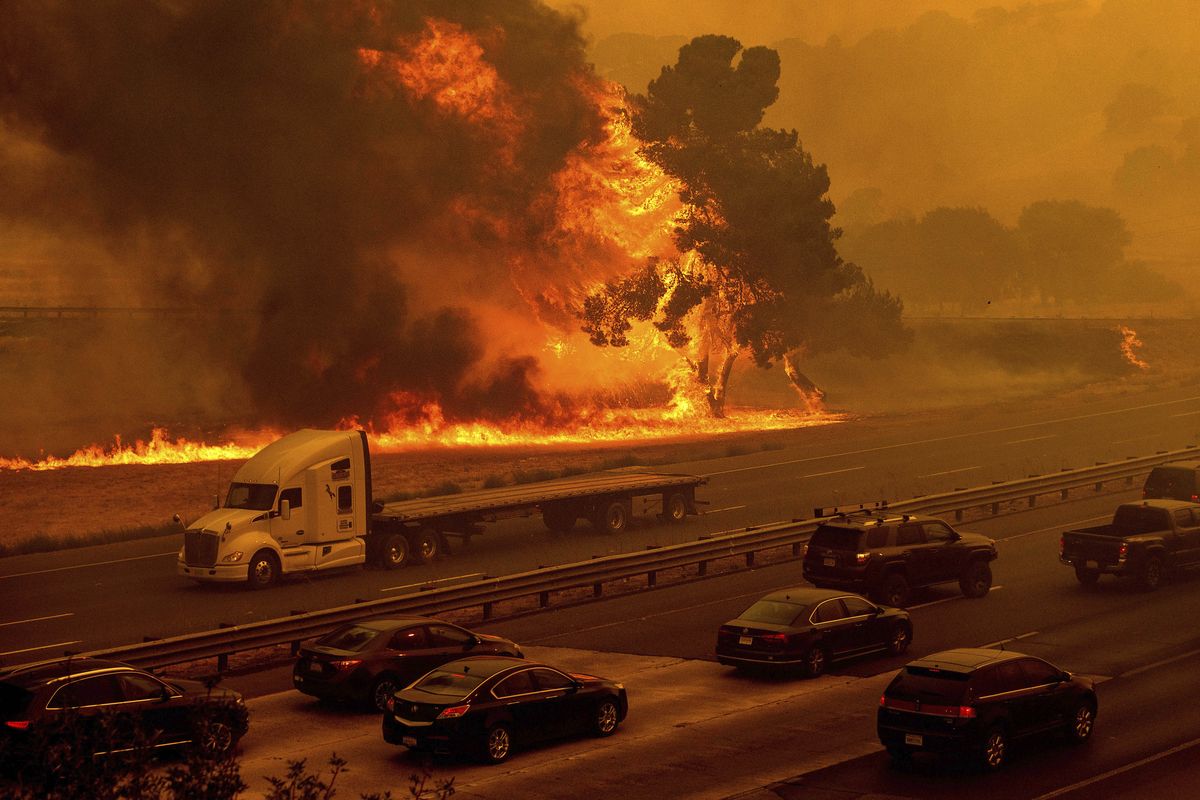 Flames from the LNU Lightning Complex fires jump Interstate 80 in Vacaville, Calif., Wednesday, Aug. 19, 2020. The highway was closed in both directions shortly afterward. Fire crews across the region scrambled to contain dozens of wildfires sparked by lightning strikes as a statewide heat wave continues.  (Noah Berger)
As wildfire ripped through Northern California this week, 17 KC-10 air refueling tankers evacuated from Travis Air Force Base landed at Fairchild Air Force Base on Wednesday night for safekeeping.
Those aircraft, which came along with 116 airmen now staying on-base and in local hotels, are stored in various taxiways and parking spots at Fairchild's airfield, according to Capt. Kaitlin Holmes, a Fairchild spokesperson. She said Fairchild operations have not been affected by the influx of planes and airmen, who were screened for COVID-19 upon arrival and did not require isolation.
"The Fairchild team is trained to handle rapid deployments and re-deployments in multiple different capacities, so we were prepared to support Travis in their time of need," Holmes wrote in an email statement. "Further, the men and women of Fairchild are once again reminded that they are supreme mission enablers. The airmen of this wing have maintained the wing's mission while enabling the mission of another wing."
A number of C-17 transport aircraft from Travis Air Force Base, which is southwest of Sacramento, were sent to Joint Base Lewis-McChord near Tacoma, according to Air Force Magazine.
Dozens of lightning-caused wildfires have burned more than 1,200 square miles across California in the past week, the Washington Post reported.
Air Force officials ordered the evacuation of Travis' aircraft and non- mission-essential airmen, along with their families, on Wednesday with the Hennessey Fire, which had grown by about 88,000 acres that day, bearing down from the north.
The Hennessey Fire is a part of the LNU Lightning Complex, which had burned nearly 500 square miles across five Northern California counties by Friday morning, according to the California Department of Forestry and Fire Protection.
The grouping of fires – one of the largest in state history – has destroyed at least 560 structures and killed four people and injured four others.
Firefighters contained the southern edge of the Hennessey Fire, which is more than 400 square miles, within miles of the base by Friday morning, according to Cal Fire. Air Force officials then lifted Travis AFB's evacuation order and announced plans for aircraft to start returning during the weekend.
Local journalism is essential.
Give directly to The Spokesman-Review's Northwest Passages community forums series -- which helps to offset the costs of several reporter and editor positions at the newspaper -- by using the easy options below. Gifts processed in this system are not tax deductible, but are predominately used to help meet the local financial requirements needed to receive national matching-grant funds.
Subscribe now to get breaking news alerts in your email inbox
Get breaking news delivered to your inbox as it happens.
---