News > Idaho
The race must go on: Runners praise socially distanced Coeur d'Alene Marathon
Aug. 22, 2020 Updated Sat., Aug. 22, 2020 at 5:57 p.m.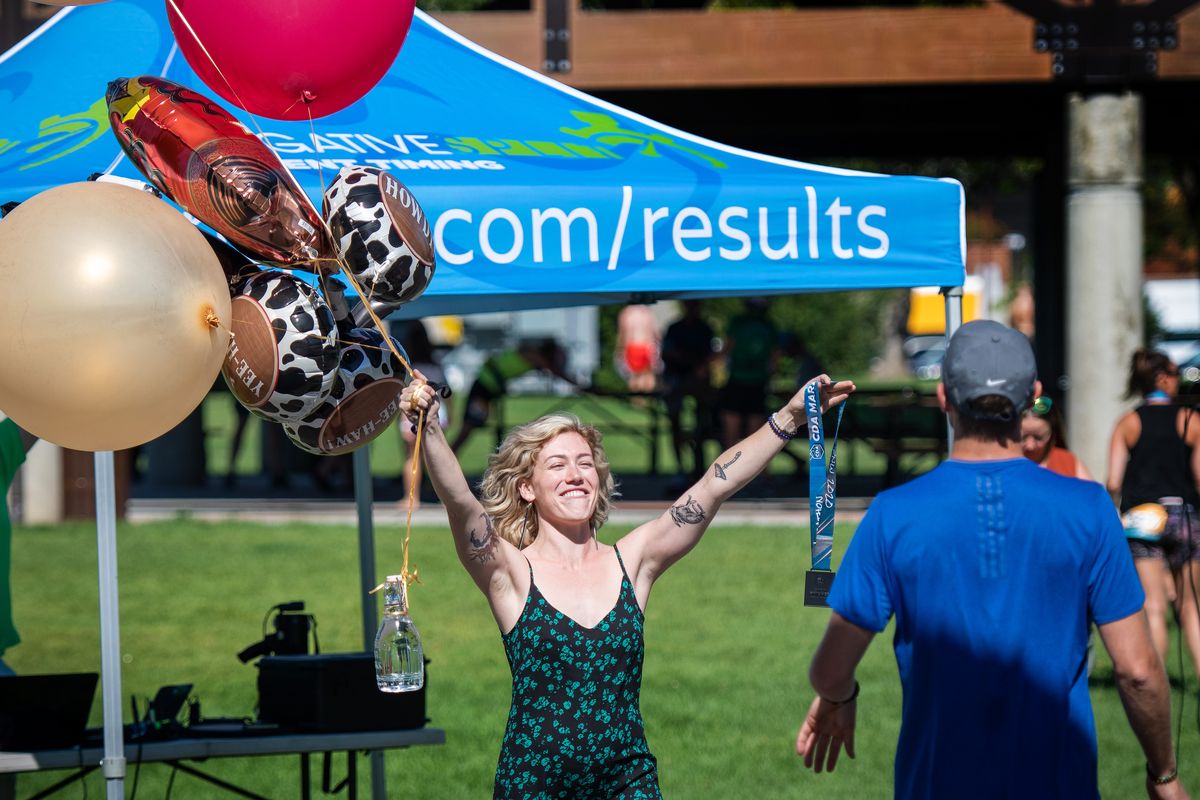 Carli Bjerke greets her boyfriend, Lucas Cole, with balloons and a medal as he finishes the socially distanced Coeur d'Alene Marathon in McEuen Park on Saturday. (Colin Mulvany/THE SPOKESMAN-REVIEW)
Kelli Gibbs ran in the Coeur d'Alene Marathon for the sixth time Saturday and it didn't disappoint.
Gibbs, a physician assistant from Missoula, said she travels across the country for marathons every year – Illinois, Massachusetts, Georgia, Kansas are just a few of the states she's explored in more than 17 trips for marathons. But coronavirus threatened to foil her plans this year. Five marathons she planned to attend were canceled due to the virus' spread, she said.
Coeur d'Alene's marathon, organized by race event planning company Negative Split, pushed through with 1,700 participants signed up to run. Runners normally flock to the city for the one-day marathon in May, but this year's race was delayed by three months.
To keep runners from huddling close at the starting line, organizers staggered runners' starting times over the course of three days. Despite having nearly 2,000 runners in attendance, around 9 a.m. Saturday, only about 30 people were visible milling about at McEuen Park's pavilion near the start and finish line.
"You don't have to wait," an announcer's voice boomed over speakers in sunny, lush McEuen Park. "If you're ready to run, the course is ready for you."
The August heat was the main discernible difference for Gibbs. For her, starting separately from other runners didn't detract from camaraderie, either.
"There's always someone in front and behind you, so you don't feel like you're running alone," Gibbs said.
The staggered starting times were convenient for Gibbs, who could travel more easily with flexible plans and start at a comfortable time. All runners carried a small chip that tracked their starting and ending times.
Gibbs remembered a crowded marathon in Chicago years ago, during which she waited nearly 30 minutes in a corralled area to reach the starting line. She said she'd never want to run that race again because the "horrid" experience leading up to the run.
Jamie Derrickson, who traveled with her husband, Brian Derrickson, from Albany, Oregon, for the race, said she and her friend, Laurel Sewell, plan to run in every state.
They said they've experienced intense crowding at past races.
Heath Sewell, Laurel's husband who joined Brian Derrickson in supporting the women, said at the Tinker Bell Marathon at Disney World previous to the pandemic, he couldn't break through the crowd to reach his wife at the finish line.
But in Coeur d'Alene Saturday, people were scarce and relaxed.
Though the friends won't check many states off their list because of COVID restrictions, they thought Negative Split gave other races a great example of a safe way to let people run.
"The lead-up and the hype is different, but we got to run, so that's what matters," Laurel Sewell said. "It's crappy when you train and put in time just for the race to be canceled."
Laurel Sewell's prep for a marathon is idiosyncratic, she said, but it involves about a month of gradually running more each week.
For many runners, marathons are a chance to experience new cities.
Laurel Sewell and Jamie Derrickson had never seen Coeur d'Alene prior to their trip this weekend, but Gibbs knows her favorite restaurants from frequent trips for the race.
Marathons bring in runners, family members and tourism dollars. Within the first 10 seconds of Negative Split's video introducing the CdA Marathon, a speaker highlights the restaurants, boutiques and shops to explore in the city.
Heath Sewell said marathons are also an opportunity to support his wife in something she loves.
Jamie Derrickson and Laurel Sewell both said the race gave them hope, and they'd advise people not to let fear keep them from exercising.
"Stay active," Gibbs said. "There are still joyful things to do even though it's a weird time."
Maggie Quinlan can be reached at (509) 459-5135 or at maggieq@spokesman.com
Local journalism is essential.
Give directly to The Spokesman-Review's Northwest Passages community forums series -- which helps to offset the costs of several reporter and editor positions at the newspaper -- by using the easy options below. Gifts processed in this system are not tax deductible, but are predominately used to help meet the local financial requirements needed to receive national matching-grant funds.
Subscribe now to get breaking news alerts in your email inbox
Get breaking news delivered to your inbox as it happens.
---