Spokane community leaders, activists look to road ahead after Wisconsin police shooting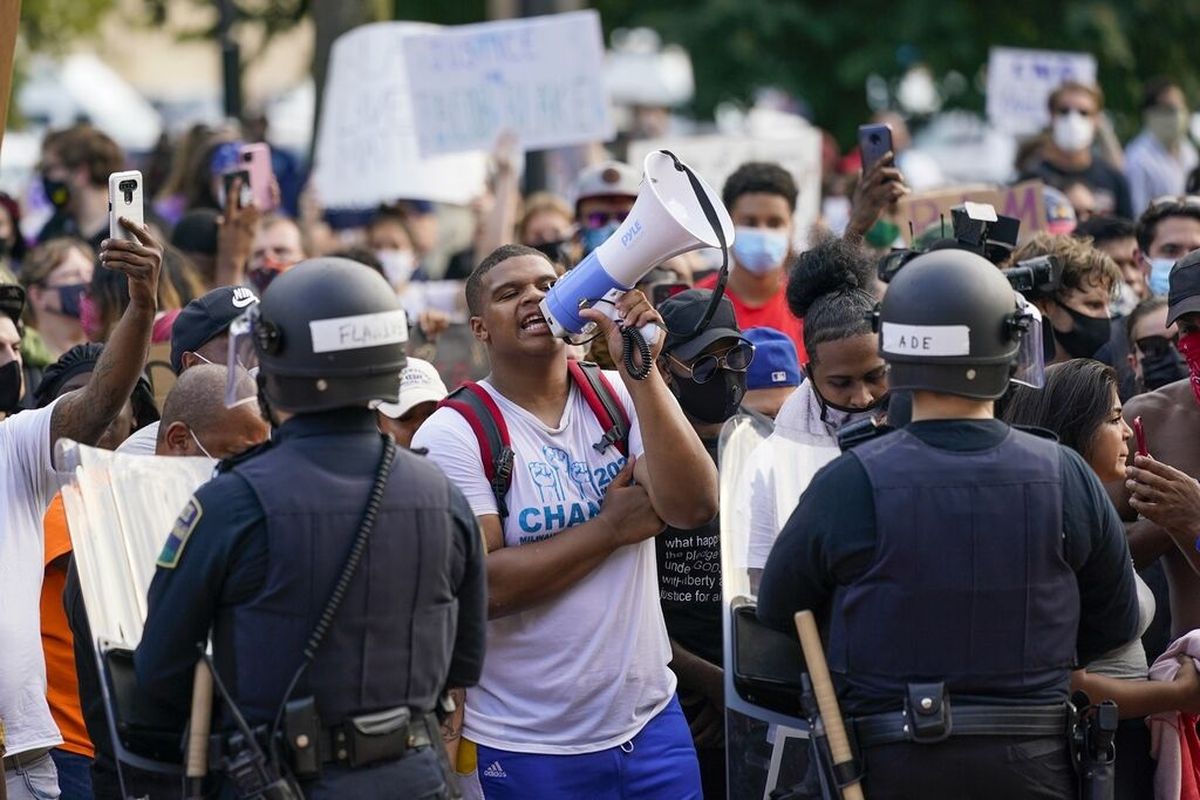 When Kurtis Robinson, president of the Spokane chapter of the NAACP, heard about the shooting of Jacob Blake, he thought, "Here we go again, they're shooting us in the back."
Blake, 29, was shot by police Sunday in Kenosha, Wisconsin, after police said they were responding to a domestic dispute. A widely shared cellphone video made by an onlooker showed Blake, who is Black, being shot in the back while leaning into his SUV where his three children sat.
Seven shots can be heard in the video. Blake was hospitalized in serious condition as of Monday evening.
After protests erupted earlier this summer following the death of George Floyd in Minneapolis, Spokane community leaders and activists hoped change would come. But after the shooting of Blake, they know there is more work to be done.
"This is just the reality for people of color," Robinson said. "We're still here."
Despite the number of supporters, Robinson said, there are still people in places of power that are not.
Angel Tomeo Sam, bail disruptor at the Bail Project, said she wasn't shocked at what happened in Wisconsin but that she was heartbroken. Tomeo Sam, a community organizer and activist, has worked to prevent "Killology" police training in Spokane.
"It's something all of our communities need to pay attention to," she said.
Lonnie Mitchell Sr., recently retired pastor of Bethel African Methodist Episcopal Church, said America has a race problem that is unresolved.
"There's something seriously wrong in the system for someone to have that thought to shoot someone in the back," Mitchell said.
Mitchell said many Black people in the Spokane community are really struggling right now, adding he tries to promote peace to help them. He said he wants them to speak out and be able to vent freely about what they are feeling.
To support people of color in the community, Robinson said the NAACP continues to have listening sessions and gather to help provide spaces where they can deal with what they're feeling.
"We continue to support their right to not be all right with this," Robinson said. "No human being should be all right with this."
Robinson said everyone needs to come together, not just people of color, in order for any meaningful change to occur. He said the NAACP provides resources on how to be anti-racist.
"The conversation needs to start with race," he said.
Robinson encouraged people to take these feelings a step further when they vote, calling for more accountability for law enforcement and politicians, groups he said have allowed this culture to exist as long as it has.
Mitchell believes change is coming to Spokane. He said he is pleased with the discussions happening in the community, including with politicians and police. Real change won't come until politicians, all the way up to the White House, start talking about the race problem, Mitchell said.
"It's going to take leadership with heart," Mitchell said.
Tomeo Sam called on leaders in local law enforcement agencies to condemn these types of incidents publicly and assure their community that it won't happen in Spokane.
"They need to reassure this community that they will do all they can do, all they have to do, to ensure this doesn't happen in Spokane," she said.
Tomeo Sam was not sure of any planned protests as of Monday evening, but she said as an activist, she hopes the shooting of Blake will lead to protests in Spokane and across the country.
"I really hope that this community does take care of each other," she said. "I do really hope that this is something that we can bring awareness again to this community."
---