A&E
Great Northwest Wine: Chateau Ste. Michelle celebrates 20 years of Eroica Riesling
Tue., Aug. 25, 2020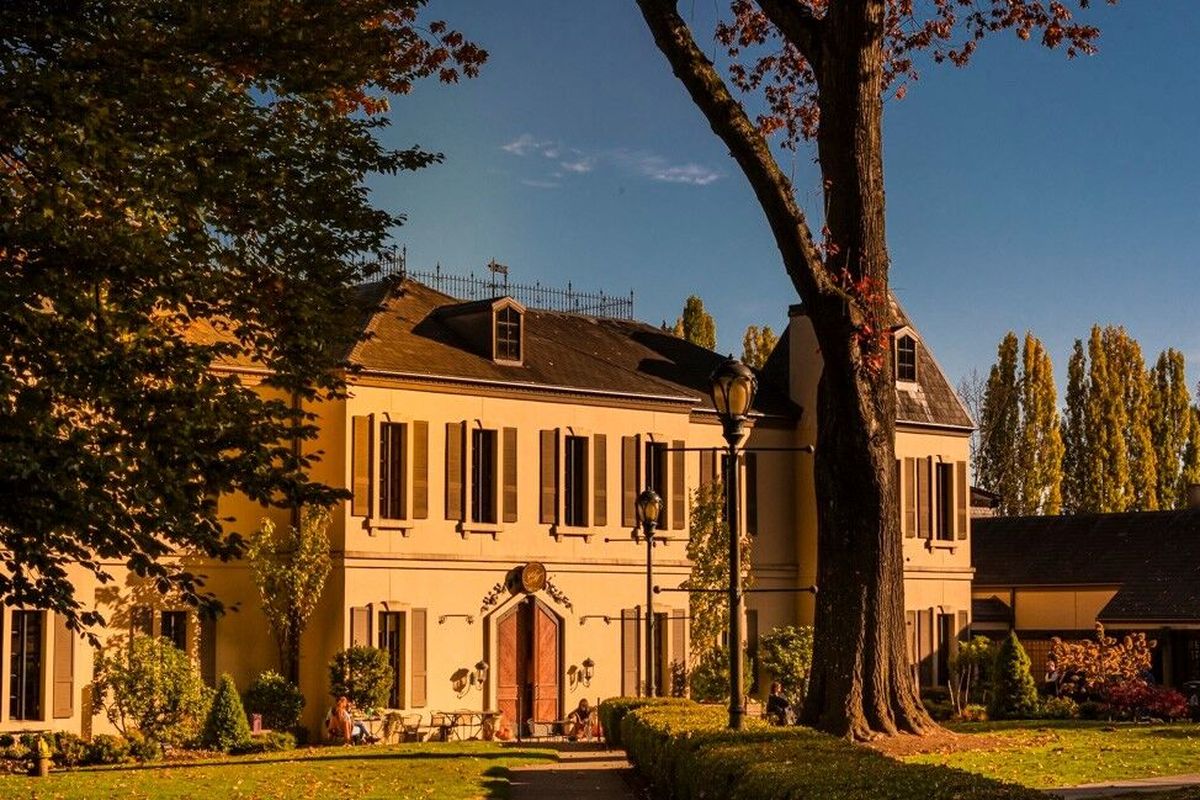 Chateau Ste. Michelle in Woodinville produces more riesling than any other winery in the world. (Richard Duval)
Any restaurant looking to book Chateau Ste. Michelle's Bob Bertheau for an event should make sure Eroica Riesling is on the menu.
"Whenever I do wine dinners – and I've done hundreds – my slogan is 'I'm not doing a wine dinner unless Eroica is at the dinner,' " Bertheau says. "Otherwise, I'm not going because it's such a perfect food wine."
This summer marks the 20th anniversary of the debut vintage of Eroica, a partnership between Chateau Ste. Michelle in Woodinville and Dr. Loosen in the Mosel region of Germany. They named it for a Beethoven symphony.
"I must say it's a great, great, great, great success story," says winemaker Ernst Loosen, whose family has been a part of the German wine industry for more than 200 years.
Loosen, pronounced "loh-zen," already had business in the Pacific Northwest, Oregon-based Loosen USA, when he approached Ste. Michelle Wine Estates about a partnership similar to that of the Col Solare project with Italy's Antinori family.
"The world was all chardonnay and cabernet sauvignon, and Ste. Michelle had a lot of riesling," Loosen said. "It was in my interest and Ste. Michelle's interest that we do something. There's nothing wrong with riesling. There was only something wrong with the reputation of this grape variety.
"It was always seen by sommeliers and journalists as such an underrated grape variety, but it was the public, the average consumer, that said, 'Aw, riesling is cheap and sweet.' "
Together, Loosen and Bertheau have developed a style that is neither dry nor sweet, a riesling that everyone can enjoy with food or drink on its own.
"We've never tried to make a 'German' riesling but have been experimenting and trying new things to find out what works best for riesling in Washington," Loosen says.
While the Eroica project began in 1999, Bertheau didn't join it until 2003 when he left California to take over the white wine program at Chateau Ste. Michelle in his native state of Washington.
He recently shared some of his first memories of Eroica via a webinar – available on YouTube – that included Loosen and David Rosenthal, who leads the production of white wines for Chateau Ste. Michelle.
"From Day 2 of my job, I was stomping riesling vineyards and picking Erni's brain and immersing myself in a riesling culture," Bertheau said.
It has been a remarkable journey for Bertheau, whose experience producing riesling in California was limited. Now, he oversees perhaps the most important example of riesling outside Germany.
"We're in a very unique situation where Ste. Michelle literally owns a category," said Bertheau, who is now senior vice president of winemaking for Ste. Michelle. "It's very rare when a winery owns an entire category, and we own the category of American riesling.
"There's nobody who even comes close to us. And because of our climate, cold Octobers, elevation and soils, we do riesling really, really well."
Eroica earned immediate acclaim from critics in the United States and around the world. In fact, during the first five years of its history, Eroica earned its way onto Wine Spectator's Top 100 list.
The program continues to evolve. Early on, Loosen was told by some at Ste. Michelle that historic Cold Creek Vineyard near the Hanford Reach was the company's top site for riesling.
However, it would not fit the style that Loosen ultimately wanted to achieve, a slightly off-dry riesling similar to a German trocken – one that offers aromas and flavors of white peach, lime and minerality within a cellar-worthy structure.
"The first four years, it was an experimental phase to learn about the vineyards and learn about the micro climates and where we were going to get the acidity," Loosen said.
Before long, they zeroed in on Evergreen Vineyard near the Gorge Amphitheater in the cooler Ancient Lakes of Columbia Valley American Viticultural Area. In recent years, Viewcrest Vineyard in the Yakima Valley has become another stalwart site for Eroica.
"We're looking for tight, fresh flavors – not ripe flavors," Bertheau said.
The perfect Eroica block, Bertheau said, would be harvested on Oct. 25 at 21.5 Brix of sugar and 8.5 to 9 grams of acidity.
And those who seek a riesling with petrol in the aromas are likely to be disappointed because the higher-elevation sites in the Eroica program allow for the grapes to hang longer on the vine.
"That's so important for riesling that there is long hang time to get rid of the petrol," Loosen said. "Everybody thinks there's always petrol with riesling. No! Riesling does not produce petrol if it has enough hang time."
And Eroica, which carries about 1.5% residual sweetness – about 15 grams of sugar in winemaking terminology – is not made by formula.
"One year, in 2011, it was 22 grams because it was a high-acidity vintage," Bertheau said. "It's been down as low as 12 grams. It's not a number we shoot for. We blend for the tension, and then we see where we end up analytically.
"Everyone wants to know, 'What's the RS?' And the first thing I say is, 'I want you to guess the RS,' " Bertheau added by pointing his left index finger at the camera.
Typically, the guess at residual sugar is 6 to 8 grams. "And then I tell them it's 14, and they say, 'Wow, that is really balanced!' There is some magic to the blend that we do every year."
The fandom for Eroica prompted Ste. Michelle Wine Estates to establish eroicawine.com, and there are now five wines in the lineup that includes the slightly sweeter Eroica Gold, the Eroica Ice Wine and the rare and collectible Eroica Single Berry Select.
The latest addition is the Eroica XLC Dry Riesling, which stands for "extended lees contact." The first commercial vintage for the XLC was 2016.
Rosenthal was promoted to his current position in 2015, which means he's played an important role in the Eroica blending trials alongside Bertheau and Loosen for the past five vintages.
"It's the most fun week of my year, to be perfectly honest," Rosenthal said.
At the close of the webinar, Loosen paid tribute to Germany and the pursuit of dry riesling by wishing everyone to "Keep on trocken."
"I have to say it's been more than a partnership," Bertheau said. "Erni and I are literally best friends. We can't wait to see each other, and we haven't seen each other in a little while now because of what's going on right now."
Eroica will be featured and celebrated at several events this year and through upcoming virtual tastings featuring Bertheau and Loosen. Their "Bert and Erni" shows are informative and entertaining.
And their wines are delicious and continue to be decorated. This summer, the Chateau Ste. Michelle & Dr. Loosen 2018 Eroica Riesling earned a double gold medal and best of class at the 2020 Cascadia International Wine Competition.
Last fall, the Chateau Ste. Michelle & Dr. Loosen 2014 Eroica Ice Wine, made with grapes naturally frozen in the Horse Heaven Hills, earned a double gold medal and won the crown as Best Sweet Wine at the 2019 Great Northwest Invitational Wine Competition.
Chateau Ste. Michelle & Dr. Loosen 2018 Eroica Riesling, Columbia Valley, $20: The latest release of Eroica by this partnership doesn't disappoint. Inviting aromas include Mandarin orange, honeysuckle, white peach and a fascinating fleck of minerality, a feature often associated with wines from Evergreen Vineyard in the Ancient Lakes.
The bright and juicy structure complements the flavors of nectarine and white peach. A hint of green apple and honeysuckle nectar brings on a very long, crisp finish. Enjoy with seafood and Asian-inspired fare.
Chateau Ste. Michelle & Dr. Loosen 2014 Eroica Ice Wine, Horse Heaven Hills, $60: Decadent, voluptuous and classic start the discussion about this nectar. Golden raisins, honey, apricots and almonds all make an appearance to the senses. This wine is sweet without being cloying, intriguing but not overwhelming. It is an ideal way to end a meal.
Eric Degerman operates Great Northwest Wine. Learn more about wine at greatnorthwestwine.com.
Local journalism is essential.
Give directly to The Spokesman-Review's Northwest Passages community forums series -- which helps to offset the costs of several reporter and editor positions at the newspaper -- by using the easy options below. Gifts processed in this system are not tax deductible, but are predominately used to help meet the local financial requirements needed to receive national matching-grant funds.
Subscribe to the Spokane7 email newsletter
Get the day's top entertainment headlines delivered to your inbox every morning.
---