News
New football stadium for Mead schools beckons return to normal
Wed., Aug. 26, 2020 A few miles north of Spokane, at the corner of Market Street and Farwell Road, a gleaming field of green turf is ready for football.
The yard lines are marked in bright white and the end zones of newly named Union Stadium are filled with the logos of Mead and Mt. Spokane high schools.
Locker rooms and concession stands beckon to be filled; so do the 4,500 seats.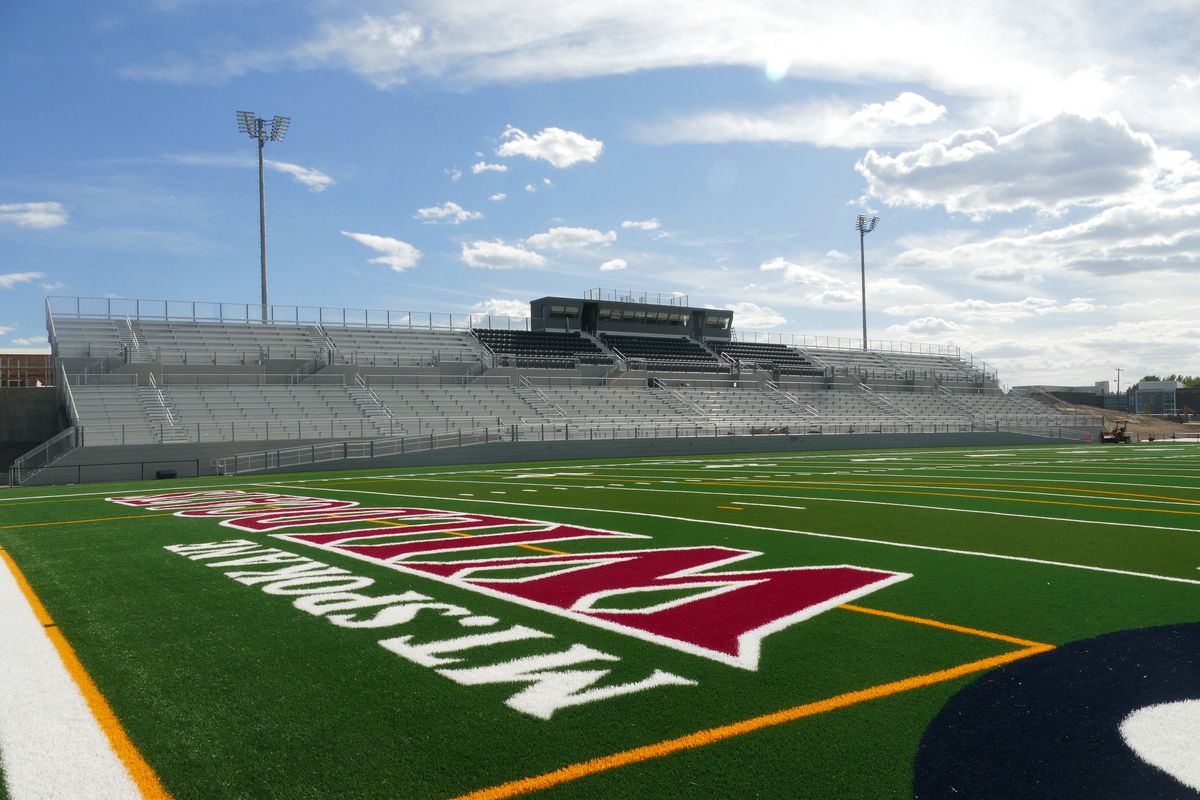 Union Stadium, the new sports arena for football, soccer and other events in the Mead School District, is nearing completion. It will serve Mead and Mt. Spokane High Schools as a sports venue and it can host performing arts performances, such as marching band and color guard events. Shown Thursday, August 20, 2020. Union Stadium is named after the Union School District which was based on the property at Farwell Road and Market Street and which Mead School District took over when Union went under. (Jesse Tinsley/The Spokesman-Review)
But this is about so much more than football or soccer or lacrosse, all of which will have their day when life returns to normal.
When voters in the Mead School District approved a $114.5 million capital bond in 2018, they gave the green light for new middle school and elementary buildings, baseball and softball fields, a performing arts center and a transportation facility.
"It's very exciting," said Ned Wendle, who grew up in Mead and now works as director of capital projects for the district.
"It's something that people have been talking about for years," said Wendle, who's also proud of the fact that the bond was passed with 67% approval.
Judging by the neighborhood, voters also gave a big boost to the bedroom community of Mead.
"I'm seeing it almost every day," Wendle said. "People are cleaning up their properties, and some have already sold. We're just really excited about that neighborhood."
The new Creekside Elementary building will be another boon because, as Wendle said, "elementary schools seem to pull in families."
"Hopefully that will turn Mead into a jewel," Wendle said.
If so, the project at Market and Farwell will be the centerpiece.
Union Stadium is named after the Union School District that included the property where the sports arena sits. Mead School District absorbed the area when Union went under. Due for completion by the end of September, it includes a $24 million high school stadium that will be the best in the region – at least until Spokane Public Schools completes its own stadium in the fall of 2022.
The stadium includes a 7,200-square-foot locker room building. At the other end is a 5,600-square-foot concessions and restroom building.
Across the parking lot is a performing arts building that will also provide a facility for the drill teams, color guard and award-winning marching bands, which until now were often forced to practice in an available parking lot.
Better yet for the kids in marching band, it appears they'll be the first to tread on the new turf.
"That's the way it looks right now," Wendle said. "But I hate to make a prediction."
Crystal-balling is a perilous exercise, especially this year, and Superintendent Shawn Woodward acknowledged the bittersweet feelings of building a new stadium only to have the fall sports season upended by the COVID-19 pandemic.
"On the one hand people are showing that excitement, but disappointed that we're not able to showcase our kids this fall," Woodward said.
"But the district is excited – not just to have an area for us to gather and have extracurricular activities, but also what a beautiful way to be a part of the revitalization of Mead," Woodward said.
Local journalism is essential.
Give directly to The Spokesman-Review's Northwest Passages community forums series -- which helps to offset the costs of several reporter and editor positions at the newspaper -- by using the easy options below. Gifts processed in this system are not tax deductible, but are predominately used to help meet the local financial requirements needed to receive national matching-grant funds.
Subscribe now to get breaking news alerts in your email inbox
Get breaking news delivered to your inbox as it happens.
---