A&E > Food
In Brief: Liberty Lake sixth-grader Sindhu Surapaneni named Duke University TIP magazine star
UPDATED: Mon., April 26, 2021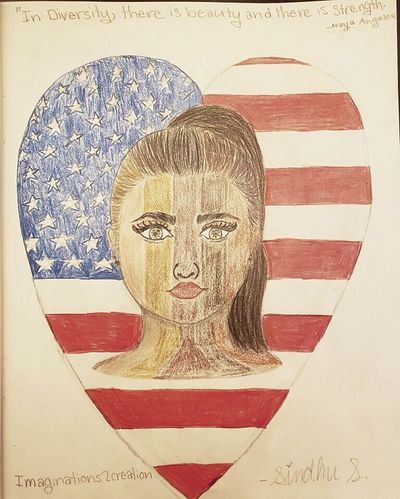 Eleven-year-old Sindhu Surapaneni has been named a "Student Star" in the Duke University Talent Identification Program magazine for one of her drawings.
The Duke TIP is a nonprofit organization geared toward academically talented students in grades 4-12. It provides educational programs and enrichment and also publishes a monthly magazine, the Navigator.
Surapaneni, who will be a sixth-grader at Liberty Lake Elementary in the fall, has been creating art since she was 3. She specializes in realistic drawing and has been leading online art classes on Zoom since shortly after the pandemic began. Over the summer she did an eight-week art camp that drew between 200 to 500 children per session. Some of her Zoom sessions are available on her "Imaginations 2 Creation" Facebook page.
The picture Surapaneni drew is of a young girl with a heart-shaped American flag in the background. Her face is depicted in a variety of colors.
"I always try to relate my artwork to what's going on in the real world," Surapaneni said. "I wanted to portray strength and diversity and to promote peace."
Library to teach online cooking classes
The Spokane County Library District will begin offering free freezer meals and Instant Pot cooking classes online in September.
The classes are an hour long and will run from 6:30 to 7:30 each night. "Easy and Healthy Freezer Meals" will be offered on Sept. 9, followed by "Instant Pot Basics and Recipes" on Sept. 21 and "Instant Pot: Dessert Edition" on Sept. 28.
The classes are designed for adults. Registration will close at 5 p.m. the day before each class. People can sign up online at scld.org/meal-prep-cooking. Participants will be sent an email that includes the login information they will need for the class.
Local journalism is essential.
Give directly to The Spokesman-Review's Northwest Passages community forums series -- which helps to offset the costs of several reporter and editor positions at the newspaper -- by using the easy options below. Gifts processed in this system are not tax deductible, but are predominately used to help meet the local financial requirements needed to receive national matching-grant funds.
Subscribe to the Spokane7 email newsletter
Get the day's top entertainment headlines delivered to your inbox every morning.
---