A&E > Art
Little Spokane River Artist Studio Tour goes virtual
UPDATED: Thu., Aug. 27, 2020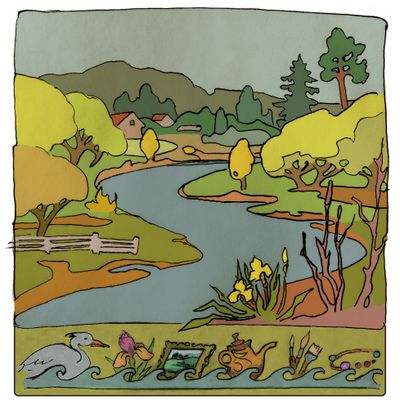 The Little Spokane River Artist Studio Tour, now in its 13th year, will be a virtual event next month due to COVID-19, co-founder Gina Freuen announced Wednesday.
The show opens Sept. 26 at 8 a.m. at littlespokanestudios.com with more than three dozen regional artists participating.
"While we will all miss having the show set in the picturesque Little Spokane River Valley this year, fantastic artwork will still be available online," Freuen said in a news release.
"Art lifts the spirit, and those who visit this year's show will see original artwork from professional artists that celebrates, reflects and inspires our world."
To make this year's event more special, 50 signed, limited-edition posters created by artist and Little Spokane River Tour group manager Victoria Brace will be available for $50 each. All proceeds from the poster sale will be donated to Spokane Public Radio.
The following artists are participating in the Little Spokane River Artist Studio Tour. Artists are from Spokane unless otherwise noted.
Participating painters are Victoria Brace, Lisa Brown, Sheila Evans, Debbie Hughbanks (Loon Lake), L.R. Montgomery, Megan Perkins (Deer Park) and Linnea Tobias.
Jewelers appearing in the studio tour are Ruly Deen, Kris Howell, Robin Kahn, Amy Mickelson and Jill Smith.
Potters participating in the event are Gina Freuen, Chris Kelsey, Jill Smith and Will Richards (Underwood).
The tour features photographers Mike DeCesare, Larry Ellingsen and Gay Waldman. Ellingsen and Waldman also will be showing 2D mixed-media work, as will Linda Malcom, Patti Osebold and Wendy Zupan.
Osebold, Bill Cleaver (Vashon), Rick Davis, Dan Droz and Denise Roberson will bring 3D mixed media and sculpture to the event. The tour also features glass, wood and stone work from Sam Bates (Evans), Katie Patten and Leonard Tinnell (Missoula), Jim Talley (Deer Park) and Martin Waidelich (Spokane Valley).
Featured fiber artists are Nan Drye, Victoria Julian-Gray (Sequim), Malcom, Michele Mokrey, Ute Monjau-Porath (Beaverton) and Roberson. The tour also will feature leather work from Marilyn Bacon (Kalispell), Monjau-Porath and Dan Sterrett.
All artwork sales go to the artists. The virtual show and links to each artist's work will remain active until the end of the year.
Local journalism is essential.
Give directly to The Spokesman-Review's Northwest Passages community forums series -- which helps to offset the costs of several reporter and editor positions at the newspaper -- by using the easy options below. Gifts processed in this system are not tax deductible, but are predominately used to help meet the local financial requirements needed to receive national matching-grant funds.
Subscribe to the Spokane7 email newsletter
Get the day's top entertainment headlines delivered to your inbox every morning.
---