Sports
A Grip on Sports: Few college basketball coaches were as influential at one school as Lute Olson was at Arizona
Fri., Aug. 28, 2020 A GRIP ON SPORTS • For much of Thursday, it seemed like an almost normal day. The M's blew a last-inning lead, golf was on TV and people were discussing issues of social import. Then a Hall of Fame college basketball coach died.
•••••••
• The first time I heard Lute Olson's name, I was in high school. He was then the head coach at Long Beach City College. Yep, a guy who ended up leading Arizona to the 1997 national title was once a JC coach. And a damn good one.
Heck, before that Olson had been a high school teacher, a middle school counselor and a tennis coach. One of my early friends in journalism had played tennis for him at Marina High in Huntington Beach.
And, yes, he coached basketball there. Less than a decade after leaving Marina, Olson was coaching teams in the NCAA playoffs for Iowa.
But it was his next, and last, stop that put Olson on the college basketball map. Tucson. The university of Arizona.
Olson left a Sweet 16 team at Iowa to take over a 4-24 group in Arizona. It didn't seem all that smart. (As an aside, Olson leaving Iowa knocked over a domino that led to George Raveling leaving Washington State for the Hawkeyes and began a long stretch of basketball mediocrity in Pullman.)
Olson didn't win his first year in Tucson. But from then on he did. Besides John Wooden at UCLA, no other basketball coach has done more for a Pac-12 school. And, because UA is not located in a media hotbed, Olson may have actually done more for the Wildcats than even Wooden did for UCLA. After all, the Bruins are the home of Jackie Robinson, Red Sanders, Hollywood stars. Arizona? Other than an occasional NCAA baseball title and one decent football coach, there isn't a lot of there there.
In many ways, Olson's coaching story is similar to Gonzaga's Mark Few. Both started in the high school ranks and ended up finding their bliss at a college with potential but not much basketball history. They created the school's history for themselves.
The 1996-97 season is the way Olson's legacy diverges. That Arizona team, which finished fifth in the Pac-10, got hot in the NCAA Tournament, defeated three No. 1 seeds and won the school's only national title. A Cinderella story, if Cinderella had worn desert boots – and had been winning 20 games every year for seemingly forever.
Yes, Olson's tenure at UA ended badly. An ugly second marriage – Olson had married his high school sweetheart only to lose her to cancer in her mid-60s – and health issues seemed to combine to rob him of his ability to make correct decisions. The transition of power went poorly, to say the least. And the Wildcats, while still a potent force in college hoops (especially in the recruiting ranks) have never reached the heights Olson took them during his 589-187 tenure.
• As one might guess, there are tributes galore for Olson, who died Thursday night in hospice care at age 85. The best of the best comes from the Tucson newspaper, which has multiple stories and an appreciation column from Greg Hansen. But Olson's impact on western college basketball can't be overstated. His success at Arizona is well documented in today's obituaries.
• When we started above, we mentioned the Mariners' first-game loss yesterday. Funny thing, I missed the ending.
Oh, I saw them score four runs in the top of the seventh to take a 7-3 lead. But, with chores looming, I left the TV on downstairs and headed into the kitchen to get a couple things finished. One quick check showed two outs and no one on base. In the bag, right?
My bad. These are the Mariners. Over the next 10 minutes I kept hearing chuckles and an occasional "really" coming from downstairs, as my son watched the bullpen eventually give up seven runs, all with two outs. The final word that wafted up (not printable here) was accompanied by a loud burst of laughter.
That's the M's all right. Supplying their fans with humor for more than 40 years.
• The athletes' protests concerning social justice rolled over more professional games yesterday, stopping the NBA and NHL playoffs, bringing the WNBA to a standstill and picking off a few baseball games. It also spread to the college ranks, including a somewhat local connection (covered in the WSU section below).
The sea-change nature of the protests dominated the discussion yesterday, so we will pass along thoughts on the matter from the New York Times, Washington Post, Los Angeles Times and other places from near and far.
•••
WSU: As we said, a few colleges were roiled by player walkouts yesterday, including Mississippi State. One might have expected an odd response from Mike Leach, the former Cougar coach, as he's had some in the past. But Leach, as Theo Lawson points out in this story, didn't go off on the players – or on a tangent. … One of Leach's former players, River Cracraft, has signed with the San Francisco 49ers. Theo also has that news in this story. … Another, Andre Dillard, will miss the NFL season with an arm injury. Again, Theo jumps in with a story. … Elsewhere in the Pac-12, it looks as if the conference will reevaluate its decision to put of hoops until the first of the year if the NCAA changes the sport's start date. … Colorado has rounded out its basketball roster with foreign players. … We linked the Olson stories above in case you are looking. … Corvallis has a lot of similarities to Pullman. It's a small college town dependent on the school's activities to fuel the local economy. Oregon State's home is under economic siege just like WSU's. … In football news, Washington has a put a bunch of defensive backs in the NFL. Will that continue? … How does Kyle Whittingham view athlete's calls for change? … UCLA's fall sports are back practicing in a limited way. … Where should Arizona State quarterback Jayden Daniels rank? Among the top three in the conference, that's for sure.
EWU: Around the Big Sky, there will be a couple new basketball players available for Weber State whenever hoops begin again.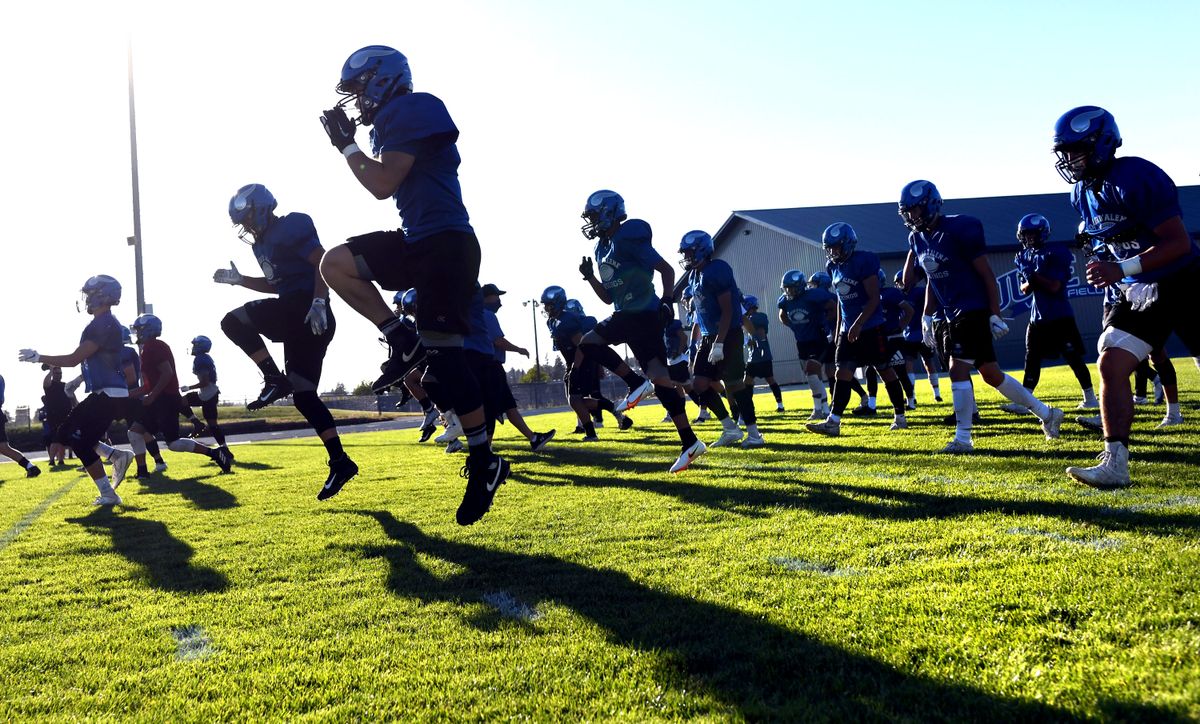 Preps: There may not be any high school football for Washington's students (there is, but we will get to that in a moment), but there certainly are games in Idaho. And they begin this evening. Dave Nichols has more on that in this story, accompanied by photos from Kathy Plonka. … The six football-playing students at Colton High (south of Pullman) are getting an opportunity to play this fall. Dave tells us the school has teamed up with Idaho's Genesse High in a co-op that will play this fall. … Dave also spoke with Larry Weir yesterday and they discussed Idaho's first football weekend in the latest Press Box podcast.
Mariners: Give the M's credit. After the blew the first game of Thursday's doubleheader, they scored six runs in the first inning of the second game and earned a split at San Diego. … The biggest news of the day occurred before the doubleheader. The M's traded Taijuan Walker to the Blue Jays for a player to be named later. … Scott Servais spoke about his players' action Wednesday.
Seahawks: The Hawks brought in a free agent center with the idea of solidifying the middle of the offensive line. But B.J. Finney hasn't seemed to pan out. … Speed is crucial in the NFL. The Hawks seem to have it.
Sounders: Will Bruin is making a case to be part of the starting lineup. But his strength is in short spurts, which makes him perfect for his reserve role.
•••       
• It's nice to see the second tournament in the PGA's three-tourney FedEx Cup playoffs is being played on a real course. With real rough. And real tough greens. No one is shooting 30 under this week at Olympia Fields. Until later …
Local journalism is essential.
Give directly to The Spokesman-Review's Northwest Passages community forums series -- which helps to offset the costs of several reporter and editor positions at the newspaper -- by using the easy options below. Gifts processed in this system are not tax deductible, but are predominately used to help meet the local financial requirements needed to receive national matching-grant funds.
Subscribe to the sports newsletter
Get the day's top sports headlines and breaking news delivered to your inbox by subscribing here.
---