A Grip on Sports: Seahawks' Carroll speaks from the heart, though the subject isn't football A GRIP ON SPORTS • Pete Carroll has always been known as a "players' coach," even back at his days with the Jets and USC. But never has he showed his empathy for his players as well as he did yesterday. The Seahawks may never be the same.
•••••••
• Throughout college and professional sports, the past few months have been filled with coaches stepping up to a microphone and speaking on issues of great import for their players. From Doc Rivers to Gabe Kapler, from Mike Krzyzewski to Mike Tomlin, coaches in many sports and many levels of prominence have voiced their opinions on the social movements coursing through the country.
Yesterday, Carroll added his, again, but in a way so forceful it seemed to stop everyone associated with the Seahawks in their tracks.
The 68-year-old Carroll spoke with passion. He spoke about … well, let him tell you: "This is about racism in America that white people don't know. They don't know enough and they need to be coached up. They need to be educated about what the heck is going on in this world."
That's what Carroll tried to do in a 14-minute monologue with reporters who cover the team.
"Black people can't scream anymore," Carroll continued. "They can't march any more. They can't bare their souls anymore to what they've lived with for hundreds of years, because white guys came over from Europe and started a new country, with a great idea and a great ideals that wrote great writings and laws (about) democracy and freedom and equality for all. And then it ain't happened."
Carroll spoke on economics. He spoke on race-relations. He told us what he's learned after more than 40 years coaching in a diverse sport with players who are finally finding their voice.
He told us his players, for all their financial success and seeming status, are scared. Scared to drive home. Scared for their families. Scared each day could be their last.
"Our players are screaming at us: Can you feel me? Can you see me? Can you hear me? They just want to be respected," Carroll continued. "They just want to be accepted, just like all of our white children and families want to be.
"There's no difference, because we're all the same. There's a lot of people that don't see it that way, but there's a lot of people that do. I'm hoping that from this point forward, maybe there's a there's a new door to open for us, and we can we can walk through it together with the thought of doing what's right."
As a coach, Carroll sees whatever problem that pops up as something to be overcome. To defeat. This isn't any different. And he admires those who have been trying to overcome it for decades.
"Can you imagine how long Black people have hung together with the faith, in the hope that something's gonna change, it's gonna be better?," he said. "Unbelievable endurance, unbelievable competitiveness, to just keep hanging. I don't know. I mean, I'm so moved by all of that. I can't even imagine how they have been able to do things under these circumstances that have been terrible. But they're still hanging and they're still hoping."
Spoken just like a coach. And much of what Carroll had to say was directed at his profession. A profession dominated by educators, no matter the level. It's education, Carroll believes, that is at the forefront of any solution. Education on the issue, the history of it, the basis of it, the effect of it, which Carroll views as the beginning of the solution. And he puts to onus on white people to expand their knowledge. But he went beyond that, finally landing on a place which serves as the bedrock to his coaching philosophy – and the solution to the problem.
"There's only one way to do this," he said. "Really, you got to do it by caring. You have to care so much, and show the love for the people that deserve every bit of the rights to be treated equally and treated fairly and treated straight up in honestly; so they can get in their car and go to the store and feel safe getting out from the parking lot and going in. Because they don't feel like that right now.
"That's the truth and white people don't understand that."
•••
WSU: Around the Pac-12, Washington has lost one of its best players to the NFL draft. And the #WeAreUnited group lost one of its prominent supporters. … With no football this fall (yet), maybe it isn't a bad time to look back 30 years. At least for Colorado. … What's on tap for Utah's seniors since they won't lose a year of eligibility? … In basketball news, Oregon women's coach Kelly Graves can't wait for the season to begin. Whenever that is. … Talk of an earlier start than currently planned is lifting some players' spirits. … Lute Olson never stopped working. … A longtime sports writer is leaving The Register-Guard. … Finally, is college football essential? The New York Times has its thoughts. I love this line: "Never has the inaccuracy of the term 'student-athlete' been put in starker relief than in the misguided and dangerous attempt by the Big 12, Atlantic Coast Conference and Southeastern Conference to press forward with a nearly full season of football games beginning next month – as non-athlete classmates are sent home for their safety." In this regard, they are employees, not students.
Gonzaga: It was 10 years ago when BYU entered the WCC with every sport except football. It's been a decade with unexpected bruises for the Cougars.
EWU: Ten years ago, the Eagles were about to embark on a season of destiny. It culminated in the FCS title. It was, without a doubt, the most exciting Eastern football season of the past half-century. So it's appropriate Ryan Collingwood is looking back at it over the next few months. Today, he shares a story concerning the season opener. It didn't go well. Better things were ahead.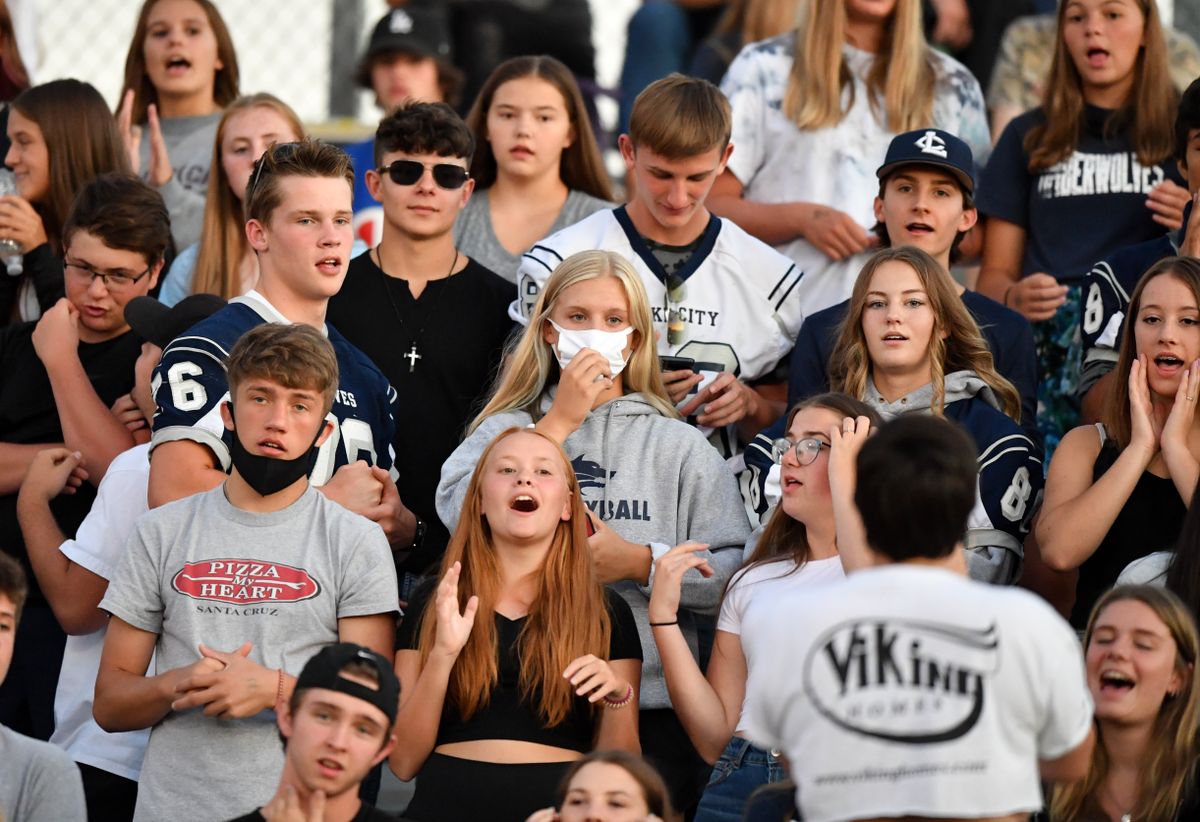 Preps: Dave Nichols covered Lake City's season-opening win over Lakeland on Friday night. But it wasn't just the game he was there to document. He also had his eyes on those in attendance, as high school football began playing in the midst of a pandemic. He has this story accompanied by a handful of Tyler Tjomsland photographs.
Mariners: The M's all wore No. 42 Friday (and Saturday) in honor of the first Black player in the major leagues, Jackie Robinson. We decided it was a good time to honor the five best Black players in Mariner history in our Out of Right Field column. You may agree or not, but that's what such lists are for, right? … The Angels' offense has been sleeping. It woke up last night as they routed Seattle, 16-3. … We touched on this a bit, but the trade deadline is today. Will Jerry Dipoto make a deal or two? … Is the M's rebuild plan irreparable damaged by the shortened season?
Seahawks: Carroll's remarks were the centerpiece of the Hawk coverage from yesterday. The Hawks didn't practice but will have another mick game today. … We can also pass along this transcript of what Carroll said. … Carroll's comments impressed M's manager Scott Servais. … With injuries at the receiver spots, Seattle made the signing of Paul Richardson official.
Sounders: Seattle is back on the pitch today, hosting LAFC. … Portland held a two-goal lead late against Real Salt Lake. The match ended in a draw.
•••       
• I get to share my opinions here on a daily basis. So this morning I didn't. I passed along what Carroll had to say, mainly because he is an important figure in Northwest professional sports. And I will share this thought about him: He is the type of coach for which I would have tried to run through a brick wall. I wouldn't make it, of course, but if he asked I would try. And try again. And again. Sort of like the Seahawk offense in the first three quarters of most games. Until later …
---