This column reflects the opinion of the writer. Learn about the differences between a news story and an opinion column.
Opinion > Column
Getting There: Break-in won't slow Shacktown's mission to use bikes to create positive change
Aug. 31, 2020 Updated Thu., Sept. 3, 2020 at 2:16 p.m. Consider the chili bike.
Notice the sturdy, handmade, insulated wooden box installed above the front wheel and designed to contain up to five gallons of, yes, chili at a time. That's how much of the hearty dish Roger Hernandez prepares two days a week in the winter and then serves to the hungry.
The chili bike is just one of many bicycles in the fleet parked outside Shacktown Community Cycle – there are road bikes and mountain bikes and cruisers and pedicabs, too – but the chili bike serves as perhaps the strongest symbol of what Hernandez is up to: using self-powered mechanisms of transportation to propel self-powered change among downtown Spokane's homeless population.
"So many people need a little love and compassion, regardless of their situation," Hernandez said last week on the steps of Shacktown, the nonprofit bike shop he runs in the 600 block of West Second Avenue. "I feel like humanity is long lost in society. I'm only one dude, but few of us show unconditional love on the street. It can do a lot."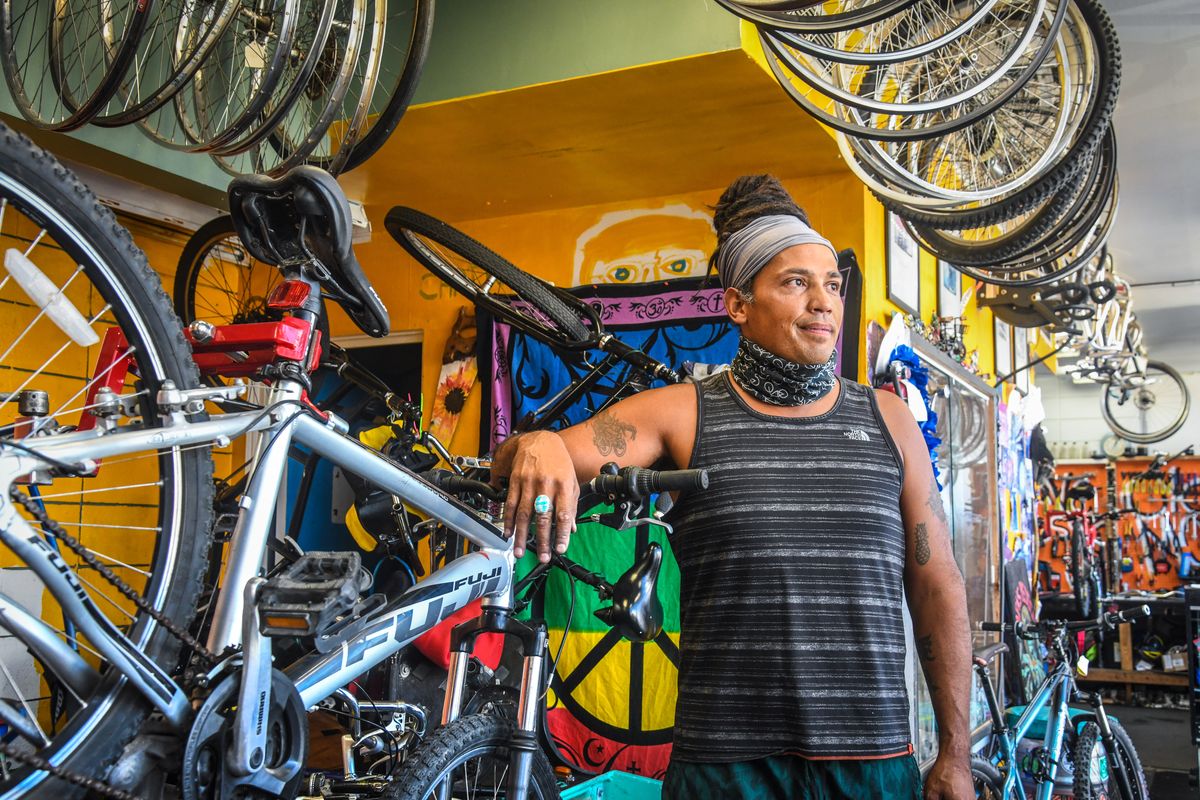 Roger Hernandez is the owner of Shacktown Community Cycle at 611 W. 2nd Avenue in downtown Spokane. (Dan Pelle/The Spokesman-Review)
Shacktown has been Hernandez's vehicle for demonstrating his unconditional love for those on Spokane's streets for about five years, when he returned to his hometown after a decade in Portland and soon began volunteering in the Second Avenue space.
At the time, the nearby Mosiac Fellowship operated the shop under its own name. After volunteering and then working at the shop, Hernandez bought it in about 2016, he said, and renamed it after the encampments that long stood along the banks of the Spokane River.
Hernandez had operated another unconventional and "community-oriented" bike shop out of his two-car garage in Portland, so he had the tools and experience he needed to take over.
But while Shacktown is a full-service shop where customers can buy a used bike, Hernandez said that's the exception.
Shacktown operates on a "negotiable" sliding scale, charging customers with means for repairs or a new ride, while working out alternative forms of payment with customers who lack cash.
While he gives away lots of things – chili on cold days, water on hot days, his time to teach people the basics of bike mechanics and lead community rides every Thursday evening – Hernandez said it's important to offer a "hand up, not a hand out" when possible.
"I just want people to feel some self-worth," he said. "A lot of them lose that for one reason or another."
So while he says he gives away more bikes than he sells, Hernandez asks people to do something in exchange for their new means of getting around, such as cleaning up the shop, sorting parts or pulling weeds. Sometimes, though, a bike is a reward for a larger accomplishment. One year, for example, he said he gave bikes to residents of the Crosswalk teen shelter when they graduated.
But for all Hernandez gives away, a small group of people felt the need last week to kick in Shacktown's doors and steal more than $3,000 in bikes, tools and other equipment.
The early Monday morning break-in was all caught on a surveillance system installed just last month, after vandals damaged a mural of George Floyd painted on the side of the Shacktown building.
While you could excuse some creeping cynicism in a man who gets robbed of things he's trying to give away, Hernandez says he remains unperturbed – and understanding.
"I'm not even upset about it," he said. The masked thieves, he believes, must have "needed" what they stole.
"It's survival," Hernandez said. "I've been joking lately that I have an unhealthy faith in humanity."
As Hernandez was talking, one example of that faith being repaid rolled up in the form of a pickup with a Schwinn cruiser in the bed and Cameron Thomson in the cab.
Thomson responded on Monday to news of the break-in by volunteering to board up the broken doors, and he was back again on Wednesday to show Hernandez the bike he'd just scored at a Spokane Valley thrift store.
Hernandez and Thomson are relatively new friends, but Thomson said he was happy to lend Hernandez a hand.
"I've seen him around town doing nothing but good," Thomson said.
And Hernandez has no plans to stop doing good, despite his recent setbacks. In fact, he said, those setbacks are a sign of how urgently kindness is needed, whether it's offered in the form of chili or water or a tuned-up old cruiser.
"This is just going to get worse in this new world we live in," Hernandez said, noting the effect of the pandemic and the unrest roiling the nation. "It's going to happen more as people grow more desperate and desperate."
Hernandez doesn't have all the answers, of course, but he's committed to offering the one antidote he can provide: a liberating form of transportation.
"Everyone should be riding bikes," he said. "You rarely see anyone riding a bike that's not smiling."
Work to watch for
Work begins Monday on a $2 million grind-and-overlay project on Indian Trail Road between Francis and Kathleen avenues. This project will repave the following arterials: Indian Trail Road from Francis Avenue to Kathleen Avenue; Nevada Street from Francis to Sharpsburg Avenue; and Nevada Street from Holland Avenue to Magnesium Road.
Crews will also get going Monday on a $1.7 million grind-and-overlay project on Eagle Ridge Boulevard between Shelby Street and Meadow Lane. It will repave the following arterials: Eagle Ridge Boulevard from Shelby Street to Meadow Lane; Regal Street between 46th and 55th avenues; and 29th Avenue from High Drive to Grand Boulevard.
Work on a $1.1 million repaving project continues on Longfellow Avenue from Post Street to Division Street; on Queen Avenue from Perry to Standard Street; on Garfield Street from 43rd Avenue to Thurston Avenue; and on Scott Street from 43rd to Thurston Avenue. Travel is restricted to local traffic only.
Due to a $1 million water and sewer installation project, Soda Road is closed between Geiger Boulevard and Electric Avenue, and Geiger Boulevard is closed between Electric Avenue and Spring Road.
Hamilton Street remains reduced to one lane in each direction as part of a $3.3 million project. In addition, left turns are not allowed from Hamilton onto Mission Avenue. This closure will last through Friday, and additional Hamilton lane closures may occur for night work between 7 p.m. to 6 a.m.
The following residential streets remain closed as part of a $5.6 million project to relocate city utilities during construction of the North Spokane Corridor: Cleveland Avenue from Regal Street to Market Street and Ralph Street from Fairview Avenue to Jackson Avenue.
The intersection of Rowan Avenue and Freya Street will be closed starting Monday for a $3.5 million project to relocate city utilities, also as part of work on NSC.
Wall Street between First Avenue and Second Avenue will be completely closed through Friday for Avista work.
Progress Road will remain closed at Forker Road through Sept. 30.
The Post Street Bridge will be closed until 2022.
---
---