Malden, Pine City residents wait to rebuild as federal aid stalls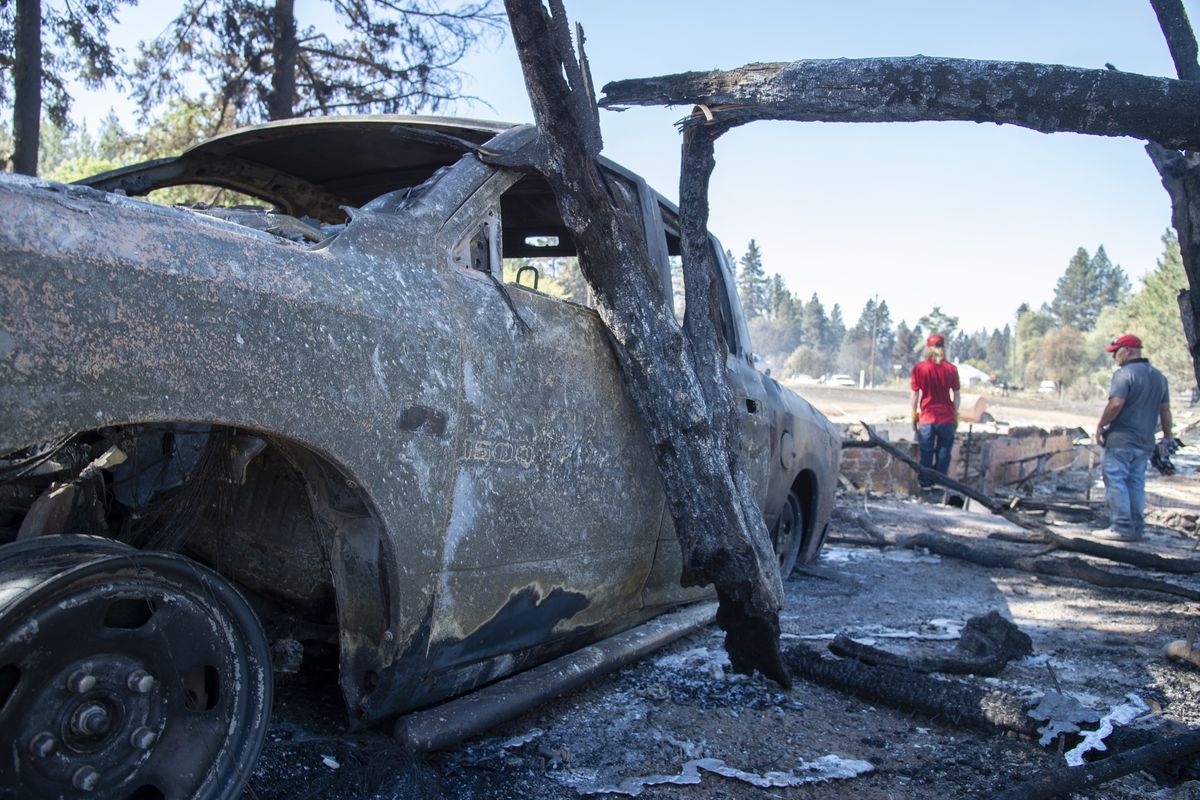 Nearly three months after a wildfire destroyed 80% of homes in their small town, the residents of Malden are still waiting for critical assistance from the federal government.
The Babb Fire ravaged Malden and neighboring Pine City on Sept. 7, leaving the two towns at the north end of Whitman County all but uninhabitable. Gov. Jay Inslee asked President Donald Trump to declare the fire a major disaster. That designation would send millions in aid from the Federal Emergency Management Agency to provide temporary housing and help residents rebuild.
Scott Hokonson, a Malden town council member who lost his home in the fire, said many Malden and Pine City residents were already struggling financially and did not have insurance when the fire swept through their towns.
"They're the ones who are waiting for this FEMA declaration," Hokonson said. "We're waiting for FEMA, we're waiting for the president, we're waiting for something to happen."
Gerry Bozarth, a Spokane County emergency management specialist who is on loan to Whitman County to work on Malden disaster relief, said he has been through the process of getting a FEMA disaster designation three times before and knows how fluid the timeline can be. Still, he said, this delay is surprising.
"This has been completely different," Bozarth said. "This has been an incredible delay in comparison to the three presidentially declared disasters I've been through in the past 14 years."
Washington's entire congressional delegation called on Trump to grant Inslee's request, and three weeks later the governor expanded his request to include more limited assistance for nine counties that were torched during a fire season that devastated western states. Trump declared fires in Oregon a major disaster Sept. 15 and in California a month later, but Inslee's Sept. 16 request has so far gone unanswered.
A spokesman for Rep. Cathy McMorris Rodgers said the Republican, whose district includes Whitman County, has been in touch with FEMA.
"Cathy is continuing to urge the administration to support this disaster declaration request and is in regular communication with FEMA for updates," spokesman Jared Powell said in a statement. "She encourages Governor Inslee and other state and local officials to apply that same pressure to the administration so we can provide support for communities in Eastern Washington that desperately need it."
Washington Sen. Patty Murray said she has also put pressure on the White House to approve Inslee's request.
"After the heartbreaking devastation in Malden and across the state during this unprecedented wildfire season, the community clearly can't wait any longer for the assistance they should have received weeks ago," Murray, a Democrat, said in a statement. "The Trump Administration needs to act now to grant a major disaster declaration and get those who have lost their homes, belongings, and businesses the relief they so desperately need, and I will continue pushing them to do so."
Sen. Maria Cantwell, also a Washington Democrat, echoed the calls for urgent help.
"The Town of Malden was completely destroyed by wildfires this year, and the community needs help to get back on its feet," Cantwell, a Democrat, said in a statement. "A federal disaster declaration will get critical funds to the community so families and small businesses can begin to recover – the Trump administration must stop delaying and approve this request immediately."
Hokonson said he was puzzled by the delay, even as elected officials push the administration to free up the federal aid.
"This is being tracked by a lot of people," he said. "Our state and federal and public and private and elected partners are all following this. They're all very concerned as they're watching this. It gets a bit more odd every day."
Hokonson said that until the president makes a determination, survivors of the fire can't apply for other assistance they may qualify for if they are not eligible for the individual assistance through FEMA, such as loans through the Small Business Administration.
"That would give people an avenue," he said, "But we can't go down that avenue until we hear yes or no."
Casey Katims, director of federal and interstate affairs for Inslee, said the governor's team recognizes Malden and Pine City residents are in limbo until Trump makes a decision on the request.
"We have reached out to the White House to again ask their assistance in moving these requests along," Katims said in an email. "We share the concern of affected communities that response and recovery efforts cannot move forward until a decision is made. Our office will continue pressing the Trump administration to authorize the help Washingtonians so urgently need."
In an email, a FEMA spokesperson said only that Inslee's request was still under review.
While Trump has been slow to respond to Inslee's request, FEMA authorized separate grants to help fight the blazes Sept. 8, a week before the governor's plea.
Laurie Holien, director of the Homeland Security and Emergency Management program at Idaho State University, said those "fire management assistance grants" – while intended for an entirely different purpose – could be a factor in FEMA's calculations and advice to the president.
"It's a rare situation to have a wildfire that qualifies for a major disaster declaration, just because they already have these other grants in place," said Holien, a former deputy director of the Oregon Office of Emergency Management who previously worked for FEMA.
Inslee's letter called for aid for individuals and households in Whitman County, while he requested a separate form of assistance that can be used only to clear debris and for emergency protective measures for Whitman and eight other counties – Douglas, Franklin, Kittitas, Lincoln, Okanogan, Pend Oreille, Skamania and Yakima.
"Federal dollars that come from FEMA are funded by taxpayers from all over the country," Holien said. "It becomes very challenging to justify tax dollar funding going to help individuals rebuild, especially if they're living in an area that has frequent wildfire damage."
To decide whether to recommend the president declare a major disaster, Holien said, FEMA deducts the amount already spent via fire management assistance grants from what the agency estimates the total cost of the damage is, calculating a threshold based on factors including state and county population.
"With Oregon, you've got a lower population index, so hitting that threshold of their per-capita damage amount was probably easier," she said. "And with California, really large, sweeping damages that were probably a little bit easier to document, because of how widespread the fires were."
"Those mid-range ones where you have to wait for all the dust to settle and all the bean counters to finish up their preliminary damage assessments could take a little longer," Holien said. "They still very likely may reach that threshold and be able to receive that funding; however, I don't know how long that is going to take."
---