This column reflects the opinion of the writer. To learn about the differences between a news story and an opinion column, click here.
Opinion > Column
100 years ago in Spokane: With cars growing in popularity, Spokane's transit system eyed fare increases to the dismay of many
UPDATED: Wed., Dec. 2, 2020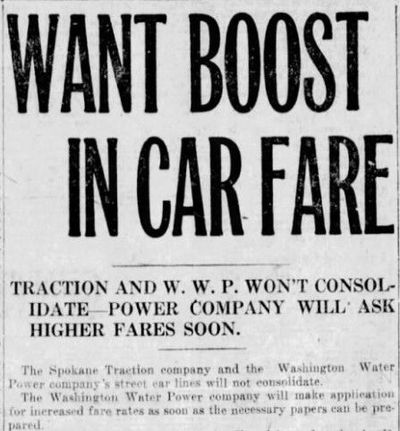 Spokane streetcar passengers were bracing for a shock.
Both of Spokane's streetcar companies, The Washington Water Power Co. and the Spokane Traction Co., were planning to ask for fare increases, creating a financial burden for thousands upon thousands of passengers.
Both companies were losing money – partly because of the rise of the auto – and had sought to consolidate into a single Spokane streetcar system. The companies had been in talks with eastern financiers to back the consolidation, but those talks had broken down. A merger would cost both companies hundreds of thousands of dollars, and neither company wished to pay.
The head of the Spokane Traction Co. said the consolidation idea was dead until the company could find a way to make more revenue. A fare increase was the only hope.
How much would passengers have to pay under the proposals?
Eight cents, an increase of two cents for most passengers.
From the high school sports beat: Perjury charges would be filed against two Lewis and Clark High School athletes for their role in what the Spokane Daily Chronicle called the "football mess."
Raymond Duncan and Harold Ingerlund both misrepresented their ages in order to play football. Duncan was 23 and Ingerlund was 22. Their legal problems occurred when they petitioned the court for the LC principal to act as their legal guardian. In those hearings, they said, under oath, that they were under 21.
On this day
(From the Associated Press)
1818: Illinois was admitted as the 21st state.
---
---