A&E > Food
Patio provisions: Where to eat with heat outdoors in Spokane
Dec. 2, 2020 Updated Thu., Dec. 3, 2020 at 7:11 a.m.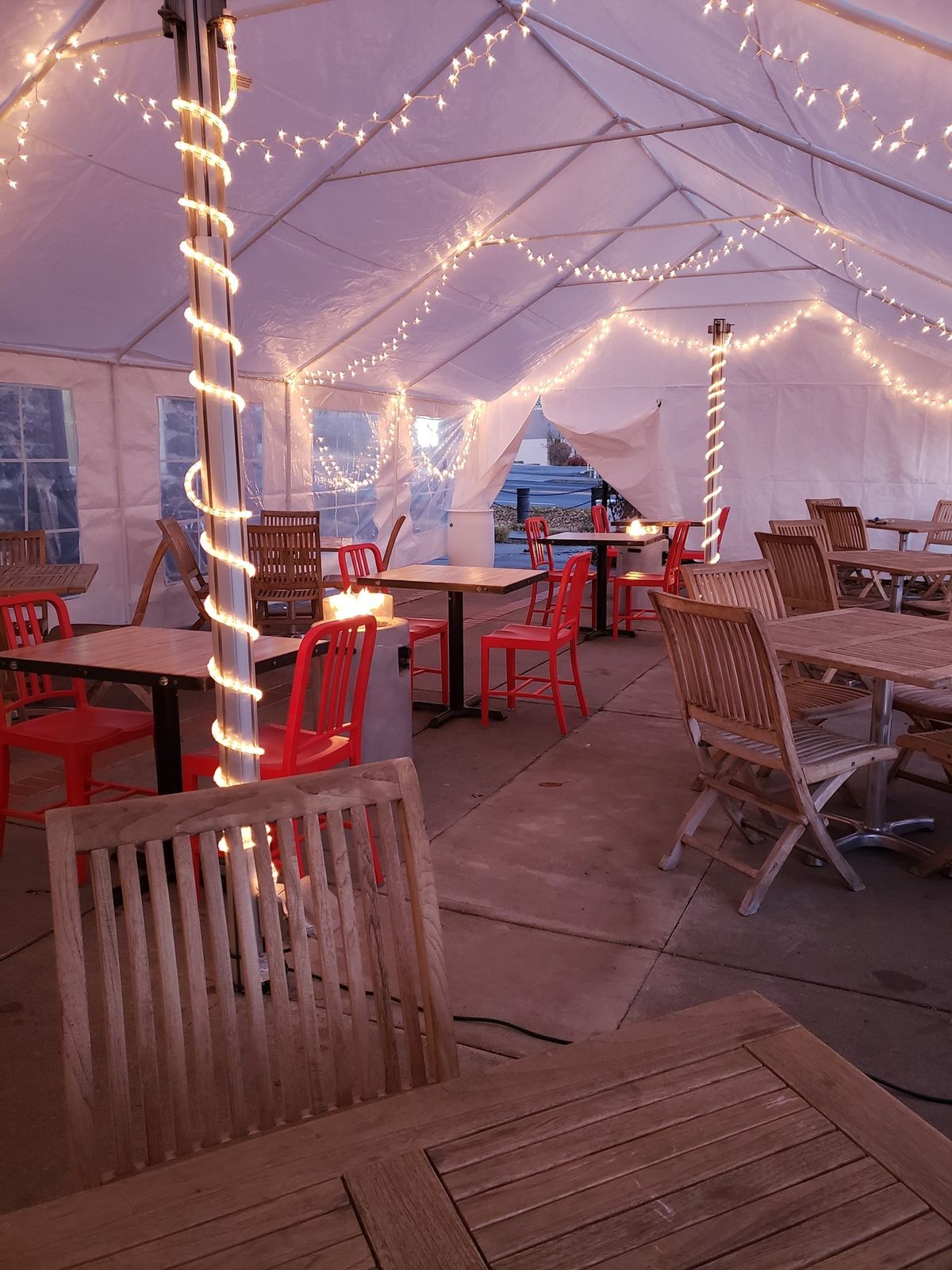 Bark, A Rescue Pub, which opened its doors in August, has installed a large vaulted tent with lights. (Kris Kilduff/For The Spokesman-Review)
With new restrictions handed down from the state, local restaurants and bars have found themselves scrambling for tents, heaters and most notably space to provide their customers comfortable and safe outdoor dining.
As the mandates change, sometimes weekly, there is one thing that stays steadfast: the heart and determination of hospitality workers as they provide the city a space to eat, drink and be merry.
Here are some options in addition to our recent feature on Luna, the Davenport Grand and Coeur d'Alene Resort's igloo dining:
Borracho Tacos & Tequileria
211 N. Division St.; (509) 822-7789 and borrachospokane.com
Sitting down with owner Jeremy Tangen, one quickly realizes his ambition. "You can't focus on how frustrating it is, you just have to roll with the punches," he said over a beer from River City Brewing, which he also owns.
In March, his Mexican restaurant/bar revamped its menu for takeout, offering family pans of enchiladas and to-go margarita kits. With the most recent mandates, his team has built a spacious tent above the downtown patio that houses 40 and boasts standing heaters and outdoor televisions to watch the big game.
Prohibition Gastropub
1914 N. Monroe St.; (509) 474-9040 and prohibitiongastropubspokane.com
Chef Michael Wiley's takeover of the Monroe Street gastropub couldn't have come at a trickier time. The costly effects of COVID-19 have restaurants rallying for support, and an early wave of winter weather has patrons rallying for their coats. The solution for the North Side restaurant was to build temporary framing around the patio.
"I've spent the last two days hanging plywood and driving nails," said Wiley, dressed more like a contractor than chef. His work on the outdoor addition was masterful, much like the bleu cheese lasagna served under the heaters donated from friends and regulars.
Bark, A Rescue Pub
905 N. Washington St.; (509) 418-2551 and barkrescuepub.com
The term "it's raining cats and dogs" might not ever be more suitable than now. Bark, a Rescue Pub, which opened its doors in August, has installed a giant vaulted tent adorned with lights and decor fitting for a restaurant let alone a temporary outdoor adjustment for dining.
Josh Wade, who also owns Nectar Wine & Beer in Kendall Yards, went to social media asking if the public would support him in its undertaking. The answer a resounding yes, his team went to work and built a beautiful, pet-friendly space open for dining, drinks and pet adoptions.
The Rock Bar and Lounge
13921 E. Trent Ave., Spokane Valley; (509) 443-3796
With so much focus on outdoor dining, it's easy to forget how equally important it is to support local bars. The Rock in the Valley has made a name for itself as a place for playing pool and listening to live music. With the current restrictions, the Rock has become a go-to spot for drinks.
A full bar has been built inside a sprawling heated tent. It's counter-service cocktails and canned beer without having to leave the comfort of the newly refurbished space. It only takes a drink to realize the design was not only about convenience – the atmosphere is electric and akin to an outdoor festival.
True Legends
1803 N. Harvard Road, Liberty Lake; (509) 892-3077 and truelegendsgrill.com
This Liberty Lake sports bar might be popular for game day, but it also has some of the area's most-underrated eats. Chef Kyle Barbieri has a penchant for creating fun new dishes and daily specials that keep guests on the edge of their taste buds.
It's no surprise that the team at Legends also got creative when it came to outdoor dining. The newly erected red tent of circus proportions is filled with standing heaters and fire pits to accommodate the chilliest of diners. If that doesn't work, order a bowl of chef's salmon chowder and a hot toddy.
Other options
Here are more places offering heated outdoor food and drinks:
Liberty Lake: Snow Eater Brewing and Hay J's Bistro
Spokane Valley: Millwood Brewing, Steady Flow Growler House, Sullivan Scoreboard, Bottles, Ponderosa Bar and Grill, Green City Saloon, Jackson Hole, Mike's Bar & Grill and Twigs
East Spokane: No-Li Brewhouse, Clover, the Red Wheel Bar and Grill and Checkerboard Tavern
Downtown + Kendall Yards: Brick West Brewing, Veraci Pizza, Nectar Wine & Beer, Browne's Bistro, Osprey Restaurant & Bar, Park Lodge, Iron Goat Brewing, Globe Bar & Kitchen and Pacific Avenue Pizza
Northside: Lost Boys' Garage Bar & Grill, Flying Goat, Twigs, J.J.'s Smokehouse, 5 North Brewing, Swinging Doors, Hierophant Meadery (Greenbluff), Adelo's, Pints and Happy Trails to Brews,
South Hill: Park Inn, Twigs, Remedy, Press, South Perry Pizza, Manito Tap House, Republic Pi and Rock City Grill
Local journalism is essential.
Give directly to The Spokesman-Review's Northwest Passages community forums series -- which helps to offset the costs of several reporter and editor positions at the newspaper -- by using the easy options below. Gifts processed in this system are not tax deductible, but are predominately used to help meet the local financial requirements needed to receive national matching-grant funds.
Subscribe to the Spokane7 email newsletter
Get the day's top entertainment headlines delivered to your inbox every morning.
---