Yes, Spokane, there is still a Christmas: Dozens of socially distanced events this season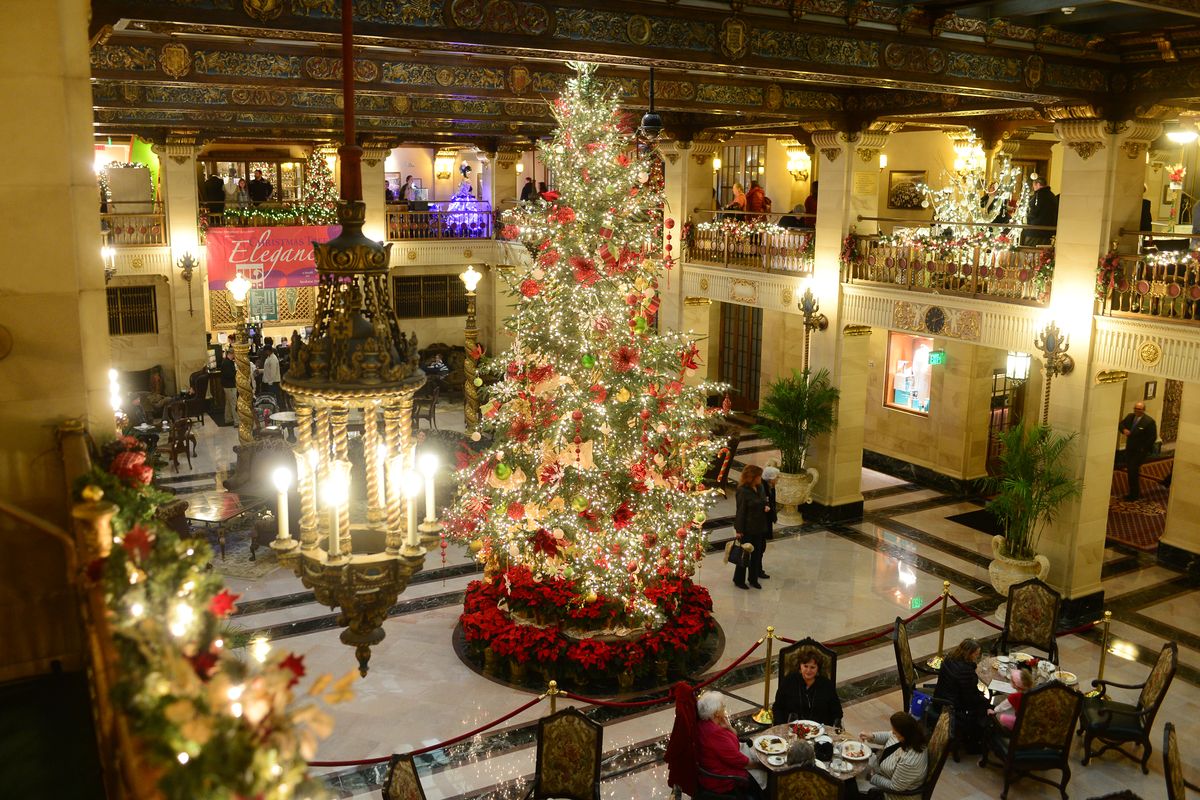 While the COVID-19 pandemic has canceled countless events this year, event organizers have made their creativity clear, either figuring out how to present events virtually or rework them so they can continue safely in person. And the holiday season is no different.
This month, dozens of holiday traditions have been reinvented so they can be enjoyed online or in person with social-distancing measures in place. Get cozy at home, or grab your hat, gloves and mask to enjoy these holiday events.
'Cup of Joy'The seventh annual Cup of Joy, hosted by Trackside Studio, 115 S. Adams St., brings together more than 40 artists from across the United States, each of whom submit as many as four cup forms. The holiday sale of drinking vessels, cups, mugs, yunomi, sake, steins, goblets, functional or nonfunctional, opens with a reception from 5-8 p.m. Friday. The gallery also will be open Saturday, Dec. 12 and 19 from noon-4 p.m. and Wednesdays through Fridays from 11 a.m.-5 p.m. The gallery also is open by appointment. Masks and social distancing are required, and the gallery is reduced to limited capacity. The sale also will be available online at trackside-studio.square.site and continues through Jan. 15.
'A Christmas Carol'University of Idaho's theater department is bringing this holiday classic to living rooms all over via Zoom performances Friday and Saturday and Dec. 11-12 at 6 p.m. and Saturday and Sunday and Dec. 13 at 2 p.m. This production was adapted by U of I MFA playwriting candidate Kendra Phillips and stars professor of performance David Lee-Painter as Scrooge. Tickets are free for U of I students, $10 for individuals and $20 for families through uidaho.edu/class/theatre.
Wallace Home Town Retro Christmas
Visit Wallace on Friday and Saturday or Dec. 11-12 for an old-fashioned holiday celebration featuring family-friendly activities, parades, shopping and hundreds of illuminated blow-molds. Events range in price from free to $12. Visit wallaceid.fun for more information.
Elf on the Shelf
Santa has sent a team of Scout Elves to downtown Coeur d'Alene, hiding them in cups of hot cocoa, boutique sweaters and lots of other places. Spot one of the dozens of scout elves in a scavenger hunt, and you could win prizes from Santa himself. The event takes place Friday through Sunday, Dec. 11-13 and Dec. 18-20.
Kendall Yards Winter Fireworks Show
Though the COVID-19 pandemic caused the cancellation of the artisan market that was to accompany the fireworks, the free fireworks display is still on. Saturday and Dec. 12 at 7 p.m., spectators can enjoy the fireworks from their home, car or socially distanced in Olmsted Park.
Holiday Artist Studio Tour
From Friday through Sunday, the Northwest Museum of Arts and Culture will virtually host its fourth annual Holiday Artist Studio Tour. The seven artists featured this year are Hazen Audel, Sheila Evans, Kimber Follevaag, Melissa Lang, Cheryl Metcalf, Gay Waldman and Gordon Wilson. Art including oil and acrylic paintings, pastels, enamels, charcoal drawings, fiber art, bronzes, mixed-media photography, jewelry, sculpture and architectural artwork will be for sale online. Tickets are $10 per household and available through northwestmuseum.org/support/holiday-artist-studio-tour.
Ho-Ho-Holiday Celebration
The Campbell House at the MAC, 2316 W. First Ave., is home to the Ho-Ho-Holiday Celebration every Saturday in December from 4-6 p.m. The celebration features a festively lit Campbell House and outdoor arts and culture activities, plus the opportunity to view a vintage Crescent Department Store window display and a scavenger hunt. Guests also can watch the Campbell's cook, Hulda, prepare for the holidays and give a video tour of the decorated house, plus everyone will leave with one of Hulda's prepackaged sugar cookies. Advanced registration at northwestmuseum.org is encouraged, and masks are required. The event is free with a suggested donation of $5.
Crime Scene Entertainment
If you're looking to add a whodunit twist to your holiday celebration, look no further than Crime Scene Entertainment. The Coeur d'Alene company is offering three mystery events this holiday season. "Bad Santa: An Escape Murder Mystery" is Saturday at 1 and 6 p.m. Tickets are $45-$75, and the 6 p.m. event is already sold out. On Dec. 12 at 6 p.m., guests can try to solve "Homicide at the Tacky Sweater Shindig." Tickets are $25-$75. Finally, on Dec. 16 at 3 p.m., families can solve "Who Kidnapped Santa?," a non-murder Christmas-themed mystery appropriate for ages 10 and older. Younger children can participate if they have an adult or older sibling's help. Tickets are $15. Tickets for all three events are available through crimesceneentertainment.com.
'All Is Calm: The Christmas Truce of 1914
'
In 2018, Coeur d'Alene's Laura Little executive produced the Off-Broadway production of "All Is Calm: The Christmas Truce of 1914," based on the true story of Christmas Eve 1914, when the Germans and the Allies put aside their weapons and celebrated the holiday together. The production was recorded last year and will air this holiday season on IPTV and KSPS. "All Is Calm" airs Sunday at 9:30 p.m. on IPTV and on KSPS at 1 a.m. Dec. 23 and 8 p.m. Dec. 26. A free livestream will be available Dec. 15 through video.idahoptv.org and pbs.org and the PBS Video App. The production is accompanied by a 21-minute behind-the-scenes piece about the making of the stage production and the film.
Hospice of North Idaho Tree Lighting Ceremony
The holidays can be difficult to celebrate when mourning the loss of a loved one. Hospice of North Idaho's annual tree lighting ceremony, Thursday at the Hospice of North Idaho Community Building, 2290 W. Prairie Ave., Coeur d'Alene, is a time of remembrance and reflection. The event features comforting words, calming music and a luminary walk. Each family will receive a keepsake ornament in honor of their loved one. Three time slots are available: 5, 5:45 and 6:30 p.m. Each time slot is limited to 50 people. Face masks are required. Register through Eventbrite.
Christmas Bazaar
Stop by Lake City Center, 1916 N. Lakewood Drive, Coeur d'Alene, on Saturday from 9 a.m. to 3 p.m. to shop photography, jewelry, quilts, honey, pottery, handmade vinegar, chocolates, clothing, wreaths, mittens, books, paintings and more. The event and parking are free, and the bazaar is open to the public.
Socially Distant Santa Selfies
On Saturday at Fort Sherman Chapel, elves outside the chapel will give parents a form to fill out with personalized information about each child. Then, an elf will brief Santa about each child before welcoming families one-by-one into the chapel for the photo. Children will be positioned 6 feet from Santa, and parents will be able to take photos with their cellphones. Families then exit through the back of the chapel. Live music and light refreshments are provided. The event is 11 a.m.-2 p.m. Donations are accepted. Fort Sherman Chapel, 332 Hubbard St., Coeur d'Alene.
WSU Holiday Concert
On Saturday at 2 p.m., the WSU School of Music will stream its annual holiday concert on youtube.com/wsupullmanmusic. The concert will feature the WSU Concert Choir, University Singers and Symphony Orchestra performing pieces they've rehearsed throughout the semester and sing-alongs of favorite holiday carols.
Radio Play: "A Christmas Carol"
Spokane Civic Theatre and Minneapolis playwright Barbara Field's adaptations of "A Christmas Carol" go together like milk and cookies. Civic first produced four adaptation in the late 1970s. Since then, Civic has included Field's work in many a holiday season. This year, at Civic's request, Fields has once again reworked her script of the Dickens classic, which the theater will share as a radio play. The play premieres on KPBX 91.1 at 7 p.m. Dec. 11. The play also will air at 7 p.m. Dec. 16, 4 p.m. Dec. 20 and 2 p.m. Dec. 24.
Liz Callaway: Home for the Holidays
WestCoast Entertainment presents Emmy winner and Tony nominee Liz Callaway in the virtual performance "Home for the Holidays" on Dec. 11 at 4 p.m. During the concert, Callaway will perform holiday favorites, Broadway showtunes and music from her new holiday album, "Comfort and Joy: An Acoustic Christmas." She also will share stories about the holiday and her career. The livestream includes a behind-the-scenes interview with Callaway and a post-show Q&A. The stream is available for viewing until Dec. 19. Ticketholders will be able to view the concert for 24 hours after they begin watching. Tickets are $20 and are available through watch.eventive.org/bedfordplayhousepresentslizcallaway.
Holiday Lights at Manito
The Friends of Manito Park usually deck out Gaiser Conservatory with holiday lights, but the pandemic forced the group to take the event outside. This year, guests can drive around Manito Park to view holiday lights galore. The event is Dec. 11-20 from 4:30-9:30 p.m. Fridays and Saturdays and 4:30-8:30 p.m. Sundays through Thursdays. Manito Park is located at 1702 S. Grand Blvd.
'The Night Gives New Light'
Gonzaga University's choir will livestream its annual candlelight Christmas concert for free Dec. 12 at 7 p.m. and Dec. 13 at 3 p.m. The concerts, livestreamed from the Myrtle Woldson Performing Arts Center on youtube.com/user/gonzagachoirs, "reflect that in times of darkness and isolation, our abiding hope and care for one another can bring us each a new light."
CdA Holiday Maker's Market
This free market, Dec. 13 from 10 a.m. to 4 p.m. at the Coeur d'Alene Resort, 115 S. Second St., Coeur d'Alene, will feature handmade products from local makers, including food, decor, jewelry, soaps and more.
'X-Mas: A Merry Mutant Musical'
Join the Coeur d'Alene Summer Theatre on Dec. 18 at 7:30 p.m. and Dec. 20 at 2 p.m. for livestreams of this family-friendly musical parody featuring the X-Men during Christmastime. Sure, the X-Men are known as fierce superheroes, but even superheroes can get a little soft around the holidays. The show features a book and lyrics by Sarah Mucek and music by Christian Duhamel. Tickets are $25 through cdasummertheatre.com.
'The Hip-Hop Nutcracker'
Directed and choreographed by Jennifer Weber, "The Hip-Hop Nutcracker" pairs remixed and reimagined choreography with Tchaikovsky's score. The event features a dozen dancers, a DJ, a violinist and a short set from MC Kurtis Blow. The show is available for screening through the First Interstate Center for the Arts on Dec. 19 at 7 p.m. Tickets are $20-$50 and available through firstinterstatecenter.org.
The Weddle Twins
Kelsey Weddle and Marissa Weddle McNeilly, who perform as the Weddle Twins, will host a Facebook Live Christmas concert Dec. 20 at 6 p.m. The pair will sing Christmas classics and some of their favorite Christmas songs. Visit facebook.com/theweddletwins.
Holy Names Music Center
Holiday Concert Series
Every Sunday through Dec. 20, Holy Names Music Center will share a new holiday performance on YouTube – just search for "Holy Names Music Center." The free concerts will feature Paul Raymond and Lauren McKinley, Nicholas Schauer and Craig Landron and Margaret Francik and Riley Gray. A concert featuring Johannes and Denika Kleinmann was uploaded Nov. 29.
Gingerbread Build-off
Visit Northern Quest Resort and Casino, 100 N. Hayford Road, Airway Heights, through Dec. 23 to purchase a mini gingerbread house from Windfall or Marketplace. Then watch the 16th annual gingerbread competition, benefiting Christ Kitchen, online Sunday from 10 a.m. to 1:30 p.m. Visit Northern Quest from Monday through Dec. 23 to see the finished creations, vote for your favorite, and participate in a scavenger hunt.
Wheatland Bank Free Horse and Carriage Rides
View the sights of downtown Spokane or sing carols while enjoying a horse and carriage ride. Safety measures include a mask requirement and plexiglass barriers in between the driver and passengers and in between the two sides of the carriage. Available times are 3-8 p.m. Fridays, noon-5 p.m. Saturdays and Sundays and noon-3 p.m. on Christmas Eve. Pickup is at the Visit Spokane Visitor's Center in Riverfront Park. Visit signupgenius.com/go/10c0d4aa9a922a6fec52-free to register.
Santa Photos at River Park Square
Santa Claus is back beneath River Park Square's 50-foot Christmas tree through Dec. 24. Social-distancing measures are in place, and families must reserve a time slot. Visit riverparksquare.com/events/santaphotos to reserve a time. River Park Square, 808 W. Main Ave.
Northwest Winterfest
Through Jan. 2, families can wander Mirabeau Park Hotel and Convention Center, 1100 N. Sullivan Road, in Spokane Valley and view the sights of handcrafted lanterns in shapes like pandas, a dragon, reindeer and holiday trees during Northwest Winterfest. The free event also includes a scavenger hunt to find Rudolph and his reindeer friends.
Crescent Windows at the Grand
Take a stroll on the Main Avenue side of the Davenport Grand and view classic window displays featuring figurines saved from the basement of the former Crescent Department Store. These displays are designed and installed by local artists Stephanie Bogue, Melanie Lieb, Derrick Freeland and Jazmin Ely, creative directed by Tiffany Patterson. Hours are 3-8 p.m. Mondays through Thursdays, noon-10 p.m. Fridays and Saturdays and noon-8 p.m. Sundays. The free event continues through Jan. 3. The Davenport Grand, 333 W. Spokane Falls Blvd.
Holiday Tree Walk
Through Jan. 3, visit Riverfront Park to see nearly 40 trees decorated by local organizations, experience the Singing Sculpture at the Rotary Fountain and a light display that responds to sound, and watch the holiday light show at the Pavilion and the lighting of the Clock Tower. This event is free.
'A Christmas Carol'
In addition to its radio play, Spokane Civic Theatre also is hosting streams of "A Christmas Carol," starring Tony winner Jefferson Mays ("I Am My Own Wife," "A Gentleman's Guide to Love and Murder) in every role and directed by Tony winner Michael Arden ("Once on This Island"). The stream is available to watch through Jan. 3. Tickets are $50 and available through spokanecivictheatre.com.
Journey to the North Pole
Take a cruise on Lake Coeur d'Alene while enjoying the sight of 1.5 million lights, plus a visit to Santa and his elves in their waterfront toy workshop where Santa talks to each child by name. The cruises depart every day through Jan. 3 at 5:30, 6:30 and 7:30 p.m. at the Resort Plaza Shops, 115 S. Second St. There will be a limited capacity for each cruise, infrared cameras upon boarding (temperatures must be below 99.9 degrees) and sanitizer available throughout the boat. Face masks are required, and it is asked that groups are six people or less. It's also recommended that guests view the North Pole from the top deck instead of the front of the boat to allow for social distancing. Tickets are $9.50 for ages 6-12, $23.35 for seniors and $24.25 for adults. Children ages 5 and younger are free. Ticket prices decrease by $1 Sundays through Thursdays. Purchase tickets online at coeurdalene.org or by calling (208) 292-5670.
Numerica Skate Ribbon
An opening date has yet to be announced, but the Numerica Skate Ribbon in Riverfront Park is a classic winter activity. This year, masks and gloves are required, and the rink will be at limited capacity. Ice skaters or family groups must maintain 6 feet of distance between themselves and other skaters. Tickets must be purchased and reservations made online at my.spokanecity.org/riverfrontspokane/attractions/skate-ribbon before arriving at the skate ribbon.
---