Sports
A Grip on Sports: Though the days may seem a little out of whack, this weekend has its share of must-see events
Fri., Dec. 4, 2020 A GRIP ON SPORTS • Staying home this weekend? If so, there is a lot to watch on your TV and we're not referring to the latest "Mandalorian" episode. Football, basketball, you name it. Games galore.
•••••••
• It's Friday, right. (I always like to double-check these days.) Which means the weekend beckons. It will be a bit different. Though, every weekend this year has seemed different which means, yep, different is normal. We're through the looking glass people.
Let's start with hoops. Five schools ranked in the Associated Press' Top-25 play today, including a top-10 matchup in Tucson between No. 9 UCLA and seventh-ranked Arizona this evening on the Pac-12 Network. Oh, did I neglect to mention we are referring to women's basketball? My bad.
The men aren't bad either, with four top-25 teams playing, though only No. 21, Oregon, should get a decent test, with a game at Seton Hall.
College basketball picks up Saturday, of course, highlighted by a battle of the top two teams in the nation. Heck, if you follow Ken Pomeroy's mathematical rankings, No. 1 Gonzaga and No. 2 Baylor are well ahead of everyone else.
That game tips at 10 a.m. on CBS, so there is plenty of time to watch and then get your fill of college football as well. By the way, Eastern Washington pulled together a last-minute matchup at Arizona for tomorrow morning, starting at 11. It will be on the Pac-12 Network, followed by Washington State's Pac-12 road game at Colorado. Pretty heavy Inland Northwest lineup for the conference's broadcasting arm.
Though just about every top-25 football team is in action this weekend, there are little in the way of compelling matchups. The best of the best is probably the hastily thrown together pairing of unbeatens, No. 13 BYU at 18th-ranked Coastal Carolina. That starts at 2:30 p.m. on ESPNU.
The vagabonds that are the Stanford Cardinal open their two-game road trip tomorrow afternoon in Seattle, trying to upset a Husky team that is playing its fourth consecutive home game. The 1 p.m. game will be broadcast by Fox.
The highlight of Sunday's schedule? It depends.
If you value your green No. 12 T-shirt/jersey more than any other item in you closet, then I guess it would be the 1 p.m. game matching the Seahawks and the visiting New York Giants. But if crimson is the dominate color scheme among your clothes, then you are probably looking forward to Washington State's first game in months – seemingly – at USC.
Being that game is on Sunday night – yep, different is the new normal – it probably should rise to the top on the list just on weirdness alone. FS1 will have the kickoff, which is scheduled for 4:30 p.m. but because it's under the jurisdiction of Fox Standard Time, probably won't kick until 4:45 or so.
If it actually starts on time? That would par for the course in this odd, odd year.
(As would a Washington State upset.)
•••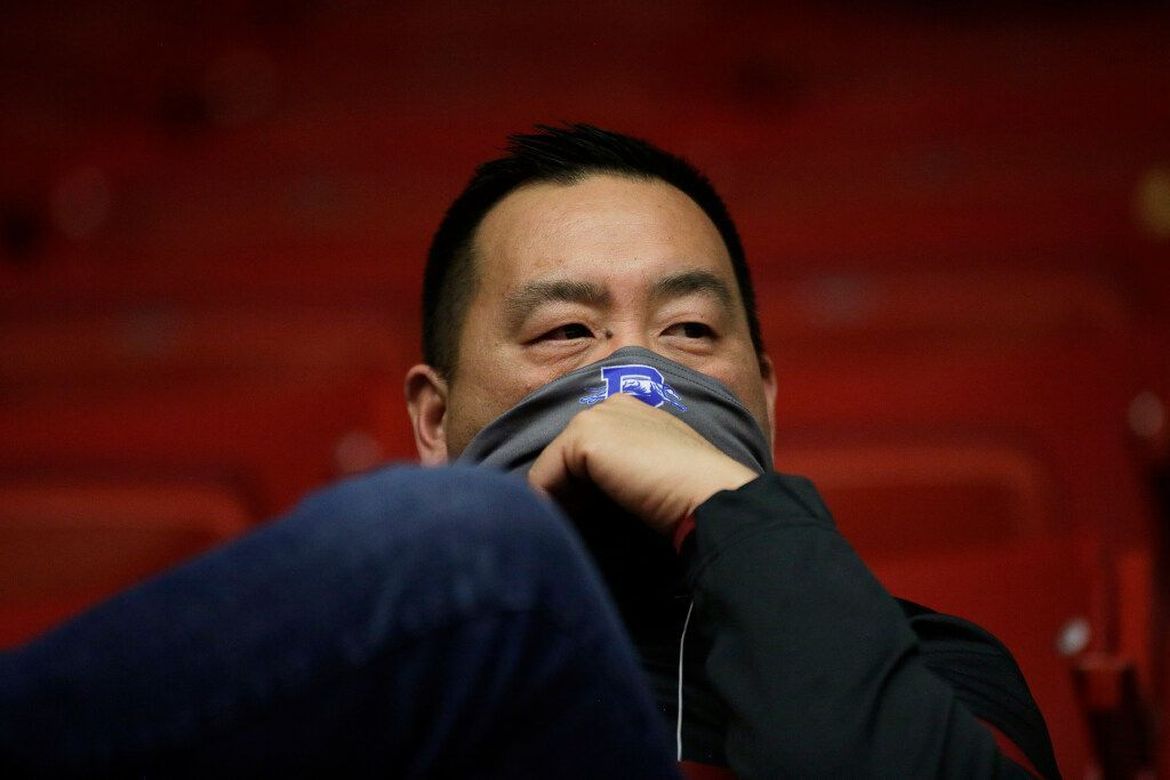 WSU: With coronavirus hospitalizations threatening to overload the California system, Gov. Gavin Newsom announced new restrictions yesterday. As of this morning, it doesn't look as if they will impact Sunday's game. That's not my opinion. That's the opinion of athletic director Pat Chun. Theo Lawson has more on Chun's statements from Thursday in this story. … Theo also got a question about that for his mailbag, so he answered it. … Missed this yesterday, but Theo and Larry Weir spoke on a Press Box podcast. … USC, like WSU, is slowly getting players back to practice. … Around the Pac-12 and college football, who do you think will win this week's games? We can share other opinions if you like. … The officiating gaffes bother former players too. … We've passed along a lot of stories about the current defensive star at Washington. Here is another one that really sings. The Huskies have been happy with Dylan Morris' mobility. … Chance Nolan will be starting at quarterback for Oregon State in their game at Utah. … Oregon needs to run more plays against California. The Ducks' offensive inefficiency has hurt them. … Arizona is reeling and facing a hot Colorado team won't help. … UCLA has its running game headed in the right direction. Arizona State relies on Jayden Daniels to move the ball. … In basketball news, Washington opened Pac-12 play with a blowout loss at Utah, which was playing its first game of the season. … Arizona State traveled to California and came away with a victory. … Colorado is back at practice, prepping for Washington State's visit. … UCLA shut down a cold-shooting Seattle U. team. … Connecticut did the same to USC, though the final score was closer. … Oregon has another player eligible. … The Oregon women are ready to try for a four-peat.
Gonzaga: Though Baylor has yet to break through against the Bulldogs, the rivalry between the schools has a lot of connections. Jim Meehan once again looks at two Bears on the bench with strong GU ties. … Gonzaga play-by-play voice Tom Hudson spoke with Larry for the latest Press Box podcast. … Hey, LeBron James is a Gonzaga fan these days. And thinks Mark Few is the, well, a term that probably shouldn't appear in a family newspaper. … Elsewhere in the WCC, besides Alex Barcello, who can BYU count on to score consistently? … Saint Mary's defeated Texas Southern.
EWU: Eastern Washington jumped at a chance to play Arizona in Tucson, even on short notice.
Idaho: Idaho opened the Big Sky season on the road, losing to Sacramento State, 77-55. … Around the Big Sky, Montana traveled to Cedar City and Southern Utah handed the Griz a Big Sky-opening loss. 
Preps: Former Coeur d'Alene star quarterback Colson Yankoff is no longer a quarterback in college. And he is no longer at his original college. He is a receiver at UCLA. Ryan Collingwood has this story about Yankoff. … Jon Knight was as successful a coach as Spokane has ever produced, winning 11 consecutive State 4A cross country titles. He's retiring. Ryan has that story as well. 
Seahawks: Before we get to the Giants, the NFL reinstated Josh Gordon yesterday. He can return for the final two games. … The Hawks are set to receive some offensive-oriented Christmas presents this year. … Now back to Sunday's showdown with the NFC East leaders, winners of three consecutive games. There is a lot to watch, including the Hawks' special teams. … There was only one full practice this week. Some key players missed it. … Russell Wilson seems to have dropped from the MVP talk.
Mariners: Are there any of the new free agents in which Seattle might be interested? … The M's made some front office changes.
Sounders: Minnesota upset Kansas City last night. That means Seattle will host the West final on Monday night. … Portland's 2020 season is over, but the Timbers have big plans for 2021.
•••       
• Got your Christmas shopping done? Started? Time is running out. Just saying. If you want to get me something, a PS5 would be nice. I would be re-gifting it, but it would make me feel happy to receive one. Until later …
Local journalism is essential.
Give directly to The Spokesman-Review's Northwest Passages community forums series -- which helps to offset the costs of several reporter and editor positions at the newspaper -- by using the easy options below. Gifts processed in this system are not tax deductible, but are predominately used to help meet the local financial requirements needed to receive national matching-grant funds.
Subscribe to the sports newsletter
Get the day's top sports headlines and breaking news delivered to your inbox by subscribing here.
---