News > Pacific NW
Numerica Skate Ribbon at Riverfront Park offers a chance to enjoy being outside
UPDATED: Sun., Dec. 6, 2020 In his blue jacket and tie-dyed mask, 5-year-old Eddie zipped around the Numerica Skate Ribbon on Sunday.
Sometimes he would fall, but all it took was a helping hand from his mother, Heidi Burford-Bell, and off skated little Eddie.
The family drove up from Lewiston, Idaho, for a fun family day of ice skating. With all the indoor ice skating rinks closed due to the COVID-19 pandemic, the skate ribbon was the closest place for their family tradition.
"We just love doing it," Burford-Bell said . "It's a Christmas time tradition for our family."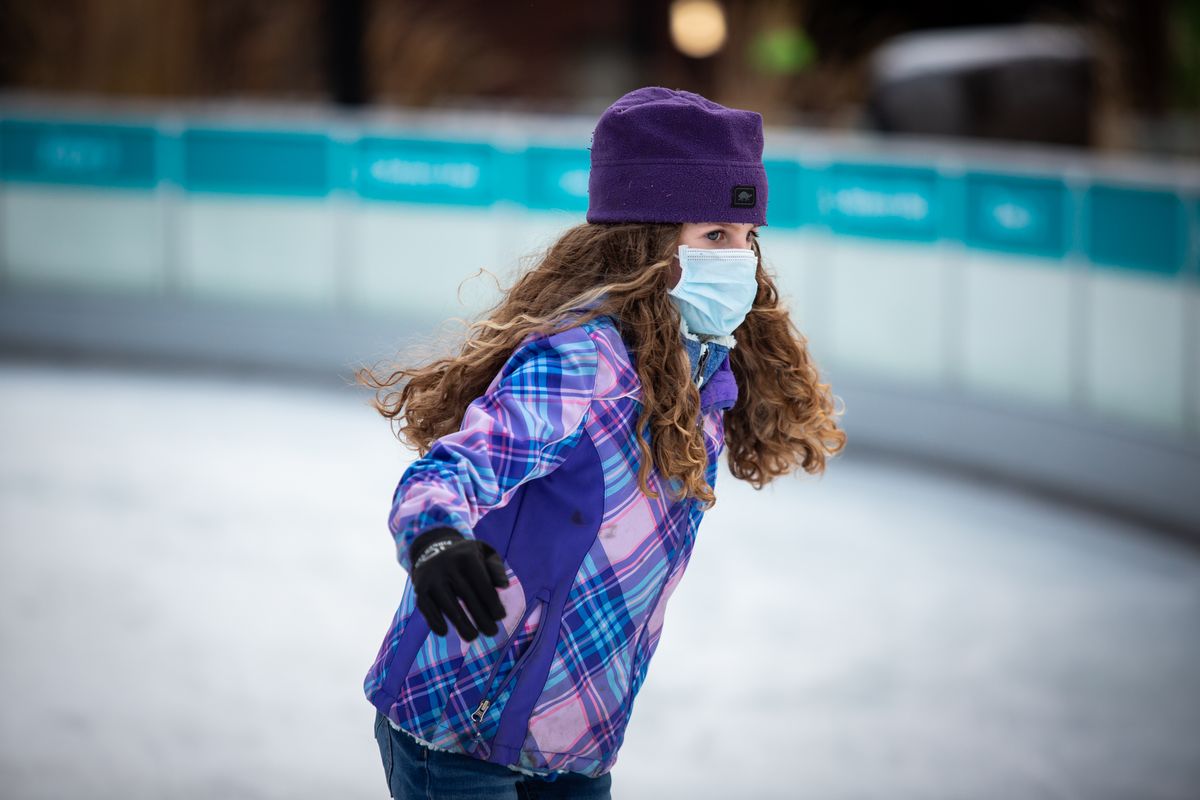 Naomi Hartman wears a mask while enjoying the Numerica Skate Ribbon at Riverfront Park in downtown Spokane on Sunday. Opening day for the ice skating season was Saturday, and amid the coronavirus pandemic, patrons are required to reserve time on the ice in advance in order to observe social distancing, as well as wear a mask and gloves while skating. (Libby Kamrowski/ THE SPOKESMAN-REVIEW)
Eddie has been on skates since he was just three years old.
"He got on his skates and he did awesome," Burford-Bell said. "He did awesome and so I was like, 'OK, you're athletically inclined.' "
The Numerica Skate Ribbon opened Saturday with a new reservation-only system that helps reduce the number of skaters on the ice at any given time, making it easier to physically distance.
Tickets can be purchased online and are good for one hour of skating. Skaters are required to wear masks and gloves with one spectator per minor skater allowed, according to a news release from the Parks and Recreation Department.
"It was important for Parks & Recreation to again get creative and find a way to say 'yes', to be able to offer safe outdoor recreation for our community this winter," Garrett Jones, director of City of Spokane Parks and Recreation, said in a news release.
The COVID-19 guidelines for the skate ribbon were developed with the Spokane Regional Health District, Jones said. The Parks and Recreation department will continue to monitor and evaluate protocols throughout the season.
"In these challenging times, we are focused on delivering safe, joyful, and unique programming for our community," wrote Jon Moog, director of Riverfront Park. "Ice skating around the ribbon downtown has quickly become an iconic Spokane experience, and with some significant changes in place, we're thrilled to open this year."
For Burford-Bell, the chance to be outside and partake in the unique skate ribbon experience was exciting.
"I just like being outside, and that it's not just going for a loop," she said. "You're actually kind of going for a little river ride."
The family enjoyed skating so much they bought season tickets.
"I feel like the kids really need to be able to get outside and play a little more this year, just because we've just been so confined," Burford-Bell said. "Just this little bit of activity is so welcomed."
Former competitive skater Sydney Kolodziej brought her boyfriend, Cody Peltier, to the skate ribbon for a surprise date night.
Kolodziej is a nursing student at Whitworth University who moved to Spokane earlier this year. She was a competitive pairs skater until 2018, representing Canada on the Grand Prix series.
After impressing her fellow skaters with a few jumps, the couple took a more traditional date night skate, holding hands and following the skate ribbon's path.
Numerica Skate Ribbon tickets are $7.25 for adults 13 and older, and $5.25 for those 12 and under. Skate Rental is $4.95.
Tickets must be purchased online at my.spokanecity.org/riverfrontspokane/attractions/skate-ribbon/.
Local journalism is essential.
Give directly to The Spokesman-Review's Northwest Passages community forums series -- which helps to offset the costs of several reporter and editor positions at the newspaper -- by using the easy options below. Gifts processed in this system are not tax deductible, but are predominately used to help meet the local financial requirements needed to receive national matching-grant funds.
Subscribe now to get breaking news alerts in your email inbox
Get breaking news delivered to your inbox as it happens.
---