A&E > Seven
Friends of Manito Park turn holiday lights show into drive-thru tour
UPDATED: Fri., Dec. 11, 2020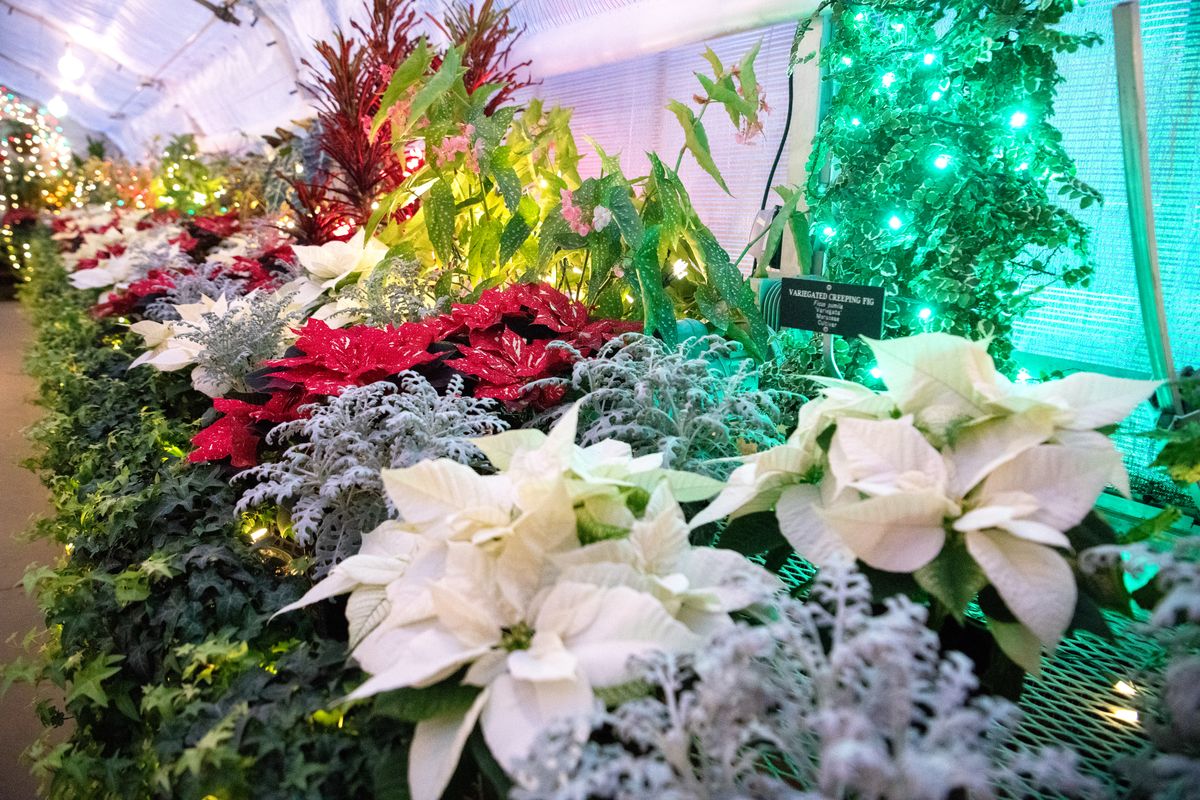 This photo from 2019 shows Gaiser Conservatory decked out in holiday lights. This year, guests can enjoy holiday lights in Manito Park from the comfort of their car. (Jesse Tinsley / The Spokesman-Review)
Holiday lights will still illuminate Manito Park this year, just not from inside Gaiser Conservatory. Instead, the annual event has been reworked as a drive-thru holiday lights tour to allow for social distancing.
Enchanted Garden Drive-Thru Holiday Lights at Manito Park, presented by the Friends of Manito and Spokane Parks, opens Friday and continues through Dec. 20. Hours are 4:30-9:30 p.m. Fridays and Saturdays and 4:30-8:30 p.m. Sundays through Thursdays. The event is free, though donations can be made at the event or online at thefriendsofmanito.org/holiday.
"2020 handed us lemons, and we made lemonade," the Friends of Manito President Kelly Brown said. "It's not the conservatory, but it's an opportunity to do something a little different."
Brown said she and the Friends of Manito considered canceling Enchanted Garden this year but decided to brainstorm and figure out if there was any possible way to make the event happen safely. They considered making the event a walk-thru light show but eventually decided on a drive-thru tour. And with the recent lockdowns in Spokane, Brown said that was the best choice.
The event follows the COVID-19 guidelines in place for drive-in movies. Guests must remain in their vehicles at all times. Event staff will wear face masks, gloves and traffic vests and will welcome guests, answer questions and direct traffic while maintaining 6 feet of space from vehicles.
The half-mile route begins near Park Bench Café. Drivers should line up by driving along 25th Avenue and then turning north along Tekoa Street or Manito Boulevard to be directed to the entry point. After the Park Bench Café, the route takes drivers past the Ferris Perennial Gardens, under and then across the rock arch bridge and past the Rose Garden to exit on 21st Avenue.
Drivers are asked to show up no more than 15 minutes before the event opens to help meet gathering guidelines and prevent early congestion. Tour-style buses are discouraged. There will be portable toilets with hand sanitizer on site at Park Bench Café, which is closed for the season. There are no toilets available along the drive-thru route.
When held in Gaiser Conservatory, Brown said it takes at least a month to set up the lights and displays. This year, crews began setting up Monday and were finished Wednesday. Some of the lights on display are those used in the Gaiser Conservatory, but many weren't safe for use in the weather, so the Friends of Manito purchased new lights and displays. The event will feature displays like a gingerbread house and a decorated gazebo.
If all goes well this year, Brown can envision making the drive-thru event a regular part of Manito Park's holiday season, along with an illuminated Gaiser Conservatory.
"With planning, it will be more grand," she said, adding that the Friends of Manito only had about a month to secure sponsors, purchase new displays, arrange the route and set up the lights.
While the rest of Manito Park will be open for pedestrians during Enchanted Garden, parking lots will be closed during the show, beginning at 3 p.m., to discourage people from parking to walk the route. Gates will be closed and barricades placed along internal driving routes to direct vehicles into the light show.
The holiday lights show is set to proceed through most winter conditions, but significant snow, ice and/or wind might lead to a cancellation. Drivers should check thefriendsofmanito.org/holiday for updates.
"I just hope that people are excited about something new that's bright for the holidays in a year that's been so hard for everybody," Brown said. "I hope people can add this to their holiday traditions for years to come. This might be a special memory as the year they saw the Manito lights for the first time."
Local journalism is essential.
Give directly to The Spokesman-Review's Northwest Passages community forums series -- which helps to offset the costs of several reporter and editor positions at the newspaper -- by using the easy options below. Gifts processed in this system are not tax deductible, but are predominately used to help meet the local financial requirements needed to receive national matching-grant funds.
Subscribe to the Spokane7 email newsletter
Get the day's top entertainment headlines delivered to your inbox every morning.
---