Sports
A Grip on Sports: WSU walks tightrope again but once more finds a way to get past Idaho
Thu., Dec. 10, 2020 A GRIP ON SPORTS • There was no way I was ever watching "Man on Wire." Not just because I'm afraid of heights – deeply – but also because who wants to watch a person trying to stay upright while everyone below is scared to death they're going to fall to certain doom? In unrelated news, Washington State men's basketball.
•••••••
• Last night was appointment TV in the Grippi household. Idaho, with two starters who played travel basketball for me, was trying to win in Pullman. It was the annual renewal of the longest rivalry west of the Mississippi. And as poorly as the Vandals had played to start their season, one had the feeling they had something a shot against Washington State.
Mainly because the Cougars have been living on the edge.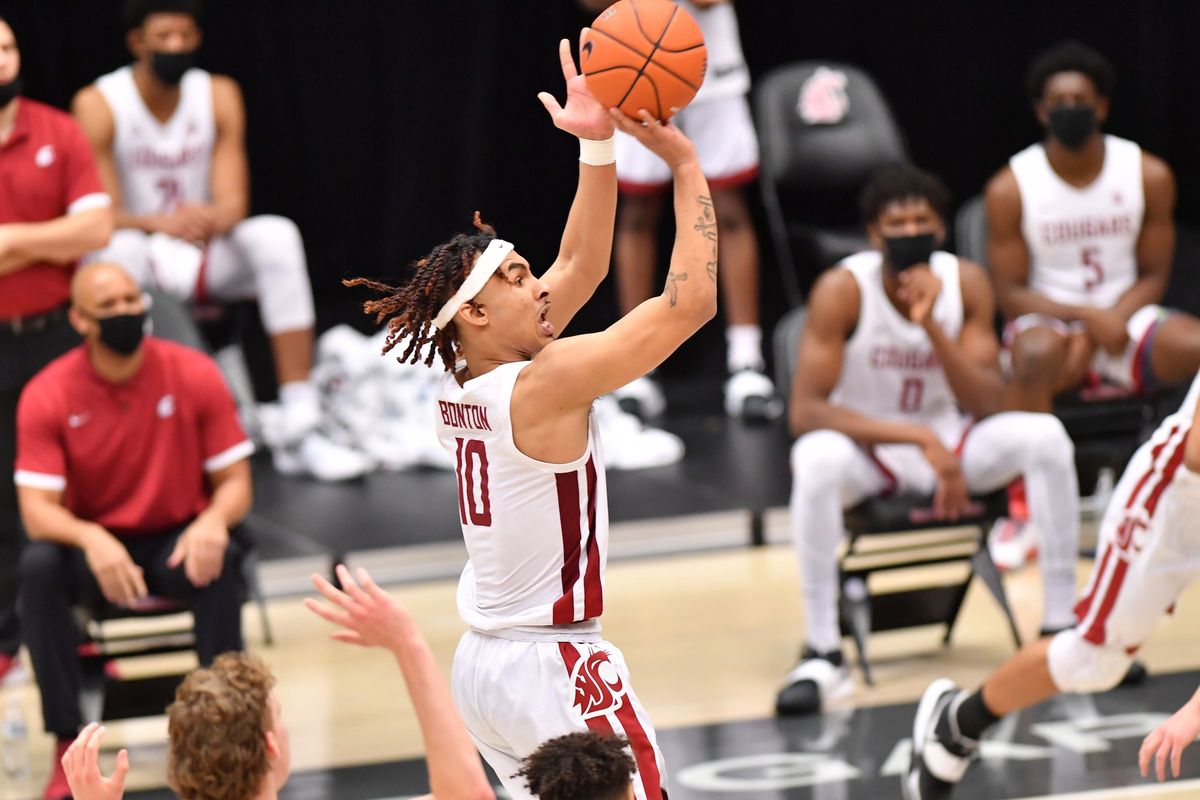 It hasn't mattered who WSU has played in this undefeated start to the season. It could be a depleted Eastern team, a decent Oregon State team, an average Texas Southern team. No matter. The Cougars seem to sleep walk a bit, trail, wake up and win. Happened again last night. All of it.
And this morning Kyle Smith's team wakes up 4-0. But oh is right. As in "oh my, WSU better get better before Pac-12 season hits hard."
Maybe it's the loss of CJ Elleby and his calming presence – not to mention 20 points a night. Or maybe it's all the COVID-related crud that has hit the Cougars, from Smith's own case to players testing positive to canceled trips. Whatever it is, it seems as if Smith has to let them play the first 20 minutes just to be able to figure out which groups are working together.
It's almost like a racing-car mechanic having to rebuild the engine before every green flag.
Whatever Smith has been doing – last night the key move in the 61-58 win was sitting Isaac Bonton down for a long second-half stretch that seemed to key a 19-0 Washington State run – it has worked. But darn, it gets scary for a while.
As for the Vandals, Zac Claus is still figuring out his team as well. There are some pieces available to work with, but never forget he starts two players who begin their time in Moscow as walk-ons as he tries to rebuild a program with a proud history. It could be another long year for UI but if Wednesday night's effort continues, the Vandals will give a few Big Sky teams fits.
• So the University of Washington had to pause football activities yesterday. COVID-19 got its foot in the team bubble and the school is trying to see how far the virus has spread. There was some hope it is isolated enough that UW can play its I-5 rivalry game with Oregon on Saturday.
Meanwhile Seattle King County Public Health told a local TV station it was still recommending a 14-day quarantine for any players in the school's protocol. Could that rule out a Pac-12 title game appearance for the Huskies if too many players are infected or out for contact tracing? It may.
It's just another illustration the virus is nearly impossible to stop. And that getting through a college sports season, whatever sport we're referring to, without lots and lots of pauses and stumbles, won't be possible for a while.
Speaking of that, Duke coach Mike Krzyzewski has changed his tune somewhat. Before the season began, the dean of college hoops was all for starting a season, saying the NCAA Tournament had to be played this year. But with postponements and cancellation piling up, he's changed his mind – at least to some degree.
"I don't think it feels right to anybody," he said Tuesday according to CBS Sports. "We made an assessment. I'm not sure who leads college basketball. It's done by committee (and) anything that's led by committee is not agile in handling a situation. 
"It wasn't, like, well-planned," he continued. "We were going to start November 25. That was made without knowing where the vaccine was, how many cases. Basically, it was more a mentality of 'get as many games in as possible.' And I would just like for the safety, the mental health and the physical health of players and staff, to reassess where we're at."
When Krzyzewski talks, people usually listen. But maybe not this time.
•••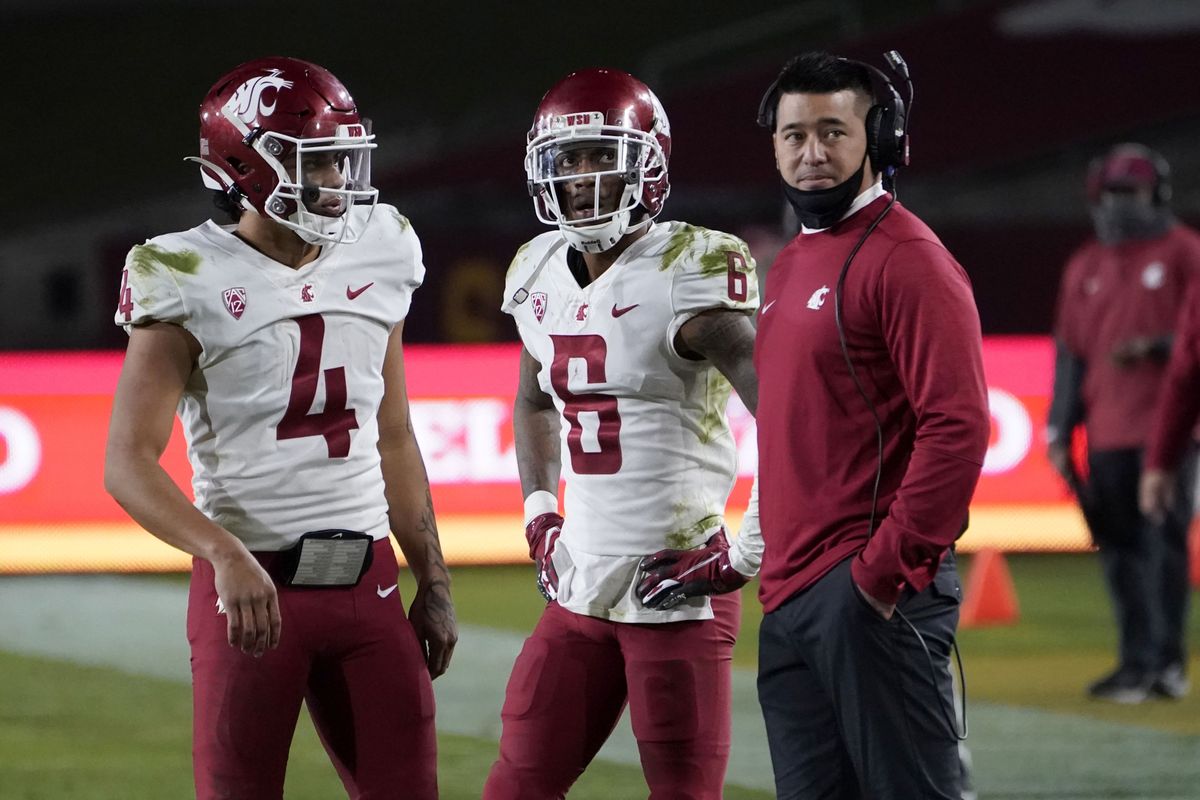 WSU: It was weird (and will stay weird) seeing Beasley Coliseum empty for the game (insert whatever joke about the Paul Graham-era here). But Theo Lawson powered through and has this game story. … Theo is also in full football mode – the Cougars host California late Saturday night – and has a story on Jayden de Laura's ability to lead his team despite his youth. … Around the Pac-12 and college football, the news from Seattle roiled everything yesterday. If the Huskies can't play this weekend, they will win the North title due to their 3-1 record. But if they are also stuck in quarantine, then a Pac-12 title game appearance might have to be out. And open the door for USC and Colorado to play. But that's a long way off, considering this season circumstances change in minutes. … Oregon heard the news as well, but the Ducks are still preparing for the Huskies. Off-the-field, however, other plans are being made. … Oregon State may be deep into its depth chart this week. … Utah and Colorado will now play on Saturday instead of Friday. It's just another example of how this year is different. … The Buffs' sudden rise this season was unforeseen. … USC was expected to be good but UCLA peeking over .500 headed into the rivalry game is a surprise. Grad transfers have helped the Bruins. … The Trojans have been hit by defensive injuries. … Arizona State will depend on its linebackers to stop the Arizona run game. … In basketball news, Washington picked up its first win of the season, routing cold-shooting Seattle in Hec Ed. … Oregon picked up a home win as well. … Oregon State has had to develop depth. … Colorado needs everyone playing at their best. … Arizona had little trouble with Cal State Bakersfield. … UCLA defeated USD in Pauley. … Arizona State will host San Diego State tonight.
Gonzaga: If you were planning on traveling to Sioux Falls, S.D. for the Zags' Dec. 19 game with Iowa, change your plans. Now. The folks in charge of the game have decided fans won't be allowed in the arena. Jim Meehan has more, including a note about the few who will be able to attend. … The Zags are still hanging on to the No. 1 spot for just about everyone. … Elsewhere in the WCC, San Diego played its first game of the season, a loss to UCLA. … Boise State, coached by former Gonzaga assistant Leon Rice, went into Provo and defeated BYU. … Pepperdine routed California in Berkeley while Santa Clara was winning at Cal Poly.
EWU: Ryan Collingwood has a prep story below, but he also took time out yesterday to talk with Larry Weir for the latest Press Box podcast. … Around the Big Sky, Northern Colorado finally got to play and routed Colorado Christian. … Montana has had some bright spots despite its record. … Southern Utah is contemplating a move to the WAC.
Idaho: Besides the story on the men's loss at WSU, we can pass along this piece on the women losing at Texas.
Preps: There is high school basketball going on in the area, though it's across the border in Idaho. Dave Nichols has a look at all the local boys and girls teams. He also has this feature on Lake City's Brooklyn Rewers, who is headed to Michigan State next season. … Ryan pitches in with a story about a good friend of mine, new Genesis Prep boys coach Jeff Hironaka, the former Washington State assistant.
Indians: Dave spent a lot of time yesterday monitoring the news concerning minor league baseball's remodeling. It looks as if Spokane will become the full-season Single-A franchise of the Colorado Rockies.
Seahawks: Bobby Wagner is right. Seattle's defense just needs to play better. … The Rams and Hawks look to be headed toward a NFC West-deciding rematch at the end of the month. … How would you grade the Seahawks after 75 percent of the season? … The Hawks haven't had a lot of first-round picks in the Pete Carroll era. … Josh Gordon is back in the locker room.
Mariners: The M's agreed to a deal with a former Met relief pitcher who was recently in Korea. … They also announced their minor league teams, but Tacoma isn't agreeing just yet.
Sounders: Seattle's Monday night comeback was among the best in the city's history.
•••       
• Let's check the calendar. It's Dec. 10. That means the daylight part of each days begins getting longer again in just 11 days. And Christmas is just 15 days from now. Oh crud. It's almost time to begin scramble mode. In Star Trek parlance, "take us to yellow alert No. 1." Until later …
Local journalism is essential.
Give directly to The Spokesman-Review's Northwest Passages community forums series -- which helps to offset the costs of several reporter and editor positions at the newspaper -- by using the easy options below. Gifts processed in this system are not tax deductible, but are predominately used to help meet the local financial requirements needed to receive national matching-grant funds.
Subscribe to the sports newsletter
Get the day's top sports headlines and breaking news delivered to your inbox by subscribing here.
---