News
Spokane Valley City Council passes budget in 5-2 vote after two council members object to how roads are funded
Thu., Dec. 10, 2020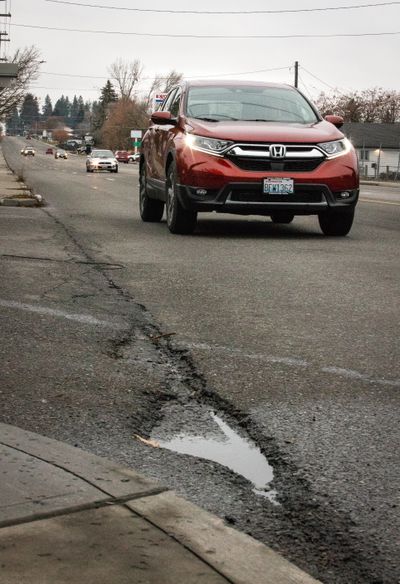 Spokane Valley approved its 2021 budget Tuesday, with two council members voting against it, saying the city needs to find a sustainable source of funding for roads.
Spokane Valley has a budget of about $98 million, with a about half of that going to the general fund. The general fund pays for many of the services that the public interacts with directly, such as a law enforcement contract with the sheriff's office, the park system and operations at City Hall.
In past years, pavement preservation has been paid for with a telephone utility tax and a gas tax, but those sources of revenue have declined significantly since the city's inception and the city has had to draw on reserves, surplus, capital projects and other funds since 2017 to pay for road work. This year, the city covered its estimated $1.8 million gap in street funding by using excess revenues from the general fund. The total street fund budget is around $4.1 million.
City Councilman Rod Higgins said he agrees with everything in the 2021 budget except using general fund money to pay for road preservation. He argued that money could be used to secure grants for large projects or other issues, and the city should be looking for a dedicated source of revenue.
In the past, Higgins has floated a utility tax, but said now he would prefer to go to Spokane Valley constituents directly and see what kind of program they would be willing to fund. Higgins called for a master plan process similar to how the parks department works with the community to come up with a multiyear plan for the parks system.
"The old sob is no new taxes," Higgins said. "I'm sort of in that school of thought: no new taxes without citizen participation."
City Councilman Arne Woodard said he also believed using general fund revenues for roads was unsustainable, and he would like a work group to come together to discuss other sources of funding, which could include a utility tax.
"It's time to make it an issue," Woodard said. "We need to solve the problem; the phone tax is not funding it, so we need to find another source."
City Councilwoman Pam Haley said the city shouldn't look for new taxes while people are struggling to pay bills during the pandemic, saying if the city has a little extra revenue, it should use that for roads until economic conditions improve.
"I understand that the other two want to have a funding source for the roads, but right now we have the money to do it, and I don't think now is the time to discuss new taxes because of the situation people are in," Haley said.
Haley said she believes using general fund money will work for now, but the declining gas and telephone taxes are a problem, and the city should reach out to constituents to see if they are willing to pay more taxes to keep roads in good condition.
According to the city's budget, gas taxes were heavily impacted by the pandemic, when both travel and commuting slowed.
In 2020, the city brought in about 16.2% less than it projected it would collect in gas taxes. According to the city budget, more people are expected to drive in 2021 than in 2020, after a vaccine becomes available, and revenues are predicted to grow by about 0.7%. The city is projected to collect close to $2.1 million in 2021 in gas taxes.
The telephone utility tax is also normally used as a source for road funding, but has declined by about 5.9% a year since its inception in 2009. When the tax was first implemented, it collected more than $3 million. In 2020, the city anticipates it will collect about $1.4 million as more and more people use cell phones instead of land lines.
Councilman Tim Hattenburg said he also believed that a conversation about long-term funding solutions is warranted, but a solution could be at least two years away. He said he supported the 2020 budget because overall, it kept expenses low and protected services, and it was far too late in the process to look for new revenue for roads.
"We'll definitely address it next year with our budget process, but I doubt it could even be done next year," Hattenburg said.
Spokane Valley Mayor Ben Wick said he wasn't opposed to forming a citizen advisory group to look at a new revenue option, but for now, the city has enough surplus revenues to cover road preservation.
Wick noted the federal aid the city council had been tasked with dispersing and the need for food and mortgage assistance in Spokane Valley.
"I don't think it's very wise to increase taxes right now," Wick said.
Councilwomen Brandi Peetz and Linda Thompson, who also voted for the budget, did not respond to a request for comment Wednesday.
Despite differences over how roads are funded, council members said they supported the rest of the budget, noting it kept the number of employees low and public safety funded.
Spokane Valley contracts out for the majority of its services and has far fewer employees than other cities its size. A few positions were shuffled around this year, such as a vacant engineer position that was changed to a homeless coordinating position, but the city did not increase the number of employees. Currently there are 95.25 budgeted positions at the city.
The city's two biggest expenses are capital projects, which makes up 36% of its budget, and public safety, which is 29% of its total $98 million budget.
Local journalism is essential.
Give directly to The Spokesman-Review's Northwest Passages community forums series -- which helps to offset the costs of several reporter and editor positions at the newspaper -- by using the easy options below. Gifts processed in this system are not tax deductible, but are predominately used to help meet the local financial requirements needed to receive national matching-grant funds.
Subscribe now to get breaking news alerts in your email inbox
Get breaking news delivered to your inbox as it happens.
---