Marketing > EVERCANNABIS
Terpenes and Trees: Explore the wonder of winter on the Liberty Lake Loop
Mon., Dec. 14, 2020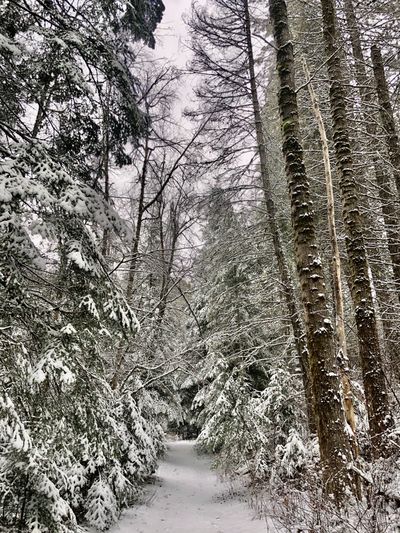 Fall carries more gold in its pocket than any other season. – Jim Bishop
Terpenes are aromatic organic compounds found within all plants and are highly concentrated in the cannabis plant. Each strain has a unique terpene profile that acts in synergy with cannabinoids within the plant, such as THC and CBD, to shape the varying effects of your high and your overall consumption experience.
Together, we'll harness the potent power of terpenes and cannabinoids to enhance the magic of your outdoor endeavors.
With that in mind, let's explore the Liberty Lake Loop!
The main trailhead is located just south of the campground in the marshy area of the park. Keep an eye out for very industrious beavers who have diligently worked to reverse human degradation of the wetlands. The dams built by these assiduous creatures raise the local water table, increasing the water accessible to plants, thereby expanding the size of the riparian system to provide more food for both animals and aquatic life. These natural allies are responsible for restoring a diverse wildlife habitat as well as improving Liberty Lake and the Spokane-Rathdrum Prairie aquifer, so hats off to these crafty critters.
Taking the trail clockwise from the trailhead, you'll traverse through wetlands into a lush forest with a staggering variety of coniferous and deciduous trees (watch for deer, elk, moose, black bear, cougar, hawk, osprey and eagle), across the creek and up to one of the only old growth cedar groves in the Spokane area.
From here, the trail switchbacks up to a lookout of Liberty Lake and Mt. Spokane to the north. Continue your trek along the ridge and through the forest until you reach the waterfall, which is at its peak mid-spring. It's a great spot to take a breather before tackling the next portion of the trail, which climbs through the old growth cedar forest alongside the upper falls. It will take your breath away, both literally and figuratively.
You'll cross the creek one last time before reaching the Boy Scout cabin at the top of the loop. There's no viewpoint from the cabin, but what it lacks in a view, it makes up for in character. It's also an ideal spot to stretch, snack, wet your whistle, or hold a safety meeting.
When you're ready to resume your hike, continue to follow the descent clockwise down the west side of the loop known as the Edith Hansen Riding Trail. It begins as a gradual descent but becomes more intense as it drops back down to the valley floor. You'll make a sharp turn to the right, which re-routes you around the beaver habitat before crossing back over the creek to rejoin the valley trail a half mile from the trailhead.
Activity Strain Recommendation: Orangeade (Tangie x Purple Punch)
Orangeade is a citrusy ride with complex herbal and grape undertones. It provides an immediate mood boost with an incredible giddy cerebral high that gives way to a calm and relaxed body high. The perfect strain for an outdoor adventure, it will undoubtedly enhance your explorative endeavors.
Terpenes found in this strain are pinene (anti-inflammatory, provides energetic focus), limonene (elevates mood, boosts energy, heightens senses) caryophyllene (enhances focus and mood), myrcene (calming stress relief) and bisabolol (anti-nociceptive, which reduces the perception of pain by reducing inflammation).
Recovery Strain Recommendation: Blueberry (Afghani x Thai x Purple Thai)
Blueberry is a potent strain with heavy sedative effects that will bring therapeutic relief and a zen-like calm. With ample doses of myrcene, it will aid in your recovery by easing you into a tranquil state, both mentally and physically. An exemplary strain for recuperation, you'll be ready for your next adventure in no time.
Terpenes found in this strain are myrcene (calming stress relief), caryophyllene (enhances focus and mood), isopulegol (anti-inflammatory, anti-viral) and linalool (calming stress relief).
And that's magic, baby. Lace up, light up and explore this urban escape.
Seagrin von Ranson is a freelance writer/photographer and Eastern Washington Sales Executive for HannaH Industries. An avid hiker and cannabis enthusiast, she can be found wandering a trail near you.
Local journalism is essential.
Give directly to The Spokesman-Review's Northwest Passages community forums series -- which helps to offset the costs of several reporter and editor positions at the newspaper -- by using the easy options below. Gifts processed in this system are not tax deductible, but are predominately used to help meet the local financial requirements needed to receive national matching-grant funds.
Subscribe to the Coronavirus newsletter
Get the day's latest Coronavirus news delivered to your inbox by subscribing to our newsletter.
---