News
How some Christmas Bureau volunteers were honored for their efforts in spite of this year's changes
Wed., Dec. 16, 2020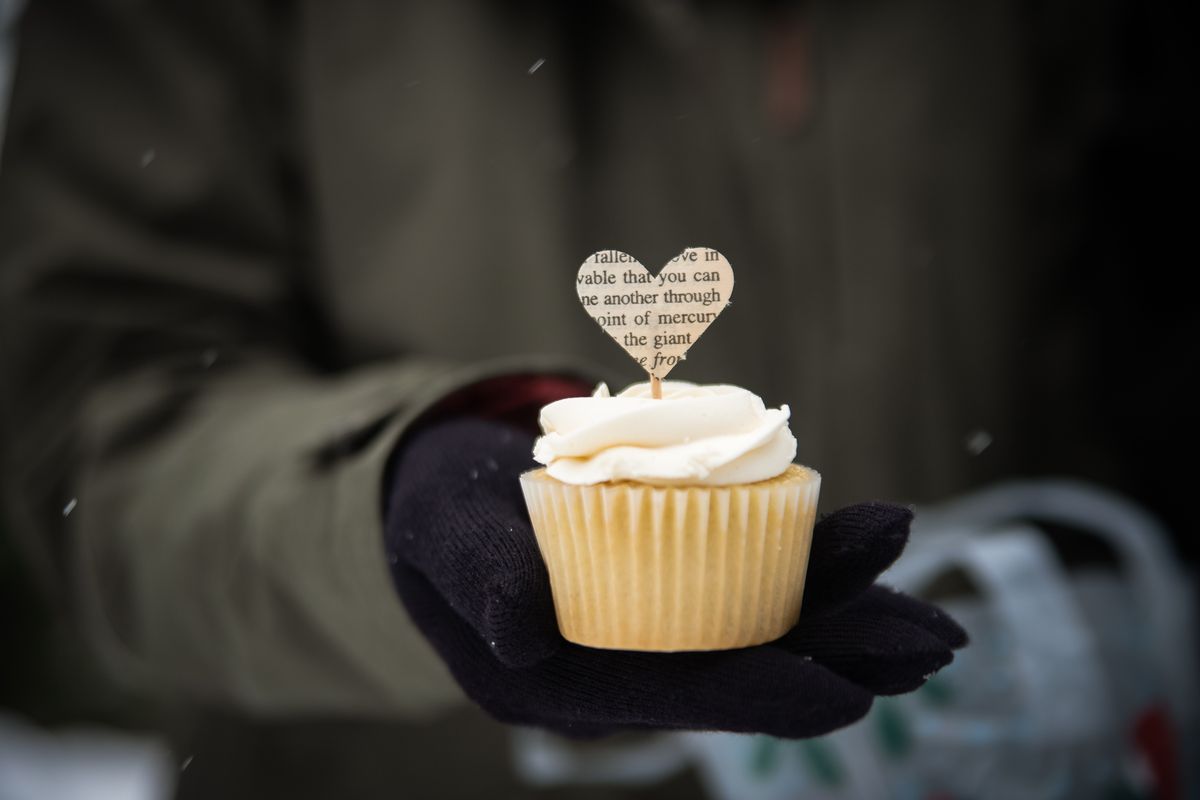 Petra Hoy holds the homemade cupcake that she had just received from a thank you gift bag provided by Ree-Lynn Barden, marketing and communications director of Volunteers of America, in Greenacres, Wash. on Dec. 15, 2020. Although the Bureau was prevented from distributing gifts for area families in its normal fashion due to the risk of COVID-19, Volunteers of America wanted to show appreciation to the volunteers who were prevented from participating in their annual roles. (Libby Kamrowski/ THE SPOKESMAN-REVIEW)
Employees at Volunteers of America are traversing the area this week dropping off gift bags with book-themed cupcakes to say thank you to their volunteers who usually staff the book tables at the Christmas Bureau.
Volunteers of America, Catholic Charities and The Spokesman-Review team up each year to put on the Christmas Bureau, handing out grocery store vouchers to families in need at Christmas, along with a toy and a book for each child.
"At the Volunteers of America, our part is the books," said Marketing and Communication Director Rae-Lynn Barden. "That's what we do. We couldn't do it without volunteers."
There are about 50 volunteers who normally help hand out books during the two weeks the Christmas Bureau is usually open. Many are retired teachers and librarians, or just people who love books. They help parents pick a book that will be enjoyed by the child who receives it.
The sudden switch to virtual operations this year as COVID-19 cases continue to rise has forced organizers to put the books and toys in storage, and distribute only food and toy vouchers to families. That meant no books would be given to children to read and enjoy.
It was important to Volunteers of America that those volunteers be recognized even though they couldn't do their usual task this year, Barden said. "We all just took a minute to recognize how impactful it was to cancel it, for the recipients and the volunteers who help every year," she said.
One of Barden's stops Tuesday afternoon was the home of Petra Hoy south of Spokane Valley. Hoy usually volunteers at the book tables with her children, Zach and Dharma Hoy. "This would have been our third year," Petra Hoy said.
The family has been longtime supporters of various VOA programs and heard about the Christmas Bureau a few years ago and wanted to help. The family has kept up the tradition even as the kids get older. Dharma Hoy, home on break from her sophomore year at the University of Arizona, was planning to still volunteer this year.
She said it was cool to see books that she liked as a child that she could recommend to parents for their children. She said she was sad to hear that the physical Christmas Bureau was cancelled this year .
"It's good to come back and be able to do something in the community," she said.
Zach Hoy, a senior at Central Valley High School, said he's going to miss it as well. "It's really nice to be able to help, and help the parents pick out a book they'll actually like," he said.
He said he's glad Christmas Bureau organizers were able to come up with a way to help recipients this year, but hopes to be at the Spokane County Fairgrounds again next year. "I would hope to be able to come back," he said.
Helping at the Christmas Bureau is now an annual tradition, Petra Hoy said. "It really makes it feel like Christmas," she said.
Donations
The community continues to push the Christmas Bureau closer and closer to its goal of $535,000. New donations of $54,585.27 have brought the year-to-date total to $424,940.60.
The Madeleine Muths Memorial Fund, managed by the Innovia Foundation, donated $22,314.80. According to Innovia, the fund was set up by longtime Spokane resident Raymond Muths, who died in 2015 at 96. He named the fund, which was funded by $2.35 million from his estate , after his late sister. The fund supports five charities, including the Christmas Bureau.
Ibex Flooring LLC, of Spokane, donated $6,000, writing, "Thank you for providing such an invaluable service to our community!"
GSI Outdoors, of Spokane, gave $5,000. "We are pleased to support those in need in our community and appreciate all the work and effort that the volunteers of the Christmas Fund put in during the year," read an enclosed letter. "We realize the pandemic has made this year particularly difficult to distribute to those in need, and we hope we can ease a small part of that burden."
Dishman Dodge, of Spokane Valley, sent $4,000.
The Spokane Regional Plan Center donated $2,500. "Since 1994, the Spokane Regional Plan Center and its members have been proud to donate to this most worthy cause; this year with the enclosed check we continue that tradition," wrote board chair Russ Wolfe. "We hope all those in the community that are considering a donation keep in mind the families and children these donations benefit. They are not faceless causes thousands of miles away, but rather our own neighbors and the need this year is greater than ever before as we face the health and financial challenges caused by COVID.
We hope you meet your goal and appreciate the dedication of all those working at the Christmas Bureau, for they make the program a reality. Giving what you can, no matter how big or small the donation, epitomizes the true spirit of Christmas and provides a blessing for those in need within our community."
The Guy and Ruth Reed Memorial Fund, managed by the Innovia Foundation, contributed $2,194. Michael Altringer, of Spokane, sent $2,000.
Alain and Patricia Kamerer gave $1,000. Rod and Debbie Raebe gave $1,000. "The Christmas Fund is a miracle and blessing to those in need!" they wrote.
The William A. Crosetto Charitable Foundation, managed by the Innovia Foundation, donated $809.47. Craig and Pauline Soehren, of Spokane, donated $750. Fred and Norrine Potts, of Spokane Valley, contributed $600.
An anonymous Spokane donor gave $500 "on behalf of Spencer and Nathan for kids less fortunate." An anonymous Colbert donor sent $500 "in honor of our son and daughter-in-law, who suggested a charity donation in lieu of our usual gift exchange."
Stephen and Patti Aspinwall, of Spokane, gave $500 "in honor of our mom, who always made sure Christmas was a blessing to her family. Thank you for helping our community. Merry Christmas." Open Door Congregational Church sent $500.
Linda Solan gave $500. "I make my donations this year with appreciation and gratitude for the Catholic Charities staff and my fellow volunteers who switched gears and moved mountains to serve those in need," she wrote. "See you next year!"
Brian and Mary Smith, of Spokane, sent $500 "in memory of our friends Denny Sulpizio and Ken Marcus. Thank you for the opportunity to help in this year of need."
Chris Carroll, of Spokane, sent $400, writing, "Merry Christmas and a Happy New Year! Thank you for all you do."
John and Dee Rodgers gave $250. An anonymous Cheney donor gave $250.
Jerry and Dawn Goertz, of Medical Lake, donated $250. "As long-time donors to the Spokesman-Review Christmas Fund it is our privilege to once again contribute to this year's fund," they wrote. "The need this year is more than ever with the COVID-19 pandemic and families are struggling to make ends meet. We are fortunate enough to still have jobs during all this and would like to contribute $250 to this year's fund."
The Spokane Chapter of the American Association of University Women donated $220. "Many of our members have volunteered to help with the distribution of the books for several years under the guidance of our member Tana Carosella," wrote co-financial Vice President Margaret Lawrence. "Since this year things are so different because of COVID-19, we know the needs of our community are greater, now more than ever. Our hope is that 2021 will be a better and brighter (year) for Spokane and all its citizens. Merry Christmas and a Happy New Year!"
The Vinje Family, of Spokane, gave $210 from Prasti Purdum, Astrid Vinje (Bush) and Michelle Vinje (Petty). "God bless all the volunteers," they wrote.
Brian and Murlaine Steckler, of Spokane, donated $200 "in memory of our parents, Robert and Johnnie Anderson and William and Frances Steckler. Thank you for all you do in your effort to assist those in need, especially during these difficult times." Jon and Judy Scott, of Spokane Valley, gave $200.
Chris and Laurie Curran, of Spokane, contributed $200. James Perry and Mary Kaufman, of Spokane, sent $200.
Donald and Eleanor Limmer, of Liberty Lake, donated $150. Stephen and Debra Piper, of Spokane, sent $125
Charles and Barbara Hinzman donated $100. John and Beverly Johnson, of Spokane Valley, contributed $100. William and Sherry Davies, of Liberty Lake, gave $100. Donors identified as Officer Stone and Detective Chavez gave $100, writing, "We would like to wish everyone a Merry Christmas! Also a shout out to everyone at Arbor Grove Mobile Home Park."
Erin, Kayla and Claire Smith, of Spokane, donated $85.
Michael Hughes, of Spokane Valley, gave $52.
Jim and Mary Rogers gave $50. Byron and Ann Johnson, of Spokane, sent $50. The O'Brien's, of Spokane, donated $50, writing "Thanks for all you do for our community." Diane Houston, of Spokane, gave $50.
An anonymous Spokane donor sent $25, writing "Thank you for contriving to provide such a wonderful program for Spokane children and families."
Local journalism is essential.
Give directly to The Spokesman-Review's Northwest Passages community forums series -- which helps to offset the costs of several reporter and editor positions at the newspaper -- by using the easy options below. Gifts processed in this system are not tax deductible, but are predominately used to help meet the local financial requirements needed to receive national matching-grant funds.
Subscribe now to get breaking news alerts in your email inbox
Get breaking news delivered to your inbox as it happens.
---