A&E > Art
Local Denny Carman honors more than 500 fellow artists on social media
UPDATED: Thu., Dec. 17, 2020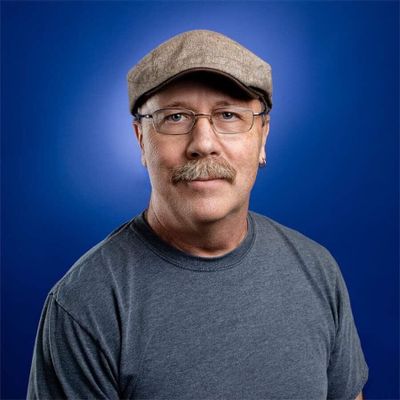 Dedicated to highlighting Spokane's creative community professionally and personally, Denny Carman has spent the last two years honoring fellow local artists – now more than 500 – in a series of Facebook posts.
"And I have 1,600 something artist friends on Facebook, so I have quite a ways to go."
Since beginning his "artist honors" project in early 2019, Carman has spent nearly every morning crafting messages of support featuring the work of local and remote artists.
"Going through the times we're going through right now, especially with all the lockdowns, I always try to bring out positivity," he said, explaining how discouraged he and others have felt.
"We have a lot of artists, not just here in Spokane, but all over the country and world that are just really getting down because they're not talking to other artists."
Carman's artist honors have become his own small way of safely bringing people together; the comment sections are full of new connections.
In addition to his role as a resource manager for Art Chowder magazine, Carman is president of the River Ridge Association of Fine Arts, a local organization devoted to bringing together artists and promoting art appreciation in the community.
Carman is constantly looking for new ways to support local artists. Back in April, Carman and fellow artist Morgan Walters joined forces to launch "Art on the Go," a socially distanced drive-up art show with installations all over Spokane. Each "Art on the Go" weekend featured more than 50 local artists.
Carman's Facebook artist honors have the same goal.
"When I first started doing it, I never thought it would catch on," Carman said.
In the beginning, Carman was writing every day, but the time he needed to do each artist justice forced him to space out the posts. Still, he can't go too long without a few friendly nudges from his loyal readers.
Artists frequently reach out to let him know when they've received new commissions or made a meaningful connection after a post. This year especially, Carman has seen and felt the benefits of his efforts.
"It takes a lot of time, and it's not like I get paid for it, but it's just such a positive thing for the artists and the community," he said. "It refreshes my mind … seeing all this beautiful art makes it all worth it to me."
By encouraging others, he finds his own encouragement both in life and art.
"Everything that I do, whether it's the honors or the magazine, it gives me a reason to get up in the morning," he said.
Carman hopes that readers will take away a new awareness of local talent.
"There's so much of it out there," he said.
For more information, visit rrafaofspokane.com.
Local journalism is essential.
Give directly to The Spokesman-Review's Northwest Passages community forums series -- which helps to offset the costs of several reporter and editor positions at the newspaper -- by using the easy options below. Gifts processed in this system are not tax deductible, but are predominately used to help meet the local financial requirements needed to receive national matching-grant funds.
Subscribe to the Spokane7 email newsletter
Get the day's top entertainment headlines delivered to your inbox every morning.
---