Sports > Gonzaga basketball
Recap and highlights: No. 1 Gonzaga remains unbeaten, holds off No. 3 Iowa in South Dakota
Dec. 19, 2020 Updated Sat., Dec. 19, 2020 at 5:47 p.m.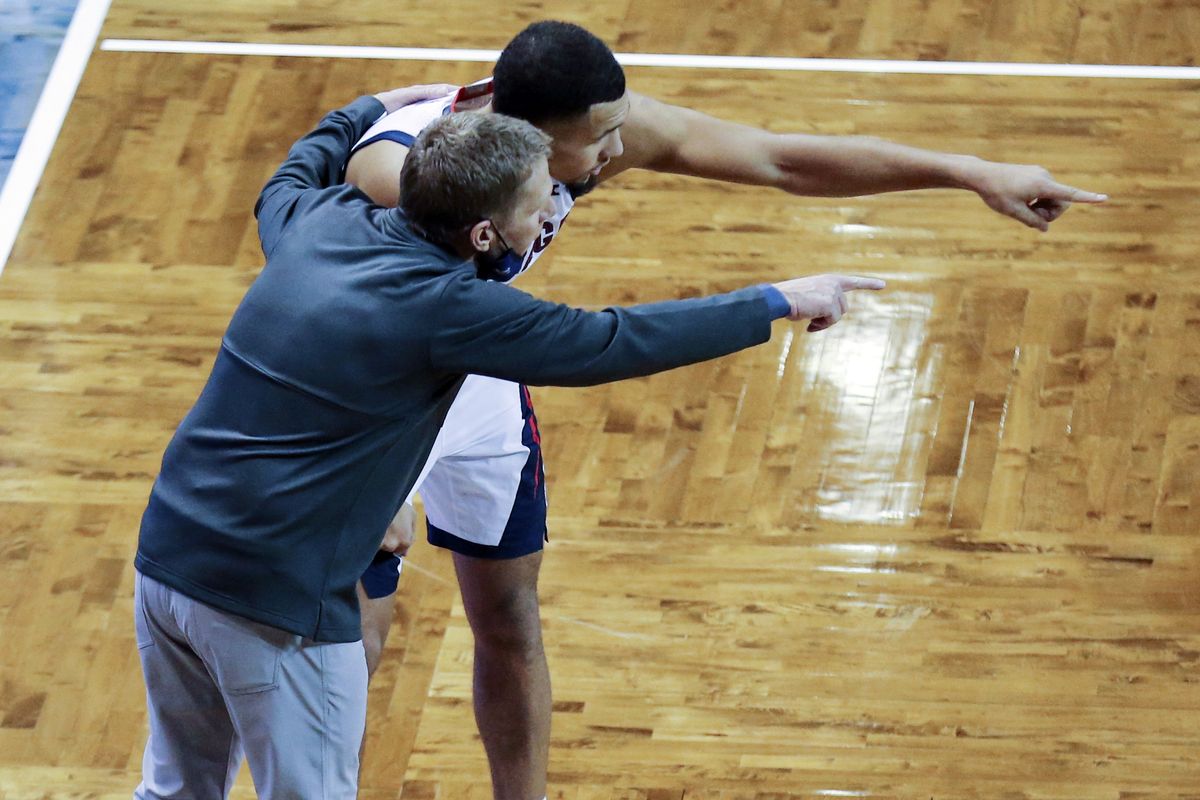 Gonzaga guard Jalen Suggs (1) and head coach Mark Few discuss strategy during the second half of an NCAA college basketball game against Iowa, Saturday, Dec. 19, 2020 in Sioux Falls, S.D.  (Associated Press)
Jalen Suggs scored in a career-high 27 points while making seven 3-pointers as top-ranked Gonzaga returned from a two-week layoff to top No. 3 Iowa 99-88 on Saturday at the Sanford Pentagon in Sioux Falls, South Dakota.
Suggs added seven rebounds, four assists and three steals for the Zags (4-0), which hadn't played since a Dec. 2 victory over West Virginia due to COVID-19 issues within the program.
Joel Ayayi grabbed 18 rebounds for the Zags and added 11 points. Drew Timme (15 points), Andrew Nembard (13) and Corey Kispert (13) also scored in double figures for GU.
National player of the year candidate Luka Garza paced the Hawkeyes (6-1) with 30 points on 13-of-18 shooting. He also grabbed 10 rebounds.
The Zags torched Iowa from deep, connecting on 13-of-26 3-pointers (50%), while holding the Hawkeyes to 4-of-22 (18.2%) from behind the arc. Gonzaga averaged five 3-pointers a game this season, while Iowa was making 12 a game.
Gonzaga shot 51.4% from the floor, while Iowa finished at a 46.7% clip overall. Iowa was also hurt at the free-throw line, making just 14-of-26 shots (53.8%)
The Bulldogs will take the court at the McCarthey Athletic Center for the first time this season Monday when they host Northwestern State at 6 p.m. on KHQ.
CBS Sports / cbssports.com
First half
13:48 - Gonzaga 15, Iowa 14: Defense ruling the day in the early minutes as Jalen Suggs is flying around the court for the Zags and already has two steals.
Iowa star Luka Garza with four points on 2-of-3 shooting. 
Zags go small on their first sub as Andrew Nembhard comes in for Anton Watson, who was defending Garza.
Iowa, one of the nation's best 3-point shooting teams is 2-of-5 from deep. Suggs also with a pair of 3s, he's up to eight early points.
10:36 - Gonzaga 25, Iowa 22: Zags entered the game making five 3-pointers a game, but have already hit that many in the opening 10 minutes with Corey Kispert and Jalen Suggs making two each.
First action of the game for redshirt freshman Oumar Ballo who hits his first two shots and has four points.
Zags have made six of their last seven shots and are shooting 64% from the floor.
Luka Garza pacing a balanced Iowa offense with six points.
7:41 - Gonzaga 33, Iowa 24: Iowa struggling from deep early on. The Hawkeyes average 12 3s per game but are just 2-of-9 so far.
Two fouls on Iowa guard CJ Fredrick and GU forward Anton Watson, who both head to the bench. Pretty clean game otherwise.
Jalen Suggs having one of his best halves this season. The freshman phenom up to 12 points while hitting all three of his 3-point attempts. He's also grabbed three rebounds and has a pair of steals.
3:39 - Gonzaga 42, Iowa 29: Nothing dropping for Iowa, which has a nearly four-minute scoring drought broken with a Luka Garza bucket.
Zags keep feeding the hot hand of Jalen Suggs, who hits another triple to get to 15 points.
Zags go a little deeper onto the bench as freshman Dominick Harris takes the court for the first time since the season opener against Kansas.
Garza and Drew Timme starting to go at each other a bit as the pair hit tough buckets on each side of the court.
Halftime
Gonzaga 51, Iowa 37: Unbelievable 3-point shooting from the Zags in the first half. Averaging five makes a game from deep coming into the game, GU goes 10-of-16 from behind the arc in the opening 20 minutes.
On the flip side, Iowa is just 2-for-10 after making 12 per game this season.
Jalen Suggs leading all scorers with 18 points, while Corey Kispert has 11 for GU. Luka Garza leading Iowa with 14 . Suggs is 5-6 from 3.
Zags shoot 57.6% from the floor and 62.5% from deep, while holding Iowa to 45.7% overall and 20% from 3-point range.
GU with 10 turnovers to six for the Hawkyeyes.
Second half
15:28- Gonzaga 65, Iowa 47: Halftime break does nothing to slow down Jalen Suggs and the Gonzaga offense. The freshman hits his sixth triple of the game and is up to 24 points.
Couple of nice buckets out of the break for GU big man Drew Timme as well, who is up to 10 points.
Joe Wieskamp starting to get going for the Hawkeyes to give Iowa a second scoring option behind Luka Garza. Wieskamp at 13 points, while Garza has 16.
11:57- Gonzaga 74, Iowa 56: Eight GU players have scored in this one, including 16 bench points between Andrew Nembhard, Oumar Ballo and Aaron Cook.
Joel Ayayi quietly having a solid morning for GU as well with 11 rebounds and six points. Zags dominating Iowa on the glass 31-19.
Foul trouble sneaking up on the Zags as Anton Watson has four and Corey Kispert has three. 
Iowa chipping away with points in the paint, but it'll need to start hitting from deep if it wants to close the deficit. 
8:11 - Gonzaga 81, Iowa 67: That's now four fouls on both Corey Kispert and Anton Watson for Gonzaga.
Iowa cranking up the defensive pressure a bit, but Jalen Suggs is still out there flying around, including a fantastic block to stop an easy 3-on-1 bucket.
Hawkeyes also getting to the free-throw line quite a bit, but Iowa is just 7-15 from the charity stripe so far.
Drew Timme also heads to the bench for the Zags after picking up his third foul and Iowa goes straight to Luka Garza down low. He's up to 26 points on 11-of-13 shooting.
7:49 - Gonzaga 81, Iowa 70: Three quick Iowa points off a made free throw and easy layup after an offensive board. Foul called on the make as well will send Iowa's Jack Nunge to the line to try and make it a 10-point game.
Anton Watson back in for the Zags, while Drew Timme, Corey Kispert and Iowa's Luka Garza take a seat.
Iowa also in the bonus, which means free throws all the way home for the Hawkeyes.
3:34 - Gonzaga 89, Iowa 79: Iowa gets the lead down to nine after a Luka Garza, but GU's Aaron Cook nails a huge 3-pointer after a Drew Timme offensive board.
On the next possession though Timme is called for a fourth foul, sending him to the bench. That's four on him, Corey Kispert and Anton Watson for the Zags.
Nice stretch from Watson though after Timme goes out. He gets a bucket and makes a free throw after chasing down a rebound. He has five points.
Iowa will look at both its 3-point and free-throw shooting as the big struggles today. Hawkeyes are 23.5% from deep and just 56.5% from the line.