This column reflects the opinion of the writer. To learn about the differences between a news story and an opinion column, click here.
Opinion > Column
With greater need than ever, hundreds of seniors to receive delivered Christmas meals
UPDATED: Thu., Dec. 24, 2020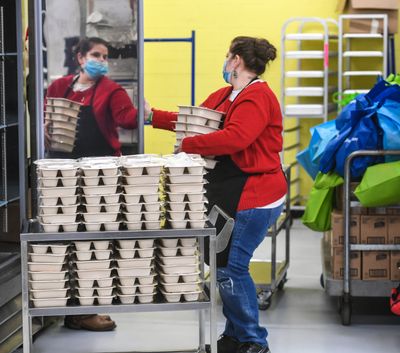 Since the pandemic began, Greater Spokane County Meals on Wheels has added about 200 seniors to its routes dropping off hot, freshly cooked meals.
It has also lost about 100 volunteers, many seniors themselves who needed to self-quarantine in the pandemic, GSC Meals on Wheels spokesperson Janet Dixon said.
The group is in "desperate need" of more volunteers, Dixon said. But those still delivering meals have been persistent, said kitchen manager Jerri Horton, who's worked with Meals on Wheels for 13 years.
"People are amazing – what it takes to get these meals to where they need to be. Some of our volunteers show up five days a week," Horton said.
Dixon described volunteers who are recovering from surgeries still energized to deliver meals days later.
On Christmas Eve, volunteers delivered more than 500 meals to seniors throughout the county while Christmas dinners – turkey, stuffing, mashed potatoes, gravy and pumpkin pie – are set to be delivered to more than 400 Friday.
"Just the thought that there are so many seniors at home by themselves, it's just heartbreaking," Horton said. "When I think about it, it just makes me sad. But then it makes me happy because I get to help."
Horton said just last week, volunteers dropping off a meal found a woman had fallen and couldn't get up. Her neighbor was able to drive her to the hospital after volunteers helped get her into the car. Horton said a doctor told the volunteers she likely wouldn't have survived if they'd come an hour later.
For some seniors, volunteers are the only people they interact with regularly, Dixon said. Even as volunteers have taken a "ding-dong ditch" approach, leaving meals by doors and stepping back 10 feet for social distance, Dixon said they have to "get their eyes on" seniors before they leave, just to check in.
"The meal is just part of this. It's really about independence, helping people stay independent. It's about people who taught in our schools, who have been leaders in our community," Dixon said. "This is not a generation that likes to rely on people. This is like the Greatest Generation. They've done it themselves. So we have to tell them, 'You're entitled to this. You deserve this.' "
Dixon said the average person signed up to get meals is between 74 and 75 and most are women, often widowed.
"They're living alone for the first time in their lives, you know, they moved from their parents' home to their husband's home. It's hard," Dixon said.
Dixon said some people need meals delivered because of their finances, and some because of illness that prevents them from cooking or shopping.
One of the organization's side projects lately is helping seniors get vaccinated. Volunteers are distributing a list of organizations that help elderly Spokanites with rides so they can travel to and from their vaccine appointments.
While getting volunteers has been a challenge, Dixon said, donations have still flowed in. This year, they've been able to put air conditioning in their kitchen, fix the heaters, update freezers and replace their two old vans, which had 150,000 and 250,000 miles on them, respectively.
Volunteering for Meals on Wheels is easy, Dixon said. Volunteers can deliver meals daily, weekly, monthly or skip days when they're unavailable. It's about 1½ to 2½ hours to drop meals off on each route, and people can sign up to help out in their own neighborhoods.
"Seniors are often forgotten," Dixon said. "This holiday spirit, if you can just keep it a little longer – keep volunteering. We desperately need you. Keep donating, keep moving forward with the masks."
---
---