Sports > Gonzaga women
Katie Campbell injured as No. 12 Gonzaga women earn regular-season sweep of BYU
Feb. 1, 2020 Updated Sat., Feb. 1, 2020 at 9:28 p.m. They held down BYU all afternoon, but Gonzaga players couldn't hold back the tears after getting the news about teammate Katie Campbell's injury Saturday afternoon.
With 4 minutes left in the Zags' 59-44 win at the Kennel, the senior guard was driving toward the basket after a steal when she collided with BYU guard Kaylee Smiler and landed awkwardly on her left knee.
After several minutes, Campbell was carried off the court by two trainers. There's no official word on her condition, but there was little optimism outside the locker room.
"They won't know until they do some more testing," head coach Lisa Fortier said.
Fortier's eyes were red as she spoke. It was the same for junior forward LeeAnne Wirth, who spoke of the "sad" atmosphere in the locker room.
"It's tough, but I know that we're going to come together," Wirth said.
That will happen in the next practice and the next game – Thursday night at Pacific, which lost 68-67 to a healthy GU team three weeks ago at the Kennel.
"We have another big week ahead of us," Fortier said.
Until Campbell went down, the 12th-ranked Zags and a sellout crowd of 6,000 were beginning to celebrate a season sweep of the team that beat them three times last season.
They may yet meet again in the West Coast Conference tournament, but the Zags (22-1, 10-0 WCC) have a three-game lead on the field thanks to some stellar defense in the second half.
Leading 26-25 at intermission after Jenn Wirth's buzzer-beating 3-pointer, the Zags clung to a 34-32 advantage three minutes into the third quarter.
Over the next 12 minutes, the Cougars (13-8, 8-3) managed just one field goal and a single foul shot – or roughly a point every 4 minutes.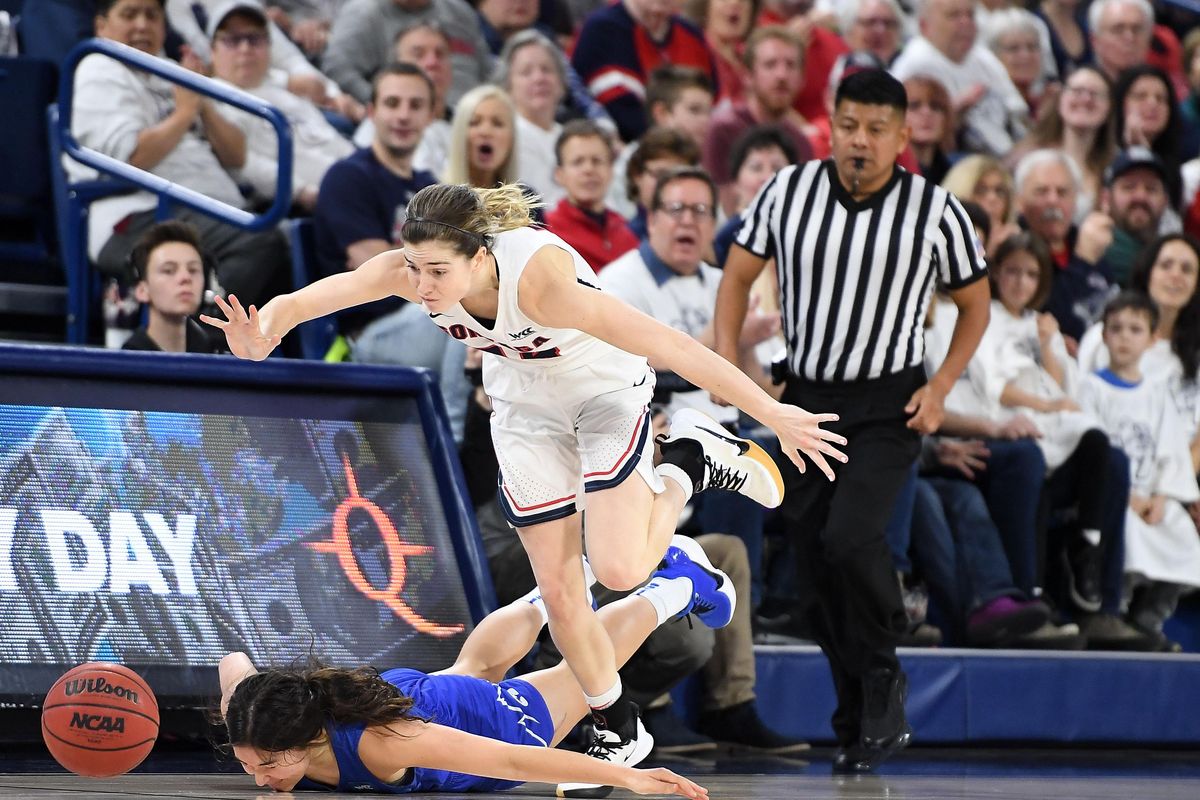 Gonzaga Bulldogs guard Katie Campbell (24) dives for a loose ball against BYU Cougars guard Kaylee Smiler (11) during the first half of a college basketball game on Saturday, February 1, 2020, at McCarthey Athletic Center in Spokane, Wash. (Tyler Tjomsland / The Spokesman-Review)
"They have some really skilled offensive players … defense is what won it for us," LeeAnne Wirth said.
The Zags didn't exactly shoot the lights out in the meantime, but they did more than enough. By the time BYU's Brenna Drollinger hit a short jumper with 4 minutes left in the game, GU was up 51-37 and cruising toward its 20th straight win.
For the game, BYU shot 37% from the field and 25% from long range. Gonzaga shot 40% from the field and a stellar 56% from beyond the arc.
They accomplished much of that without versatile junior wing Jill Townsend, who left midway through the third quarter with an apparent broken nose.
Her nose stuffed with gauze and wearing a No. 30 jersey instead of her usual No. 32, Townsend returned late in the quarter.
Nodding to Fortier that she was ready to go, Townsend finished with 16 points on 5-of-7 shooting.
Defense kept the Zags in the game from the opening tip, much like it did in a 55-43 win at BYU four weeks ago.
Gonzaga carried that attitude into Saturday's game, setting the tone early. in the game. Trailing 4-2, BYU's Paisley Johnson loaded up for a 3 from the right corner, but Gonzaga point guard Jessie Loera flew in for the block. The inbounds pass went to BYU's Babalu Ugwu, whose shot was swatted by LeeAnne Wirth.
By the time Ugwu had corralled the loose ball, the shot-clock buzzer went off and the crowd cheered.
However, BYU also turned up the defensive heat, holding GU to a season-worst seven points in the first quarter.
The Cougars had only 10, but they went up 16-7 on a pair of 3s from Drollinger, who finished with a game-high 24 points.
No other Cougar finished with more than seven points.
GU slowly recovered its offensive rhythm in the second quarter, then took the lead for good on Jenn Wirth's 3-pointer at the buzzer. Had she missed, GU would have set a season low for points scored in the first half.
The Zags got solid contributions up and down the lineup, but this was Campbell's day until she was injured.
She led the Zags with 17 points (on 7 of 10 shooting, including 3 of 4 from long range), along with five steals and five rebounds.
"She really carried us," Fortier said.
Whether or not the Zags will carry on without Campbell remains to be seen.
"We feel like we have some momentum, even if we have an emotional situation going on right now," Fortier said.
Local journalism is essential.
Give directly to The Spokesman-Review's Northwest Passages community forums series -- which helps to offset the costs of several reporter and editor positions at the newspaper -- by using the easy options below. Gifts processed in this system are not tax deductible, but are predominately used to help meet the local financial requirements needed to receive national matching-grant funds.
Subscribe to the sports newsletter
Get the day's top sports headlines and breaking news delivered to your inbox by subscribing here.
---