Waiting in worry: Local Spokane residents keep in touch with family in Wuhan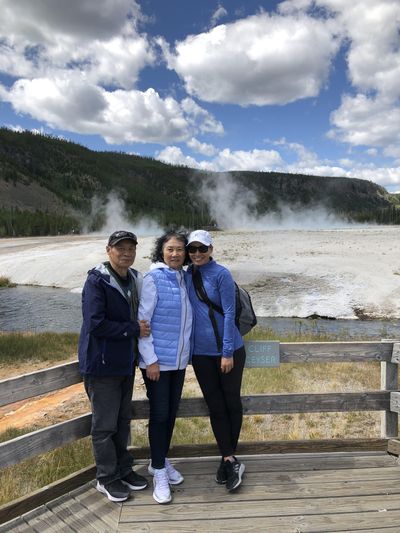 Weiwei Raugust wakes up in Spokane to alerts and messages from her family on her phone. They all live in Wuhan, the largest city in the Hubei Province in China, which has been on lockdown for more than a week due to the spread of the novel coronavirus that originated there.
Raugust was born outside of the big city, but raised and educated in Wuhan, a city of 11 million people, larger in population than New York City. She moved to Washington state 21 years ago, started a family and began working in finance in Spokane. Her parents, brother and sister-on-law are all staying in her parents' home together during the lockdown, and she said they are all in good health.
"You feel most helpless here waiting for good news," Raugust said on Friday, noting the 16-hour time difference can be challenging.
Raugust's family was prepared, and although they got back to Wuhan just a day before the city was shut down, they have enough food and are waiting out the virus, mainly indoors. On Jan. 23 the Chinese government shut down all public transportation including trains, metro and buses as well as blocked major freeways, preventing anyone from leaving. Many people have been off work due to the Lunar New Year, and while people should return to work on Monday, it is possible that the government could extend the holiday further to help contain the virus. Raugust uses FaceTime or WeChat to communicate with her family every day.
"I try to call them every day to make sure everyone is okay," she said, noting that she likes to video-chat them to see their faces.
Raugust tries to visit her family once a year, and last summer, her parents came to visit the Pacific Northwest for vacation. She said she feels very lucky that her family is in good health but is concerned if people, especially older people, get sick and have to go to the hospital for other illnesses that aren't the novel coronavirus. With public transportation shut down, people will likely have to walk several miles for care and wait to see doctors, she said.
"I feel like all I can do is worry and wait," Raugust said.
She recently spent some time looking all over Spokane for masks to send to another friend in China, outside the quarantine zone, who can forward the box along to her family when the lockdown is lifted.
As for her family, "they go day by day," she said.
Cary Liu, also a Spokane resident, is from Wuhan, too. He has been in constant contact with his family, many of whom live and work there. Liu has five family members that have the novel coronavirus, he said, including an uncle who is in an intensive care unit. It is difficult to get in contact with that uncle, he said, due to the tight security at the hospital.
Liu's mother is safe and healthy, however, and he said she is not leaving her house, similar to the majority of people in Wuhan. Liu has several family members that work in medicine and are in the hospitals, too, he said. He gets updates from them on WeChat, and he said his brother is helping make sure his mother is okay.
"My brother bought my mother some masks and medical alcohol (for disinfecting)," he said.
People in Wuhan are required to wear masks if they go outdoors, Raugust and Liu both said, based on what their family members reported. They hope that the lockdown will be lifted soon.
"They seem to be working to kill the disease," Liu said.
Locally, Washington state was the first state in the U.S. to get a novel coronavirus case, although so far, only the one case has been confirmed in Snohomish County. Risk of the virus spreading in the state still remains low, public health officials said.
At this point the Spokane Regional Health District is more concerned about flu season than coronavirus, according to spokesperson Kelli Hawkins. At least 143 people have been hospitalized and 4 people have died in Spokane County due to the flu since October. There were 199 hospitalizations and 11 deaths at this point last year.
Health officials say people who want to take extra precautions to protect themselves from contracting novel coronavirus should use normal techniques for avoiding flu and other illnesses, such as washing your hands, not touching your face, covering coughs and sneezes and avoiding close contact with people who are sick.
While the risk is low of a novel coronavirus outbreak in Spokane, Sacred Heart Medical Center is prepared in the event of a case here locally. The hospital has a special pathogens unit that can care for one to two patients at a time, depending on their conditions. A team of 35 nurses and care providers have been actively training since 2015 on the special pathogens team at Sacred Heart. There is a 14,000-square-foot isolation unit with 12 patient rooms that would be used in the event of an outbreak.
The state Department of Health and the Spokane Regional Health District do not recommend wearing respiratory masks as a safety precaution. Officials say masks can prevent someone who has a respiratory illness from spreading it but they will not adequately protect people from contracting an illness.
"The most important things people can do to protect themselves are just what they do for any viral respiratory infection," Hawkins said. Although, "there is no evidence that (novel coronavirus) is spreading in Washington or anywhere in the United States."
Colleges and universities with Chinese students have experienced some effects of the coronavirus outbreak.
Phil Weiler, a spokesman for Washington State University, said Friday school officials weren't aware of any students attempting to travel home to China for Lunar New Year celebrations.
But WSU does have one undergraduate student who was starting a semester-long study abroad program in China. The organization running the program decided to cancel it due to the outbreak and the student was seeking to return to Pullman, Weiler said.
"We're working with her to figure out where she'll fit in best to continue her education here, because we're already three weeks into the semester," Weiler said.
WSU also was preparing to host a group of Chinese researchers who became stuck in the coronavirus quarantine zone, which encompasses Wuhan and several neighboring cities. Weiler said those researchers might have to wait to travel to Washington until the quarantine is lifted.
S-R reporters Chad Sokol and Jared Brown contributed to this story.
---