Sports
A Grip on Sports: Deciding who to root for on Super Bowl Sunday is tougher than deciding what to eat … and not nearly as much fun
Sun., Feb. 2, 2020 A GRIP ON SPORTS • Happy Super Bowl Sunday everyone. (Or is it Merry Super Bowl Sunday? I never know which one is correct.) Hope you have your family gathered around for a day of fun, festivity and football. And food of course. Lots and lots of food.
•••••••
• Super Bowl Sunday is a national holiday these days, right up there, unofficially of course, with Thanksgiving and New Year's and, in some households, Festivus. But, of the myriad of holidays celebrated in the greatest nation on Earth, only Thanksgiving comes close to rivaling today in the food category.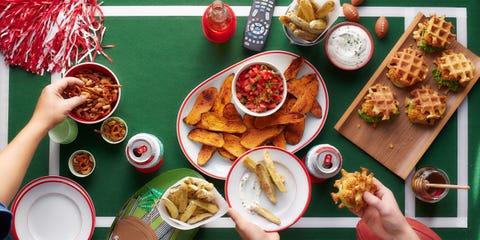 And that staid, old, out-of-date, be-thankful-for-what-you-have holiday doesn't have the variety of food-stuff today features. Especially in the protein category.
You can have your turkey. I'll take chili. And chicken wings. And hot dogs. And loaded nachos. And those little sausages that really don't have a name but sit so nicely in barbecue sauce.
OK, and even the vegetable tray my wife always makes me buy.
It's a cornucopia of food, resplendent in its variety and depth. Or should I say it's a touchdown of food, uniformly celebrated for its variety and depth? It is a holiday built around a football game, after all.
As you might know, the Grippi household built an entire culinary journey this Seahawk season around the location of the Hawks' opponents. In some ways, eating food that is associated with, say, New Orleans, was an equivalent to training camp, with today's feast the culmination of all the hard work.
It's too bad the Seahawks didn't make it here with us. We could have fired up the barbecue and made ribs and steaks and such.
No matter. This afternoon and evening will rival the feasts the Romans used to throw together to celebrate a win over the Visigoths or Carthaginians. But without the togas.
For entertainment we will have the gladiators who suit up every year and do their best to make us laugh. We're talking about the commercials of course. The game? It's rarely fun enough to keep us in our seats. Not when there is a toothpick nearby and one more tiny sausage to fish out of the Stubb's.
• So who is going to win the football game? Do you care?
I know there are some Chiefs' fans in the area, and their allegiances are clear. But I suspect there are even more people here rooting for Kansas City's team to roll for another reason.
They want to 49ers to go down in flames.
Ah, the joy of rivalries. The enemy of my enemy is my friend. It's been true since Julius Caesar crossed the Rubicon. Dies are rarely cast anymore, but if the best player for San Francisco has to have his wrist put in one, and that hurts the 49ers chances, so be it.
Football fans are such petty beasts.
Myself, I'm torn. My dad was a huge 49er fan. I grew up knowing all about Frankie Albert, R.C. Owens, John Henry Johnson and Hugh McElhenny. Especially McElhenny. He must have been like a combination of Walter Payton, Gale Sayers and Jim Brown to hear my dad talk about him.
All of which turned me into a big Rams fan. Who wants to hear the stupid reminiscences of an old man – probably in his early 40s – after all?
When he would mention John Brodie, I would bring up Roman Gabriel. When he would talk about Joe Perry, I would laud Deacon Jones.
Now I miss those days and wonder if I should root for the 49ers just out of family loyalty. Even if San Francisco is Seattle's newest, biggest rival and winning the Super Bowl may just propel them to 10 years of success.
Sorry, but I haven't decided yet. I'll make my choice sometime between now and the 4-minute, 39-second National Anthem. And I'll let you know tomorrow what was decided.
•••
Gonzaga: There is no way I root for Gonzaga, but during the Zags' games, I do root for one thing: A quick denouement. The faster the game, the quicker I'm done working. Except yesterday I wasn't displeased with the pace of play. There was so much to write about, and with a "the-game-is-over-where-the-heck-is-your-column" deadline, I was grateful for the extra few minutes I had to write. There was so much to cover, all of which, I hope, is contained in this TV Take. … Jim Meehan was actually in San Francisco and had the opportunity to digest what happened longer for his game analysis and keys to the game. … There is also a photo gallery and a recap with highlights, the latter put together by the sports department folks. … The Gonzaga women won yesterday afternoon but they also lost. The win was over BYU. The loss was guard Katie Campbell, who appeared to injury her knee late in the game. Jim Allen covers both in this game story. … John Blanchette was also in the Kennel and has this column on the program. … Tyler Tjomsland has photos of everything, including the players' reaction to a teammate's injury. … Elsewhere in the WCC, we watched the last half of BYU's victory over Saint Mary's, which was much more entertaining than listening to Bill Walton on another channel. … Pacific handled San Diego with ease.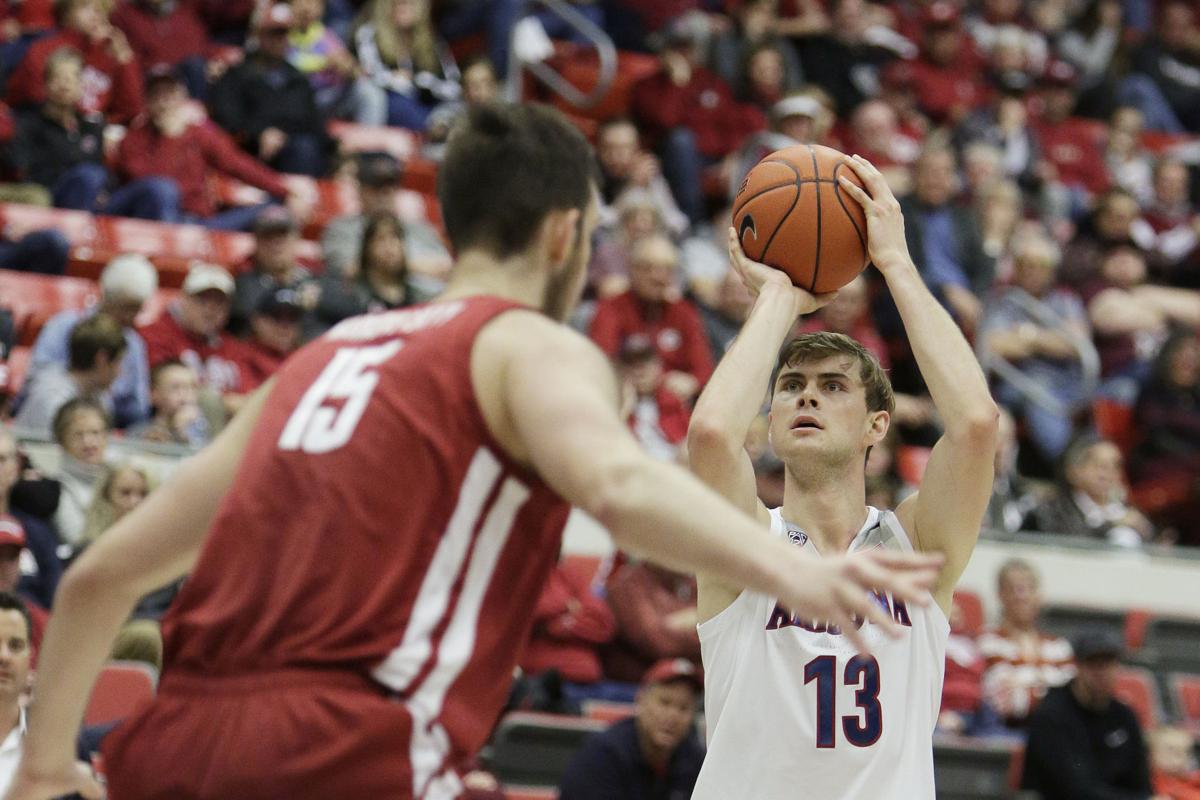 WSU: The Cougars had no answer for Arizona's smothering defense yesterday, as the Wildcats became the first Pac-12 team to sweep a road weekend. Theo Lawson was in Beasley and has this game story following UA's dominating 66-49 victory. … Theo also returned to the website later in the evening with the news receiver Dezmon Patmon has been invited to the NFL Combine. Will he turn into the next DK Metcalf? … Around the Pac-12, we also watched the last part of Washington's loss to Arizona State, with the aforementioned Walton trying to get the Mariners' Aaron Goldsmith to answer his questions. He failed. … Oregon shot poorly and that cost them at Stanford, as the Ducks fell apart in the second half. … California held off charging Oregon State to reach double digits in wins. … There must be no place Colorado likes to win more than Galen Center. And when the Buffs dominate USC, that must make coach Tad Boyle really happy. … Utah will try for a win at UCLA today. The Bruins are trying for a weekend sweep. … In football news, Utah is losing a running back to an in-state rival. … USC has hired another assistant coach.
EWU: The Eagles toughed their way to a Big Sky road win at Sacramento State. … In football news, Ryan Collingwood examines the chances Kendrick Bourne will become the first player from Eastern (and the Big Sky) to score a Super Bowl touchdown. … Elsewhere in the Big Sky, for the 300th time, Montana played Montana State. The Griz won this one in Missoula, though the Bobcats battled. … Southern Utah stopped Idaho State. … Northern Colorado pounded Weber State.
Idaho: The Vandal women fell to Northern Arizona in Moscow. … The men also lost, at Northern Arizona.
Whitworth: Ben College scored 44 points (in an obvious tribute to Pete Maravich) as the Pirates held off Pacific Lutheran 87-81 on the road.
NIC: The Cardinal women had to rally to top Treasure Valley at home.
Preps: Dave Nichols put together roundups of GSL games on the girls and boys side, while the folks in the office did the same for boys and girls basketball action around the area.
Chiefs: Kelowna and Spokane returned from Friday's game in Canada to face off again in the Arena. The result was similar as the Chiefs rolled to a 6-0 victory. Kevin Dudley was in attendance at Saturday night's game and has this story.
Seahawks: Russell Wilson wants more stars on the Hawks. Will he get them? Only if Seattle can pay them. … Steve Hutchinson, he of the poison pill contract, will be in the Hall of Fame.
Sounders: There is hope in Seattle after the recent midfield signing. … Brad Smith will have to wait before he can return.
•••
• They say blood is thicker than water, but I know for a fact Kansas City barbecue sauce is thicker than San Francisco clam chowder, so I'm still torn. Maybe I'll just root for the referees. Until later …
Subscribe to the sports newsletter
Get the day's top sports headlines and breaking news delivered to your inbox by subscribing here.
---