News > Idaho
Hauser Lake dog rescue celebrates its dogs featured in Animal Planet's Puppy Bowl
Feb. 2, 2020 Updated Sun., Feb. 2, 2020 at 9:55 p.m. Cristene Justus weaved her way through a crowded restaurant Sunday morning, stopping every few steps to give a hug, chat with a friend and pick up a small child.
Justus is the co-founder of Double J Dog Ranch and the center of attention at Sunday's Puppy Bowl Tail-Gating Pawty.
Two of her disabled rescue dogs, Filbert and Daphne, competed in the Puppy Bowl Sunday, and another dog, Lulu, scored multiple touchdowns in the Dog Bowl on Saturday.
Justus and her ex-husband, Duane, run Double J Dog Ranch together. They give dogs who have disabilities a safe haven and help find them find new adoptive homes.
For the past few years, Double J dogs have competed in the Puppy Bowl, a Super Bowl Sunday special on Animal Planet that features rescue dogs in the hope of encouraging adoption. The Dog Bowl is a similar event for adult dogs, where they play a mock football game.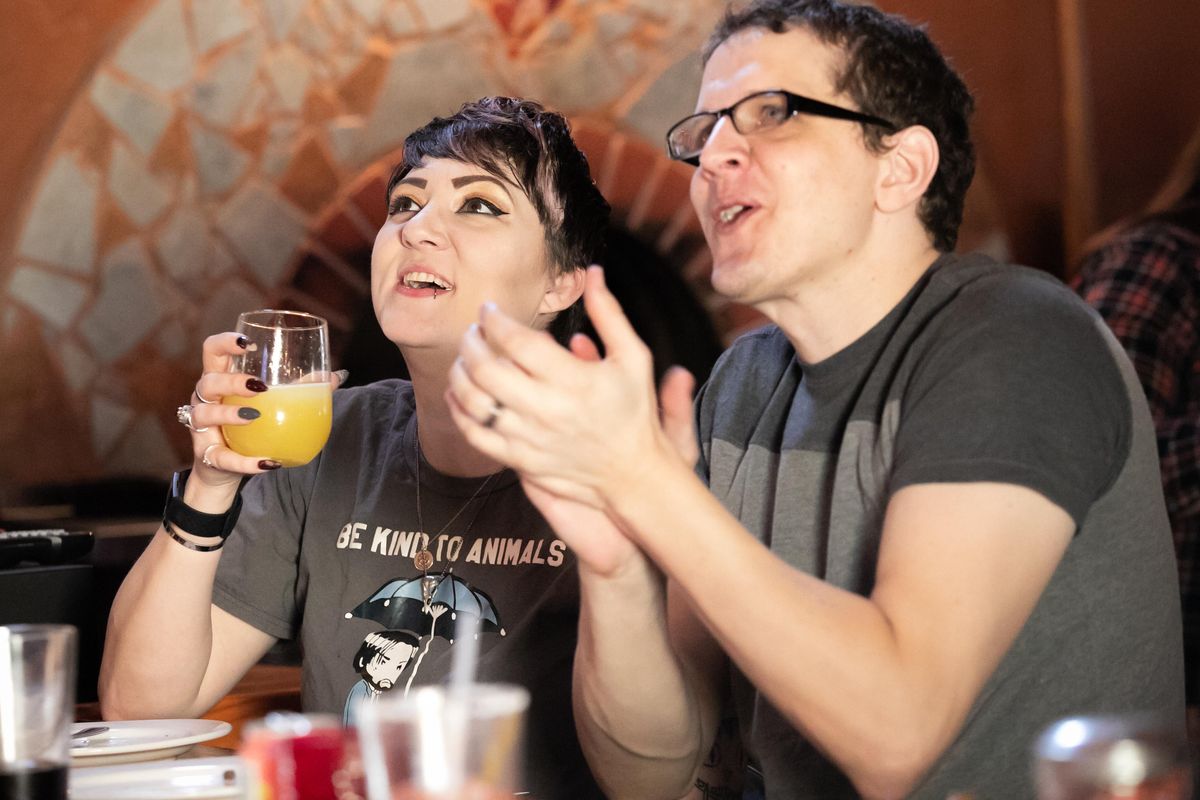 Meg and Aaron Determen cheer as they watch the 16th annual Puppy Bowl and see local puppy Filbert onscreen during a watch party at Embers By the Lake in Hauser, Idaho on Feb. 2, 2020. This year, Double J Dog Ranch contributed three disabled canines to the nationally televised programs: Lulu, for the Dog Bowl, and Filbert and Daphne for the Puppy Bowl, and received a portion of proceeds from every pizza purchased at Embers. (Libby Kamrowski / The Spokesman-Review)
In that time, the watch party has become a tradition at a wood-fired pizza joint, Embers by the Lake, just a few miles up the road from the ranch on Hauser Lake.
"Everybody who comes around here knows who they are," said Embers owner Rob Burnett.
The restaurant's menu even features the Double J Pup-peroni pizza, named for the ranch.
The watch party also serves as a fundraiser for the nonprofit, with $5 of every pizza donated to Double J.
"We open for lunch twice a year, and it's both to benefit Double J," Burnett said.
In April, Double J hosts the Icebreaker Run around Hauser Lake as not only a fundraiser but a Bloomsday Second Seed race, where competitors can record times that allow them to start behind the elite runners at Bloomsday. The after-party is, of course, at Embers.
When Puppy Bowl producers and a film crew came to Hauser to film a promotional video, Justus took them out for pizza at Embers afterward.
Many of the watch party attendees donned Double J shirts, while others just show up to support rescue dogs and have a piece of pizza.
Cheryle Jones and her husband have three rescued mastiffs. They often come to Embers for pizza, so when they heard about the Puppy Bowl watch party, they came out to support it.
"The mindset now is adopt instead of shop," Jones said.
Jones said she was looking forward to the Puppy Bowl more than the Super Bowl this year, especially because the Seahawks weren't playing.
"Today, I would say the Puppy Bowl will be better," Jones said.
Dana Wilson adopted four dogs from Double J over the past few years, and in the process became close friends with Justus.
"Well, I didn't decide I was going to adopt four," Wilson said. "I was just going to adopt one."
After her first dog, Zoe, she was hooked. Now her pack of four dogs from Double J is a huge part of Wilson's life.
"They just remind you every day of gratitude and make you forget your own problems," Wilson said.
Part of why the women became fast friends, Wilson said, is their mutual passion for education when it comes to breeding practices.
"I really subscribe to their philosophy of getting out and educating people," Wilson said of Double J.
Dogs with a double Merle gene, when bred together, give each puppy in a litter a 25% chance of being blind, deaf or both, Justus said.
However, it's 100% preventable with genetic testing, a part of ethical breeding practices, Justus explained.
Part of why Justus started Double J is to take care of puppies with congenital diseases who are often euthanized at a young age.
"They're like any other puppy," Justus said. "They don't know they're sick."
Justus works to give the puppies a good quality of life while she can, and once they get too sick she "saves them again."
Justus traveled with Wilson to New York City for Puppy Bowl filming this October, while Duane stayed home to "man the ranch."
The women traveled to New York with Lulu, Filbert and Daphne for about five days. They helped the dogs navigate filming, glamor shots and getting their DNA tested for their player profiles.
Once back in Hauser, both Filbert and Daphne were adopted by local families.
Diana Parenteau and her sister, Karen Johnson, adopted Filbert, who is deaf and visually impaired, along with Filbert's brother Hershel.
The sisters talked with Justus before she left for filming and applied to adopt both Filbert and Hershel.
"She (Justus) makes it happen," Parenteau said. "I've never met anyone who is so enthusiastic about what she does."
The puppies are inseparable, Parenteau said.
While Filbert has gained fame both in town and online, Parenteau said he's just a regular puppy to her.
"He is the same little spunky guy as before he was famous," Parenteau said.
When Filbert was announced on TV Sunday, Embers erupted into cheers.
Neither Filbert nor Daphne won the Most Valuable Puppy trophy on Sunday, but they were already winners in Justus' book after being settled into their new homes.
Daphne, a German shepherd puppy who has megaesophagus, which causes animals to have an enlarged esophagus, was adopted shortly after filming.
After competing in the Dog Bowl, Lulu, a 6-year-old deaf border collie mix, came back to Double J and remains up for adoption.
Justus took a few hours to celebrate and then was back to work.
Two new dogs were set to arrive at Double J on Sunday: a German shepherd with an amputated leg and a deaf mini-Aussie.
The new arrivals brought the total number of dogs at Double J up to 18, but the ranch has had as many as 30.
"We're always the safety net for these dogs, for the rest of their lives," Justus said.
Local journalism is essential.
Give directly to The Spokesman-Review's Northwest Passages community forums series -- which helps to offset the costs of several reporter and editor positions at the newspaper -- by using the easy options below. Gifts processed in this system are not tax deductible, but are predominately used to help meet the local financial requirements needed to receive national matching-grant funds.
Subscribe now to get breaking news alerts in your email inbox
Get breaking news delivered to your inbox as it happens.
---