News > Washington
The race for nominating presidential candidates kicks off in Iowa this week. Here's how Washington will participate.
UPDATED: Sun., Feb. 2, 2020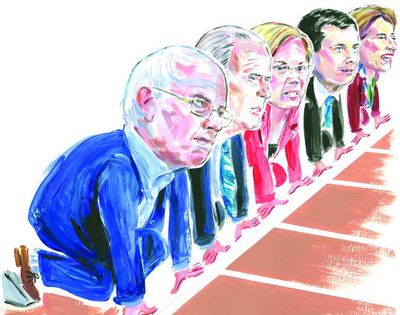 Washington voters interested in selecting the Democratic challenger to President Donald Trump will have a ballot in their hands during the heat of the nomination season.
Thirteen potential candidates will be competing in a primary beginning later this month for Washington's 107 Democratic delegates to the national convention in July. At least four of those candidates, who also are leading in the polls, have volunteers working to stir up voters in Eastern Washington as the party turns to a primary for the first time to select its presidential nominee.
"We're the second biggest prize on March 10," said William Casey, communications director for the Washington Democrats.
Ballots will start to land in mailboxes after Feb. 19, meaning voters will be able to cast their ballots anytime during an 18-day window both before and after "Super Tuesday" on March 3, when Democratic voters in 14 states will hold primaries.
Ed Wood, chairman of the Spokane County Democrats, said the official local and state parties are remaining neutral until that day in mid-March in an effort to reduce any disharmony, as the potential field in Washington still remains at a baker's dozen.
"This is something very unique. We have to remain totally neutral until after the primary," Wood said.
But party officials said they knew of interest in Spokane in supporting at least the four candidates currently polling near the top of the Democratic field. Those candidates are Vermont Sen. Bernie Sanders, former Vice President Joe Biden, Massachusetts Sen. Elizabeth Warren and former South Bend, Indiana, Mayor Pete Buttigieg.
Former New York Mayor Michael Bloomberg has started an aggressive television advertising campaign on the region's airwaves as well. Bloomberg spent roughly $50,000 on ads airing on the four local network affiliates in Spokane last week, according to their public disclosure files with the Federal Communications Commission.
Sanders earned a majority of Washington's delegates four years ago, though the national nominee was Hillary Clinton. Sanders earned those delegates through a strong performance in local caucuses, which had been the Democrats' exclusive mechanism for doling out delegates until the state Legislature and Democratic Party approved a binding presidential primary last year.
Carin Chase, Washington state director for the Sanders campaign, said his strong showing in 2016 established a network of supporters that already are energized for the 2020 campaign. Chase said the campaign already had held 900 events in the state for Sanders in this election cycle as of early last week.
"His voters and supporters are solid, and we're just really excited to reactivate everyone," Chase said.
Chase said she welcomed the primary system, believing it would be easier for voters to make their choice known than committing to the caucus process, which can last several hours on a weekend. Clinton defeated Sanders in a non-binding 2016 presidential primary in Washington.
"We'll see if anything changes because of that," Chase said. "I think it's really exciting, because it shows what a dynamic process it is."
Chase said the campaign planned to be in Spokane on Saturday for a major organizing event. The Sanders team also announced the opening of an official Washington headquarters in Seattle last week. Warren and Bloomberg also have announced campaign hires in Washington state in recent weeks.
Since announcing his candidacy in April last year, Biden has polled routinely at or near the lead among Democratic voters nationwide. The former vice president has earned the backing of Sally Jackson, a longtime Democratic organizer in Spokane Valley.
Jackson helped gather a portion of the 1,000 signatures necessary to get Biden on the primary ballot. Delegates will be allocated proportionally to the outcome of the primary, but a candidate must receive at least 15% of the vote to qualify to receive delegates.
Jackson said she would support any Democratic candidate for the presidency but believes Biden was in the best position to lead the repair of America's international image she said was needed after four years of the Trump administration.
"What I like about him is he's been there, done that," Jackson said.
Jackson said she was returning to folks who signed petitions for Biden in an effort to drum up support in the primary. She said she supports the primary system for selecting delegates and hopes the party will rally around the candidate eventually chosen to carry the banner.
"Whatever brings out the most voters," Jackson said.
Biden's wife, Jill, was scheduled to hold a fundraiser event in Spokane in October, but that event did not take place, said David Green, vice chairman of the state Democratic Party. No candidate has announced an impending trip to Washington, although Warren visited Seattle in August.
That's roughly the same time volunteers for the Massachusetts senator began organizing in Spokane, said Mark Mariano, a community leader for the Warren campaign.
For Mariano, who attended classes at Spokane Falls Community College and became involved in student government, Warren's message of affordable education for all Americans made sense.
"She just inspired me," Mariano said. "In community college it was a struggle to pay tuition."
Mariano said he also supported Warren because of her detailed policy plans on several major issues facing the country beyond college affordability. He praised her decision to get into politics in the first place, as an economist hoping to enter elected office to protect American consumers.
"Not only is she an economist, but she has plans to fix those problems," Mariano said.
The Warren campaign recently had a large contingent at the Women's March in Spokane, and is actively canvassing in Spokane during the weekends, Mariano said.
Buttigieg, the youngest candidate in the Democratic field at age 37, attracted the attention of local organizer Laurie Rusch through mediums befitting his youthful image. Rusch said she first heard about the candidate through a town hall held at the South by Southwest cultural festival in Austin, Texas, last year, and listened to his appearances on podcasts.
"I kind of went down the Pete rabbit hole, as I like to call it," said Rusch, who's been holding organizing events in Spokane since November as an independent volunteer. "I just got excited about him."
Rusch said efforts to drum up support for Buttigieg largely have been informal to this point, including conversations at local libraries and taco Tuesday events at a restaurant on the South Hill. Rusch said some of the work has been informing potential voters who Buttigieg is and what he stands for, because of his relative obscurity compared to his opponents.
"I'm getting a lot of Pete-curious people," she said. "They're hearing him, but are they knowing him as well as say Sanders or Warren? Of course not."
The goal, Rusch said, is to make Buttigieg as recognizable as those other names by the time ballots begin dropping in mailboxes in less than three weeks.
After the election results are tallied in March, the party will continue holding its legislative and congressional district caucuses to determine the people who will travel to Milwaukee and select the Democratic nominee. A candidate will need a majority of the available delegates nationwide, a little fewer than 2,000, in order to secure the nomination.
Voters in Washington will have to mark a party affiliation box on their return envelope and sign the ballot for it to be counted in the primary, and each voter may only vote for a candidate of one party.
On the Republican side, only Trump will appear on the presidential primary ballot in Washington.
Other Democratic candidates on the primary ballot in Washington will be Minnesota Sen. Amy Klobuchar, New York businessman Andrew Yang, California businessman Tom Steyer, New Jersey Sen. Cory Booker, Hawaii Rep. Tulsi Gabbard, Colorado Sen. Michael Bennet, former Massachusetts Gov. Deval Patrick and former Maryland Rep. John Delaney.
Booker and Delaney suspended their campaigns after the deadline to remove their names from the Washington ballot.
Local journalism is essential.
Give directly to The Spokesman-Review's Northwest Passages community forums series -- which helps to offset the costs of several reporter and editor positions at the newspaper -- by using the easy options below. Gifts processed in this system are not tax deductible, but are predominately used to help meet the local financial requirements needed to receive national matching-grant funds.
Subscribe to the Coronavirus newsletter
Get the day's latest Coronavirus news delivered to your inbox by subscribing to our newsletter.
---