A&E
Volcanic experiences: MAC pairs exhibit on Pompeii with Mount St. Helens anniversary
Sun., Feb. 2, 2020 After its founding in the eighth century B.C., the city of Pompeii was like the little engine that could.
Believed to be founded by the Osci, Italic peoples descended from Indo-Europeans, Pompeii was under the control of the Greeks, Etruscans, Samnites and Romans at one time or another. The city eventually rebelled against the Romans but was reconquered and again a Roman colony in 80 B.C.
In the year 62 A.D., much of Pompeii was destroyed or damaged by an earthquake. Not ones to give up, the people of Pompeii worked hard to rebuild the city and were soon thriving once again.
But in 79 A.D., the city took yet another hit, only this time one from which they couldn't recover. Within 24 hours of the eruption of Mount Vesuvius, the entire city was buried under rock and ash.
Pompeii was both destroyed and preserved, giving following generations a look at what life was like in the Roman city.
Thanks to the Northwest Museum of Arts and Culture, you don't have to travel all the way to Pompeii to experience the storied city. "Pompeii: The Immortal City" opens Saturday and runs through May 3 at the museum.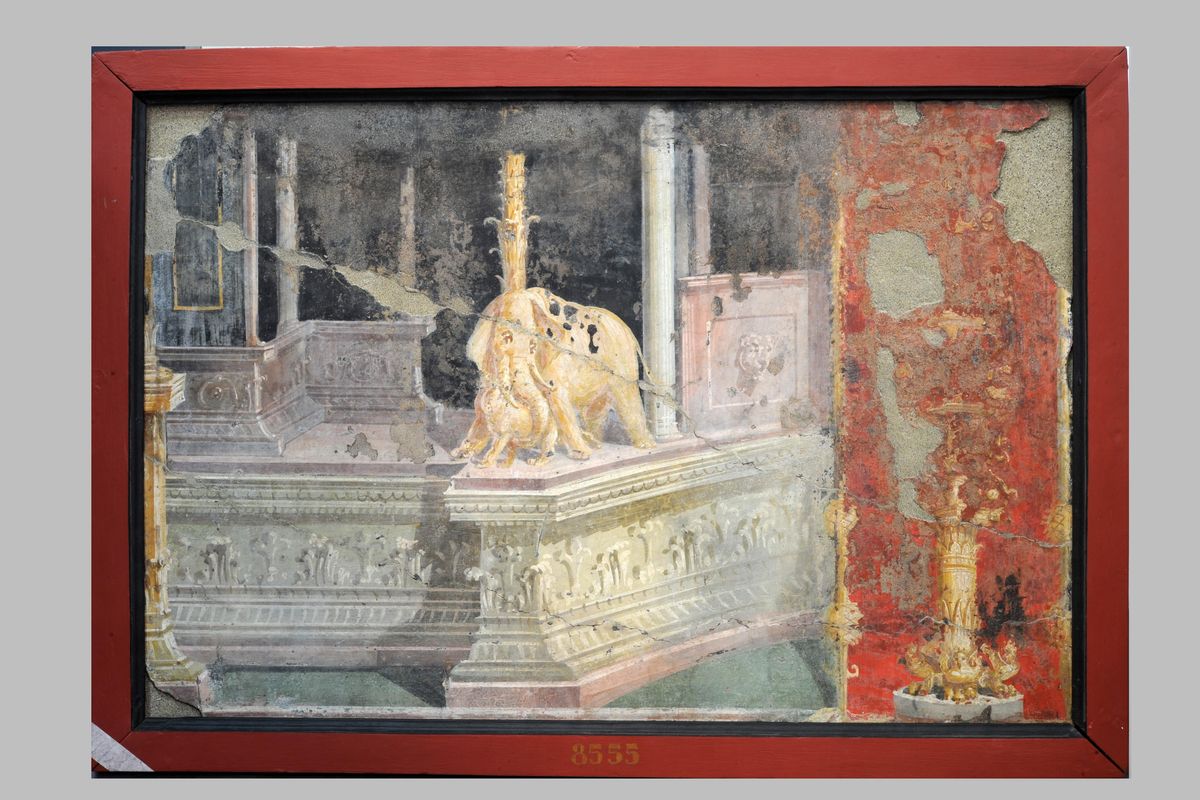 The exhibition features more than 100 items excavated from the ruins of Pompeii, plus audio-visual elements. (GIORGIO ALBANO/Courtesy)
The exhibition, which features more than 100 items excavated from the ruins of Pompeii as well as audiovisual elements, was developed and produced by Tempora in collaboration with Civita and Filmmaster based on the scientific research of Museo Archeologico Nazionale di Napoli and Museo Galileo Istituto e Museo di Storia della Scienza, Firenze and distributed by Exhibits Development Group.
MAC executive director Wesley Jessup was interested in bringing the exhibition to Spokane not only because of the historical importance of Pompeii but also because 2020 is the 40th anniversary of the Mount St. Helens eruption.
"Of course one was more devastating to human life than the other, but I think we all felt that this universal geological phenomenon striking two totally different parts of the world was an interesting connection," he said. "Because of that anniversary, the staff and the board felt like, 'If we're going to do this, this would be a great moment.' "
Here's what to expect when visiting "Pompeii: The Immortal City":
Visitors will first meet members of a Pompeian family who will accompany them throughout the exhibit and teach them about what life was like in Pompeii in the first century A.D.
There will be a portion of the exhibit dedicated to the natural resources available at the time. Grapes, olives and wheat were cultivated in the surrounding area, and several species of land animals and marine life were bred or farmed in Pompeii. There will be a loaf of bread – intact after the eruption – on display.
"To be able to see five art installers delicately positioning this loaf of bread and securing it in the case, there's something really phenomenal about that," Jessup said. "It spoke to me about the power of history and artifacts that tell a story."
Visitors also will learn about the architects and engineers, often slaves, who built the city as well as metal-working, stone masonry and the revolution in glass. Visitors can view a calcatoria, the largest construction crane used at the time.
The exhibit also features reconstructions of many of the machines, instruments and mechanisms – some infrastructural, some medical – the Romans built using their scientific knowledge.
An immersive exhibit, "Pompeii: The Immortal City" gives visitors a chance to hear the roar of Mount Vesuvius and feel the ground shake beneath their feet. Three-dimensional reconstructions, artworks and artifacts excavated from the ruins will help visitors discover Pompeii as it was in ancient times.
"It's a very sophisticated component of the exhibition in addition to these artifacts, which are significant and just incredible, especially for younger viewers and visitors," Jessup said. "I think helping to tell this story visually and experientially is a really great aspect of this show that I'm looking forward to in addition to having those artifacts from so long ago."
Visitors also will learn the story of Pliny the Elder, a writer, naturalist and military man who commanded his fleet to sail closer to Mount Vesuvius during the eruption to observe the phenomenon and rescue those who were trying to escape.
Finally, the exhibit introduces visitors to some of those who weren't able to make it out of Pompeii and have been encased in ash since the eruption.
"Mount St. Helens: Critical Memory 40 Years Later," which opened on Dec. 21 and continues through Sept. 6, features artifacts, film, photos, newscasts, firsthand accounts and digitally crowd-sourced accounts of moments before, during and after the eruption while exploring how knowledge is passed down from one generation to the next.
"It's amazing how vivid everyone's recollection is of that volcano," Jessup said. "It's amazing people remember it the way they do. It's been really interesting. It's also been interesting for people who were born after 1980 and grew up hearing about it. It's been interesting for them to be able to experience it obviously in a limited way."
According to Jessup, "Pompeii: The Immortal City" is likely the biggest show featured in the MAC. Its installation, which lasted three weeks, effectively shut down a majority of the museum, save for "Mount St. Helens: Critical Memory 40 Years Later" and the Campbell House.
Jessup anticipates the exhibition will be as successful as last year's "Norman Rockwell's America," which brought record-breaking attendance to the MAC, in bringing people to the museum.
"We have some really wonderful shows this year, so I do think we can continue to build on what we really got going in 2019," Jessup said. "The community really embraced (the 2019 exhibitions), so I think that we're excited about continuing that. Certainly 'Pompeii' is bigger than any of those shows by a lot, but we still have a summer and a fall season to go, and we have wonderful shows coming up for those as well, so we're really looking forward to continuing that. It's really important to us."
Forthcoming exhibitions at the MAC include "American Impressionist: Treasures from the Daywood Collection" (May 23-Aug. 16); "Awakenings: Traditional Canoes and Calling the Salmon Home" (June 6-June 2021); companion piece "Roots of Wisdom: Native Knowledge, Shared Science" (May 30-Sept. 6); and "POP Power from Warhol to Koons: Masterworks From the Collections of Jordan D. Schnitzer and His Family Foundation" (Oct. 3-Jan. 24, 2021).
Attendance goals aside, Jessup is looking forward to "Pompeii: The Immortal City" building on the MAC's goal to always be a place for families and people of all ages.
" 'Norman Rockwell,' we saw a lot of visitors who were senior citizens coming in, but, honestly, we discovered kids and families were really discovering that show. There was an accessibility there that a lot of people noticed and appreciated," he said. "We're really wanting to continue that with 'Pompeii.' It's a family experience. It's a great place to come with your children or your grandparents or your relatives. It's a wonderful thing to experience for a multigenerational kind of thing."
Local journalism is essential.
Give directly to The Spokesman-Review's Northwest Passages community forums series -- which helps to offset the costs of several reporter and editor positions at the newspaper -- by using the easy options below. Gifts processed in this system are not tax deductible, but are predominately used to help meet the local financial requirements needed to receive national matching-grant funds.
Subscribe to the Spokane7 email newsletter
Get the day's top entertainment headlines delivered to your inbox every morning.
---